Using Scrapbook.com Cutfiles in Silhouette Studio
Using Scrapbook.com Cutfiles in Silhouette Studio
Easy is the name of the game….
…when you have oodles of holiday cards to make! Unless you started months ago, you're running out of time to get going on your holiday cards. So, now might be the perfect time to dust off your Silhouette Cameo, update the software, and try out an e-cutter design for quick and simple holiday cards that still say WOW!
(affiliate links are used in this post. When you click on them and make a purchase, I may receive a small commission at no additional cost to you. Thanks for supporting my blog!)
Easy – like stencils!
Digital Cutfiles are gaining popularity, and fast! I think it's because they're a lot like stencils. They're easy to use, inexpensive, reuseable, and you can create with them in lots of different ways. Nobody ever said that handmade cards had to be super-involved, full of layers, and require you to use every technique you've ever used!
I mean, really! Do I even need to tell you how I made this card? I cut the file and I slapped it on some gold mirror card and attached it to the card base. Done. Period. End of story! 😀 But, it's AAAWWWEEESSSOMME! Amiright?
Sometimes, a card is "WOW" enough in its simplicity. I think that's what a good cutfile overlay can bring to the design table. And, like all of the other Scrapbook.com exclusive products, these cutfiles do not disappoint. They are easy to use and easy to mix & match for any project you have in mind.
Have you seen the FREE cutfile from Scrapbook.com? I used it Here and Here for World Card Making Day
Using the Silhouette Studio Designer Edition
I've had my Cameo for years. I'd say I'm due for an upgrade, as I think I have the original Cameo (not the 2, 3 or the new 4). But, I haven't used it enough to justify going for a new model. It works just fine. I can still get parts for it (a total benefit of the Cameo series), and the updated software still works with it.
One thing I can recommend is to get the Designer Edition of the Silhouette Studio. I have always had this software, so I did not realize that having the free software has limitations using the SVG files. The Designer Edition is a one-time $50 investment and will make working with cut files a TON easier. Like, click & drag easier.
Don't forget to leave a comment at the end of the post to qualify for my quarterly giveaway!
Time to Add to your Crafter's Toolbox
If it's been a while since you used your Silhouette Cameo, or if you've never really known how to use it, now's the time! I'm sharing exactly how I created my project by using two of the designs in the cutfile set with the Silhouette Studio Designer Edition software.
*note that I am only familiar with the Silhouette Cameo and the Designer Edition software. If you have questions about other e-cutters, or other versions of the Studio Designer software, you can ask, and I'll try to help the best I can. No guarantees though 🙁
Time to go digital!
See? It's not too hard to use the Silhouette Studio Designer Edition software. You can get great results like this too! I hope you enjoyed learning about this new product and you give it a try too! If you need any of the supplies I used today (including the Silhouette Cameo 3), I have links to everything below 😀
Don't Forget about my quarterly GIVEAWAY!
Every quarter, I give away a sweet surprise to one lucky commenter. So, don't forget to leave a COMMENT on today's post to enter!
If you loved today's project, I'd love to know! The blogosphere can be a lonely place, so please don't lurk! Leave a quick word or two to tell me you were here!
Inspired by the products I used?
The supply list is right here! Just click a product to get started. The links I'm sharing are Compensated Affiliate Links, meaning that I will receive a small commission on your sale, at no additional cost to you. Items marked with an asterisk (*) were provided by a store or the manufacturer.
This helps keep the lights on and the inspiration flowing here at Pixel Maven's Retreat!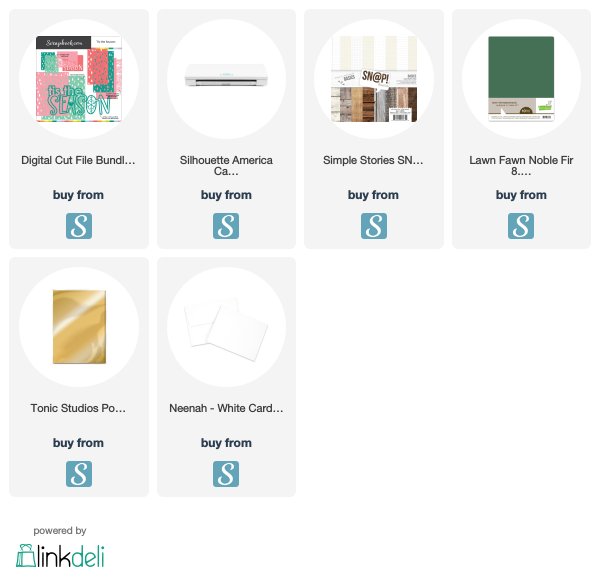 The Latest...
FREEBIES!!!

 There's no catch - check out my

Freebies Page

for all sorts of downloadable resources to help take your crafting up a notch!

Need a Color Coordinator to inspire color choices for your projects? Get yours today! 2019-20 Coordinators are NOW SHIPPING!
"I love this! I have a hard time getting color combos together and this takes all the guess work out so I can start creating right away! I think every stamper should have one thank you for this amazing product." - Sandra
Here's some other projects you'll like!
Thank you cards know no season…
It may be the season for giving thanks, but a good thank you card knows no season! At Festive Friday our new Inspo List is inspired by the upcoming US Thanksgiving holiday.
It's an Ornament Link Party! And you're invited!
I'm happy to be a part of a fun Holiday Ornament Link Party event hosted by My Pinterventures and 37 other bloggers.
It's an Ornament Exchange Party!
Welcome to the 2019 Ornament Exchange Link Party! It's my first time with the Link Party, but the fourth year of the blogger ornament exchange.