Tricked out Packaging – embossed tins
Tricked out Packaging – embossed tins
Sometimes the packaging should be "extra"
Don't you think? When a gift is extra special, we spend tend to spend more time to make sure the packaging is "just so". Whether it's gift wrap that is done perfectly, or maybe something a little more, like a souped up tin, the detail put into the packaging can let the recipient know they're going to find something amazing inside!
(affiliate links are used in this post. When you click on them and make a purchase, I may receive a small commission at no additional cost to you. Thanks for supporting my blog!)
Stunning results in no time
If you've followed me for any length of time, you know that I don't usually stray from cardmaking. but, as a member of the Imagine Artist in Residence for the year, I have all of these non-card ideas floating around. So many of their products lend themselves to mixed media and other types of art, that playing around in other mediums is really fun!
This gift packaging was ridiculously simple too! Embossing on metal is just like embossing on any other material. You just need to take the time to prepare the surface with lots of anti-static powder. Adding in a little tag and some ribbon really finished off the look.
Like this project? Check out another cool way you can use embossing powder in your crafting!
Don't forget to leave a comment at the end of the post to qualify for my quarterly giveaway!
Crafter's Toolbox
So, let's add a new technique to your toolbox – embossing on metal. Instead of stamping then embossing, I used a stencil to cover the area, but the technique is the same either way!
Let's heat it up!
Now that you've seen how fun and easy the technique is, I bet you're ready to create some embossed metal projects of your own.
If you need supplies to help recreate this project, I have a list below. Just click and shop!
Sign up to receive my weekly email newsletter and blog post updates!
(It's free and full of specials & exclusive content!)
Don't Forget about my quarterly GIVEAWAY!
Every quarter, I give away a sweet surprise to one lucky commenter. So, don't forget to leave a COMMENT on today's post to enter!
If you loved today's project, I'd love to know! The blogosphere can be a lonely place, so please don't lurk! Leave a quick word or two to tell me you were here!
Inspired by the products I used?
The supply list is right here! Just click a product to start shopping.
The links I'm sharing are Compensated Affiliate Links, meaning that I will receive a small commission on your sale, at no additional cost to you.
Items marked with an asterisk (*) were provided by a store or the manufacturer.
When you shop with these links, you help keep the lights on and the inspiration flowing here at Pixel Maven's Retreat! Thank You!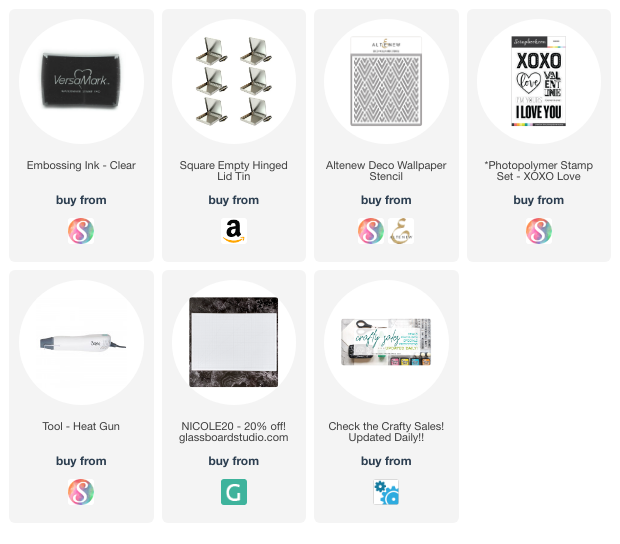 HOT DEALS!
Don't miss these hot deals - click the picture to shop!
Here's some other projects you'll like!
Welcome to another Tic Tac Toe Challenge!
The lovely Claire Broadwater is our lead designer for our latest Tic Tac Toe Challenge. She's created a fun board full of amazing possibilities! The question is, which way will you go? Row, Column or Diagonal?!
Welcome back for another Festive Friday! Our latest Festive Friday challenge is super fun! We picked out a great festivity to fill out our Inspo List, and hopefully it will have you sea-ing lots of fun possibilities!