Summertime Hibiscus for a YouTube Hop
Summertime Hibiscus for a YouTube Hop
It's time for a YouTube HOP!
Some of my fellow Craft Collabs members are celebrating a milestone achievement on YouTube – 3,000 subscribers! To celebrate, they're hosting a YouTube hop with TONS of giveaways from amazing sponsors, like Ranger and Heffy Doodle!
(affiliate links are used in this post. When you click on them and make a purchase, I may receive a small commission at no additional cost to you. Thanks for supporting my blog!)

How to Win:
Winners of sponsored prizes will be randomly selected among all comments left on all the videos in the hop. Winner of MY ALTENEW MEGA DIE PRIZE will be selected from comments on THIS VIDEO. The deadline for commenting is July 10th.
The winners will be announced on Jess and Laura's channels on July 15th.
All giveaway winners will be announced on Laura & Jess's channels on July 15, 2019.
– Jess's channel https://www.youtube.com/channel/UCs4FUb78gn5t8TphZlIz5JA
– Laura's channel http://www.youtube.com/c/abitofmycrafts
Please comment on YOU TUBE by July 10, 2019 to be eligible for the random giveaway drawings. (I would love to have you subscribe to my channel too!). Comments here on the blog are not eligible, you have to comment on the video from You Tube directly.
My giveaway is OPEN to INTERNATIONAL participants. Listen to the videos to see if each channel is a US or International giveaway.
Be sure to reply promptly with your shipping information if you are one of the winners announced on July 15th. To claim your prize email [email protected] or [email protected] with the subject "Hooray for 3K winner". You will have until July 22nd to claim your prize, or another winner will be drawn.
This giveaway is not sponsored by YouTube.
Don't forget to leave a comment at the end of the post to qualify for my quarterly giveaway!
Summer is on!
The theme of our hop is Summer! The first thing that came to mind for me was the Hibiscus Garden 3D Die set from Altenew that I purchased a few weeks ago. I love putting these layered flowers together since there's no stamping – just gluing layers in the right place. Each 3D die set from Altenew comes with a reference sheet that shows how each layer goes together – much like their layered stamps. It makes the whole process super easy!
Inspired by the products I used?
The supply list is right here! Just click a product to start shopping.
The links I'm sharing are Compensated Affiliate Links, meaning that I will receive a small commission on your sale, at no additional cost to you.
Items marked with an asterisk (*) were provided by a store or the manufacturer.
When you shop with these links, you help keep the lights on and the inspiration flowing here at Pixel Maven's Retreat! Thank You!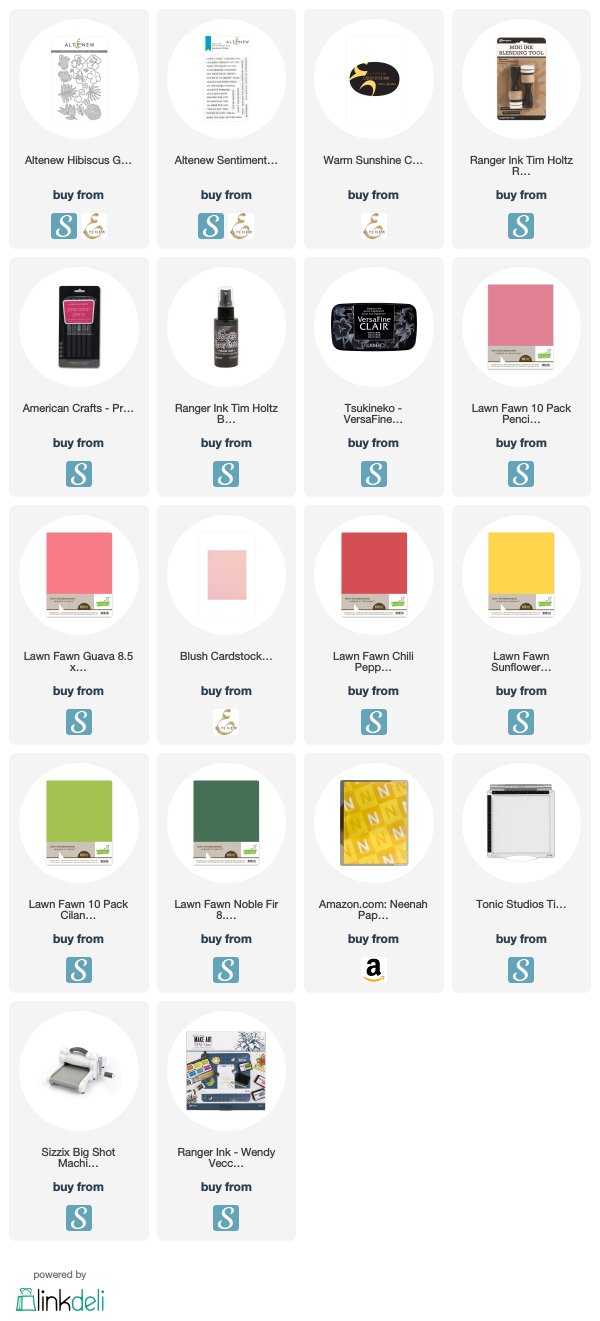 HOT DEALS!
Don't miss these hot deals - click the picture to shop!
Here's some other projects you'll like!
Another month has passed. Another 22nd has arrived!! It's time for a new Paint-a-Flower stamp, PLUS we have new Artist Marker refills!!
Welcome to another Tic Tac Toe Challenge!
The lovely Claire Broadwater is our lead designer for our latest Tic Tac Toe Challenge. She's created a fun board full of amazing possibilities! The question is, which way will you go? Row, Column or Diagonal?!