Styling 2 Cards with Simple Washi Accents | Sketch Starters #008
Styling 2 Cards with Simple Washi Accents | Sketch Starters #008
I got a bit behind with sharing my Altenew Sketch Starter series here on the blog, so I'm fixing that problem this week! We'll be blitzing through the last few sketch projects while we wait for the newest Sketch starter Challenge to open on the 5th. So, let's rewind back a few weeks and take a look at Sketch Starter #008 today!
(affiliate links are used in this post. When you click on them and make a purchase, I may receive a small commission at no additional cost to you. Thanks for supporting my blog!)

screaming for clean & simple (CAS)
Are you familiar with the Clean & Simple, or CAS style? Many projects qualify, but in general, there's lots of white space, a very targeted focal point and very little in the way of embellishment. "White space" can be a patterned or blended background, but it shouldn't be over done. A CAS card is the epitome of restraint and perfect placement. My favorite CAS designer is Tenia Nelson. Damn, that girl is amazing!
simple floral spread
The first card shows how the circle elements in the sketch can be interpreted as something circle-like. Using three florals from Painted Flowers, and a piece of the Sweet Pea Palette washi, it was easy to incorporate the sketch elements. To soften things up, I did a quick ink glow in the background in Grape Agate. The Altenew Large Ink Blending Tool makes soft glows like that super easy to achieve, even if you have a heavy hand like I do!
flip & switch
For the second take, I flipped the sketch and brought in some more color with the Parchment panel and sentiment. Instead of sticking to the three circles from the sketch, I expanded that idea to five. This works because the majority of the circle shapes are small enamel dots. Essentially, two dots take up the same space as a circle from the sketch. The single strip of Sweet Pea Palette washi looked lonely, so I added a companion piece in gold. To further mimic the first card, I added in another ink glow and black spatter.
Sketch Starters with Nicole #008
Here's the companion video that will walk you through creating both designs!
have you joined the Sketch Starter Challenge?
Each month, I give away a $15 Altenew gift certificate to one lucky winner! The challenge is posted on the 5th of the month and runs through the rest of the month. So, you have a few days to check out the previous sketches and get some practice in before I announce last month's winner and the new sketches. You can always find the latest challenge here. I hope to see you join along each month!
Sign up to receive my weekly email newsletter and blog post updates!
(It's free and full of specials & exclusive content!)
Inspired by the products I used?
The supply list is right here! Just click a product to start shopping.
The links I'm sharing are Compensated Affiliate Links, meaning that I will receive a small commission on your sale, at no additional cost to you.
Items marked with an asterisk (*) were provided by a store or the manufacturer.
When you shop with these links, you help keep the lights on and the inspiration flowing here at Pixel Maven's Retreat! Thank You!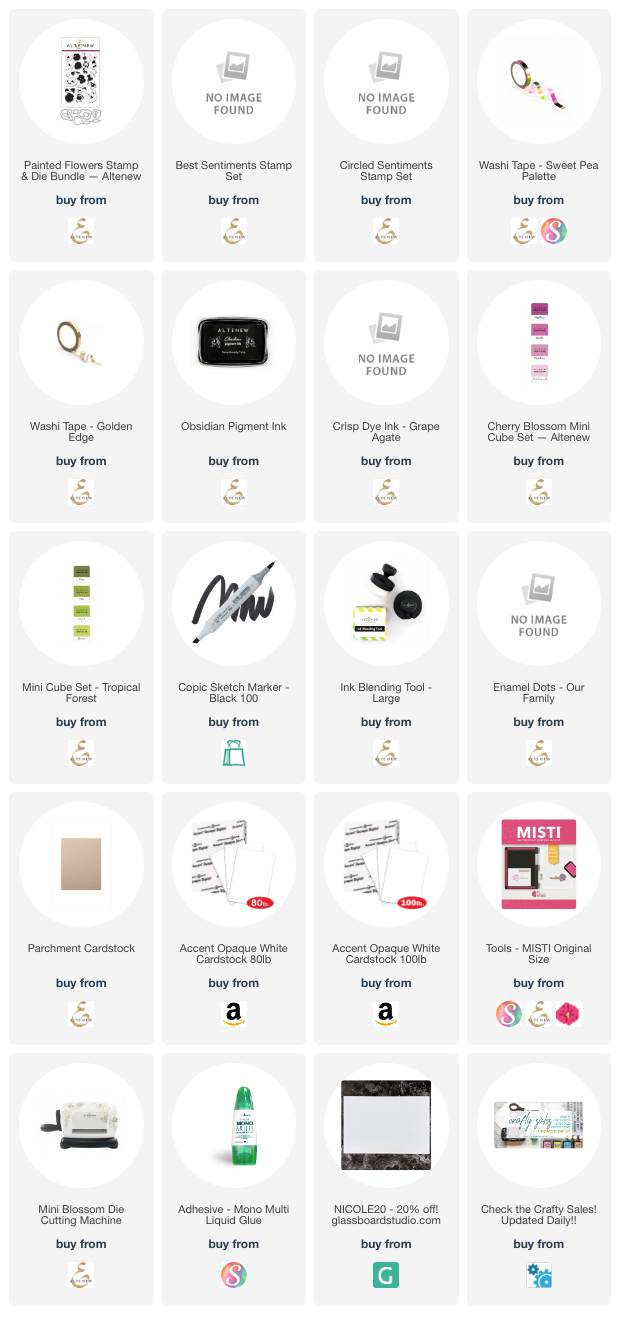 HOT DEALS!
Don't miss these hot deals - click the picture to shop!
New & Gently Used craft supplies
at a great price!
Click here to get yours!
Here's some other projects you'll like!
Are you ready for a new Craft-a-Flower? This month, we're bringing you the classic Daisy, and I have a fun twist on this set for you!
Kick start your mid-week crafting with a new Sketch Starters Challenge and some more inspiration from my video series in partnership with Altenew!
It's another Sketch Starter! One is a "scrapbuster" and the other is a "washi-buster". Both are fun and easy to do!