Speedcolor: Exotic Garden Emboss Resist Watercolor
Speedcolor: Exotic Garden Emboss Resist Watercolor
Let's dive into another new stamp set!
Are you in love with the February Stamp & Die release from Altenew? One of my favorites is the Exotic Garden stamp set. It's a single stamp floral arrangement that is just gorgeous! Today's design might look unbelievable, but it's actually pretty easy. Let's take a look!
(affiliate links are used in this post. When you click on them and make a purchase, I may receive a small commission at no additional cost to you. Thanks for supporting my blog!)
Start with Emboss Resist
I knew that I wanted to do some easy emboss resist watercolor so I could show off the new Artist Watercolor 24 Pan set. So, instead of just embossing the whole image, I masked off the bottom half, embossed, then flipped the card and repeated the emboss process to get a mirror image that would be separated by the sentiment strip.
I kept the watercolor selections simple – shades of purple, cherry blossom, rain forest and rock collection. I didn't do any specific technique to make the lighter and darker areas – just added a bit more color to create the darker areas.
Don't forget to leave a comment at the end of the post to qualify for my quarterly giveaway!
Speedcoloring
Of course, it's easier to show than to tell, so I put together a quick speedcoloring video so you can see the image come to life. Yes, it is a speed video, but it only took 16 minutes in real time to do the coloring. See… not a big commitment for a fantastic result.
How will you use this must have?
This stamp set has quickly made it to my must-have list. How about you? I can't wait to see all of the creative projects you make with it!
If you need supplies to help recreate this project or create an original of your own, I have a list below. Just click and shop!
Sign up to receive my weekly email newsletter and blog post updates!
(It's free and full of specials & exclusive content!)
Don't Forget about my quarterly GIVEAWAY!
Every quarter, I give away a sweet surprise to one lucky commenter. So, don't forget to leave a COMMENT on today's post to enter!
If you loved today's project, I'd love to know! The blogosphere can be a lonely place, so please don't lurk! Leave a quick word or two to tell me you were here!
Inspired by the products I used?
The supply list is right here! Just click a product to start shopping.
The links I'm sharing are Compensated Affiliate Links, meaning that I will receive a small commission on your sale, at no additional cost to you.
Items marked with an asterisk (*) were provided by a store or the manufacturer.
When you shop with these links, you help keep the lights on and the inspiration flowing here at Pixel Maven's Retreat! Thank You!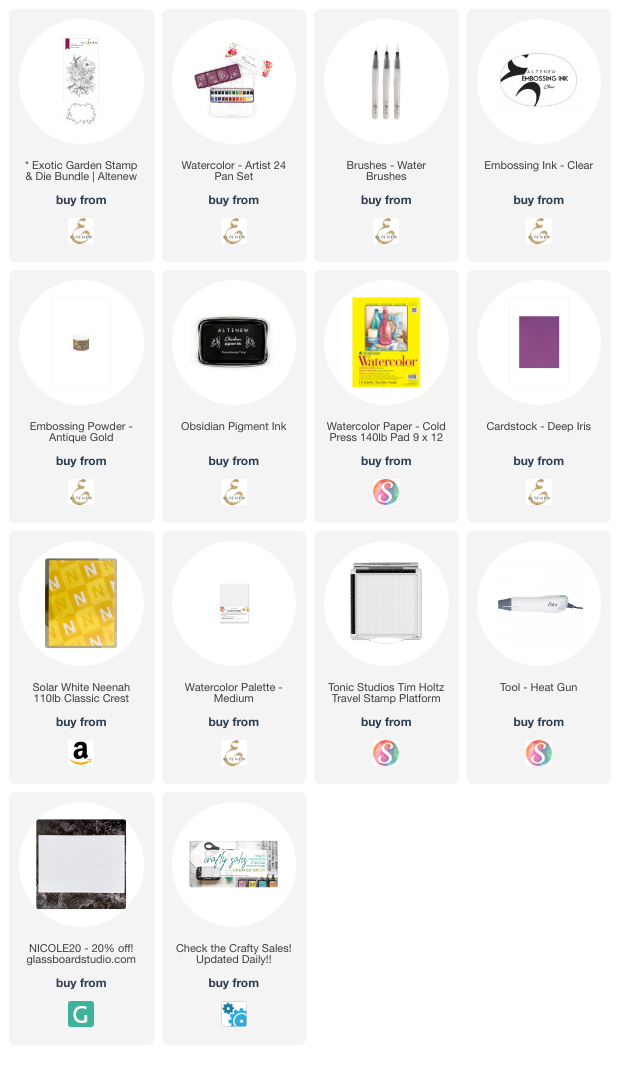 HOT DEALS!
Don't miss these hot deals - click the picture to shop!
Here's some other projects you'll like!
Are you ready for the latest and greatest from Altenew?
Welcome back for another new product and giveaway hop! This time we have new stamps & dies, a new 24 pan Artist Grade watercolor set and a new self-healing cutting mat!
Tic Tac Toe Challenge is back!
Tic Tac Toe Challenge was on a hiatus for a while, but is back with an all new design team and all new challenges!
Welcome back for another Festive Friday!
This time at Festive Friday, we've got an Inspo List that will kick you right out of the winter doldrums with lots of fun colors and elements!