Sketch Starter #006: Same but Different + Winner
Sketch Starter #006: Same but Different + Winner
Ready for a new sketch?
Welcome to June and another new Sketch Starter! I try to make my sketches as versatile as possible. I wanted to demonstrate that in particular this time, so I created essentially the same card, using two different stamp sets and only minimal variation in the background.
Don't forget I'm hosting a monthly GIVEAWAY! All you have to do is use the current sketch and upload or link to your project using the sketch. You could win a $15 gift certificate from Altenew! Since we're in a new month, we'll be using today's sketch.
(affiliate links are used in this post. When you click on them and make a purchase, I may receive a small commission at no additional cost to you. Thanks for supporting my blog!)
may 2020 sketch challenge winner
Of course, we can't start a new challenge without announcing the winner of the previous challenge! I used a random number generator to select the winner. Drum roll please!
The winner is #2: INKY FINGERS!!
Congratulations, Inky Fingers! Please email me (nicole@pmretreat.com) with the subject line May 2020 Sketch Challenge Winner and I'll have your $15 Altenew Gift Certificate emailed over.
Now, on to the new sketch and new challenge!
sketch #6
Feel free to pin this image on Pinterest for future reference!
feeling geometric
Every time I see these cards, I love them more and more. In essence, both are very simple, but really pack a punch and evoke such different feelings. For this first take, I went bold and geometric. Super bright green from the Tropical Fiesta Watercolor Brushes sets the tone. Then, it's finished off with dramatic monochrome elements in black, white and gray. Some hand-drawn lines help frame the whole design.
feeling floral
On the flip side, it's easy to take the sketch a totally soft and floral direction. I simply watered down the same watercolor brush for a more subtle look. Then, I swapped out the geometrics for florals (Wallpaper Art). The same finishing elements were used to create a same-but-different look!
Sketch Starters with Nicole #006
Now that I've talked you through the inspiration, let's see them come to life!
How about a giveaway?!
I have a $15 gift certificate to Altenew to give away to one lucky winner! I would love to see what you come up with using this latest sketch. The giveaway is open today through the month of April, so get out your craft supplies and enter in a project!
You can enter as many times as you like during the month. One winner will be chosen at random using a random number generator. International entries welcome! The InLinkz will close at 11:59 US Central Time June 30th. Winner will be announced on July 5th.
Sign up to receive my weekly email newsletter and blog post updates!
(It's free and full of specials & exclusive content!)
Don't Forget about my quarterly GIVEAWAY!
Every quarter, I give away a sweet surprise to one lucky commenter. So, don't forget to leave a COMMENT on today's post to enter!
If you loved today's project, I'd love to know! The blogosphere can be a lonely place, so please don't lurk! Leave a quick word or two to tell me you were here!
Inspired by the products I used?
The supply list is right here! Just click a product to start shopping.
The links I'm sharing are Compensated Affiliate Links, meaning that I will receive a small commission on your sale, at no additional cost to you.
Items marked with an asterisk (*) were provided by a store or the manufacturer.
When you shop with these links, you help keep the lights on and the inspiration flowing here at Pixel Maven's Retreat! Thank You!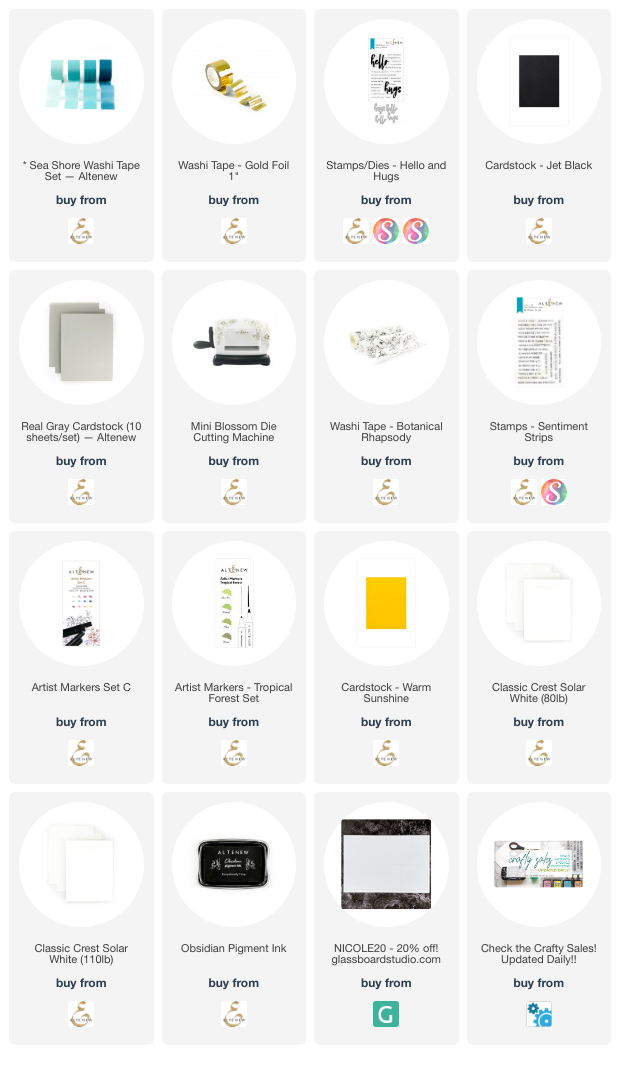 HOT DEALS!
Don't miss these hot deals - click the picture to shop!
New & Gently Used craft supplies
at a great price!
Click here to get yours!
Here's some other projects you'll like!
Welcome to another epic Altenew Stamp & Die release day! How about we take a look at the card projects I created with the new stamps & dies for some Summer Fun! Be sure to make it to the end to see the new Mixed Media inks and an amazing video!
Welcome to another Craft-a-Flower release, hop & giveaway! You're going to love how easy, but beautiful (and huge) the latest Craft-a-Flower die set is!
It's the first of the month, and that means it's time for a new Build-a-Flower and a giveaway blog hop! You're going to love these Primrose beauties!!