Scalloped Sweet Valentine ft. Scrapbook.com Borders Cut File
Scalloped Sweet Valentine ft. Scrapbook.com Borders Cut File
Is it too early for Valentine's Day?
I mean, we've been talking about "Black Friday" sales since July…. so, why not Valentine's Day? 😀 Well, I was really inspired by two things – this new big & bold stamp set from Scrapbook.com called XOXO and the new Borders cut file.
(affiliate links are used in this post. When you click on them and make a purchase, I may receive a small commission at no additional cost to you. Thanks for supporting my blog!)
Let your e-cutter do all the work
Ok. This card might look crazy. I'm sure you're thinking that it took FORever! But, it didn't! It actually only took about 15 minutes to make. Really! That's because all of those scalloped strips were cutting out on my Silhouette Cameo while I embossed the sentiment. Then, the strips got added on and trimmed off. Et voila!
7 borders to choose from
The new Borders cut file comes with seven different designs and in three different lengths. Perfect for any kind of project. So, we're not just talking Valentine's Day here – there's plenty of uses for these great border designs!
Don't forget to leave a comment at the end of the post to qualify for my quarterly giveaway!
Project Tutorial Video
If you don't believe how easy this one is – I have proof. Take a look at today's project process video and you'll be hooked on this idea. You'll be adding strips of scallops all over your designs!
See, that's it!
I know you're gonna want to make aaalllllllll the borders now. Amiright? Fun fringe stacks, rainbow scallop stacks – gorgeous lacy accents. Yah, this is a file that will become a staple in your craft room! Welp – what are you waiting for? The supply list is below – get to shoppin'!
Don't Forget about my quarterly GIVEAWAY!
Every quarter, I give away a sweet surprise to one lucky commenter. So, don't forget to leave a COMMENT on today's post to enter!
If you loved today's project, I'd love to know! The blogosphere can be a lonely place, so please don't lurk! Leave a quick word or two to tell me you were here!
Inspired by the products I used?
The supply list is right here! Just click a product to get started. The links I'm sharing are Compensated Affiliate Links, meaning that I will receive a small commission on your sale, at no additional cost to you.
Items marked with an asterisk (*) were provided by a store or the manufacturer.
This helps keep the lights on and the inspiration flowing here at Pixel Maven's Retreat!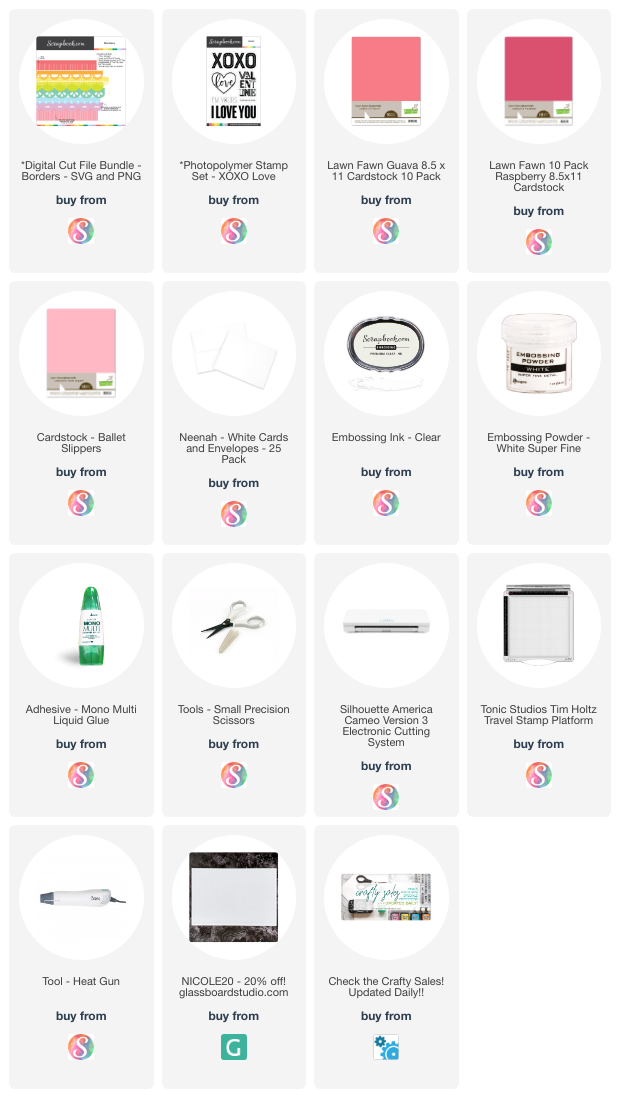 HOT DEALS!
Don't miss these hot deals - click the picture to shop!
Here's some other projects you'll like!
It's a new year for Festive Friday!
Festive Friday is back with our first challenge of 2020. If you have a goal to add more creative time to your schedule, then challenges are a great way to get started.
Determined to be confident in your watercoloring this year?
As we look to 2020, I'm sure you're thinking about some #craftgoals you've had on your list. I know a lot of people "want" to watercolor – backgrounds, flowers, characters…. but they are afraid to take the plunge.
Today's card tugs at my heartstrings
I love animals. Sometimes, I think I love animals more than people… I know you know what I mean.