Save the Crafty YouTuber Hop & Giveaway!
Save the Crafty YouTuber Hop & Giveaway!

I am absolutely THRILLED to be taking part in the Save the Crafty YouTuber Hop! There are some amazing crafters and amazing giveaways on almost EIGHTY (yes, 80, 8-0!) craft YouTube channels. EVERY CHANNEL has a giveaway, and you just need to comment at the channel to enter each giveaway. We're giving you until April 5th to make it through the hop and leave comments. So, let's get started!!
(affiliate links are used in this post. When you click on them and make a purchase, I may receive a small commission at no additional cost to you. Thanks for supporting my blog!)
A Quick Look at my project
Well, I don't want you to spend too much time here as I really want you to head over to YouTube and do some hopping and giveaway commenting! But, here's some stills of my project from the video. I did a watercolor stamp technique with my favorite Altenew stamp set – Beautiful Day. It was one of my first Altenew sets, and one that I just keep coming back to!
I paired the set with Versatile Vases to make a lovely vase of flowers – it's like the two sets were made for each other!
Project Tutorial
Alright! Let's dive into the how-to on this lovely card!
Thank You!
Time is precious and I'm truly grateful that you choose to spend a few minutes of your day with me! If you are in love with my projects and would like to see more, please support my business by following me on Instagram, YouTube, and Pinterest.
​Now, it's time to HOP!
Please, head on over to my YouTube video to leave your Giveaway comment. Comments here on my blog will only qualify for my regular quarterly giveaway, not the special hop giveaway. Then, hop along to all the other amazing crafters to enter their giveaways, and hopefully subscribe to the crafters that resonate with you and your style! Have fun exploring and meeting more crafters in this amazing community!!
GOOD LUCK!
Sign up to receive my weekly email newsletter and blog post updates!
(It's free and full of specials & exclusive content!)
Inspired by the products I used?
The supply list is right here! Just click a product to start shopping.
The links I'm sharing are Compensated Affiliate Links, meaning that I will receive a small commission on your sale, at no additional cost to you.
Items marked with an asterisk (*) were provided by a store or the manufacturer.
When you shop with these links, you help keep the lights on and the inspiration flowing here at Pixel Maven's Retreat! Thank You!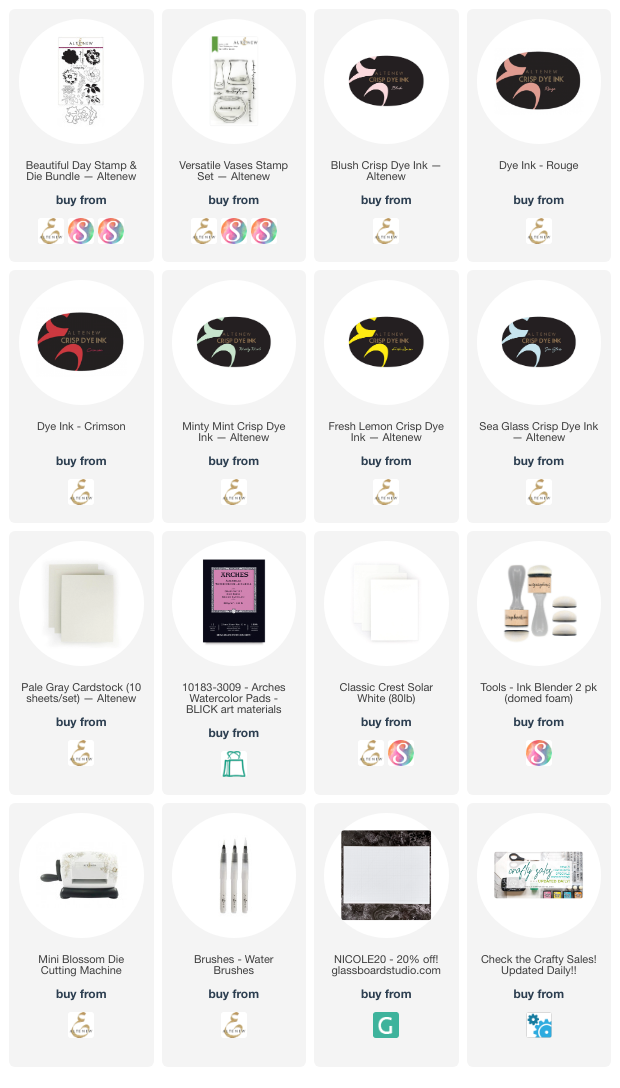 HOT DEALS!
Don't miss these hot deals - click the picture to shop!
Here's some other projects you'll like!
It's the first of the month, and that means it's time for a new Build-a-Flower and a giveaway blog hop!
Do you make more cards than you can use? I certainly do! I'm always on the lookout for a worthwhile cause to donate my extras to.
Let's start the week off with a sketch! I have another Sketch Starter for you today. Perhaps it will help kick-start your crafting mojo for the week!