On the CASE: Wispy Begonia in Space
On the CASE: Wispy Begonia in Space
You might be wondering if a CASE should always be exact….
Up until now, Ann and I have been working on CASE files that help you discover the exact way a card was designed. For the most part, I think we will continue doing that, because we know that you want to know how the card was made, and how you can make one too! But, does a CASE always have to be exact to be considered a CASE? Well, no! Technically a CASE is any design that was inspired by another and that resembles it in some way. It may be the arrangement of elements that really appeals to you, or perhaps it's a specific color combo or pattern. At any rate, when you are inspired by someone else, you should let them know! So, if you're a blogger, always link back to the original project and let that person (or company) know that you liked their design enough to create a copy, or derivative of it.
(affiliate links are used in this post. When you click on them and make a purchase, I may receive a small commission at no additional cost to you. Thanks for supporting my blog!)
The reason I shared that little bit about CASE-ing etiquette, is because my design is from a designer and Leadership Team member over at Altenew. Though it doesn't look like she's currently blogging, it's still important to cite her as the original designer! This fantastic artist is Jennifer Rzasa. She makes quite a few sample projects for the Altenew website and she's even led some great classes over at the Altenew Academy! I'm linking over to the product page where her design is featured as one of the samples. It certainly is eye catching, and combines two great techniques – emboss resist and ink smooshing.
Don't forget to leave a comment at the end of the post to qualify for my quarterly giveaway!
Stamps and Paper and Inks … Oh, My!
Stamps: Wispy Begonia (Altenew)
Paper: 8 1/2″ x 5 1/2″ Solar White 110lb CS (Neenah), 4 1/4″ x 5 1/2″ Black Licorice CS (Lawn Fawn), 1 1/4″ x 4 1/2″ Solar White 80lb CS (Neenah), 4″ x 4″ 110lb watercolor card (Strathmore)
Inks: Versafine Clair Nocturne (Tsukineko), Versamark (Tsukineko), Picket Fence Distress Spray Stain (Ranger), Various pink, red, green and blue inks or watercolors.
Accessories: None
Other: White Embossing Powder (Ranger), Anti-static bag (Ranger), Heat Tool, Stamp Positioning Tool (Tonic), Wispy Begonia Dies (Altenew), Big Shot (Sizzix), plastic sheet, water spritzer.
On the CASE Notes
(your step-by-step guide – click on the images for a larger slideshow)
Score the card base at 4 1/4″ and set aside.
Stamp the sentiment on a strip of Solar White 80# cardstock. Set aside.
Set up watercolor card for embossing. Use an anti-static bag, then set up the floral pieces from Wispy Begonias. Stamp in Versamark, then heat emboss in White. Cut the leaves from the flower.
Add shades of red to a piece of plastic or a teflon mat, and spritz with water. The more water, the looser the watercolor and the more it will spread. Smoosh the embossed flower into the pool of color. Dry and repeat as desired to achieve the look you want. Dry with a heat tool.
Repeat the ink smooshing process with the embossed leaves using shades of green and blue.
Once dry, diecut the finished floral elements using the Wispy Begonia dies. Set aside.
Flick Picket Fence Distress Spray Stain on the piece of black cardstock. To get a more fine splatter, use a small paintbrush or toothbrush.
Once dry, adhere the finished black panel to the card base. Then, adhere the sentiment. Trim off any excess.
Arrange the bloom and leaves. Once you like the arrangement, glue down the leaves and pop up the flower with adhesive backed foam.
How Hard Was It to Crack this CASE?
Difficulty Level: 2.5 out of 5 – This card design is a great introduction to working with watercolors. Emboss resist is always a "wow" moment for any new crafter, and the unique color patterns that come from ink smooshing can really get someone hooked on ink forever!
We hope our projects today inspired you to try CASE-ing our projects, or another project you've been eyeing! We hope to see you again in 2 weeks when we'll be On the CASE again!
HOT DEALS!
Don't miss these hot deals - click the picture to shop!
Inspired by the products I used?
The supply list is right here! Just click a product to start shopping.
The links I'm sharing are Compensated Affiliate Links, meaning that I will receive a small commission on your sale, at no additional cost to you.
Items marked with an asterisk (*) were provided by a store or the manufacturer.
When you shop with these links, you help keep the lights on and the inspiration flowing here at Pixel Maven's Retreat! Thank You!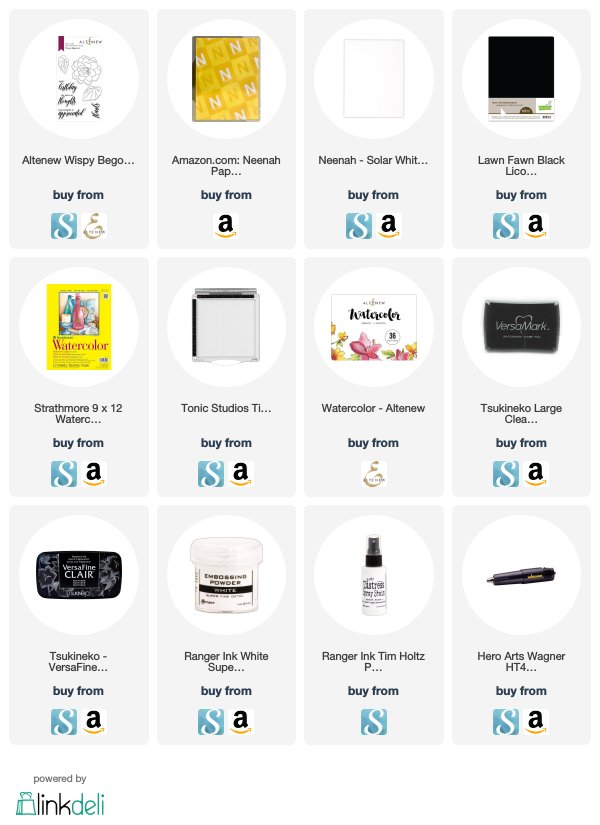 Here's some other projects you'll like!
Welcome to another Tic Tac Toe Challenge!
The lovely Claire Broadwater is our lead designer for our latest Tic Tac Toe Challenge. She's created a fun board full of amazing possibilities! The question is, which way will you go? Row, Column or Diagonal?!
Welcome back for another Festive Friday! Our latest Festive Friday challenge is super fun! We picked out a great festivity to fill out our Inspo List, and hopefully it will have you sea-ing lots of fun possibilities!