On the CASE: Turnabout Mashup
On the CASE: Turnabout Mashup
What do you do with all that "inspiration" you save?
Collecting images on Pinterest is all fine and dandy, but what do you do with it all? Do you have a system for gathering what you like about the design and using it for your own projects? One way to use that inspiration is to turn the design into a sketch that you can reference to create new projects. And that's what I did for today's On the CASE.
(affiliate links are used in this post. When you click on them and make a purchase, I may receive a small commission at no additional cost to you. Thanks for supporting my blog!)
I was looking through the inspiration provided on the Concord & 9th store site and I found a card that had a nice layout. So, I took to my computer and created this sketch of the project:
Looks pretty simple, right? Let's see the original inspiration for the sketch, and the project I created from it! Oh, and don't forget to PIN the sketch so you can use it for inspiration in your next project!
Don't forget to leave a comment at the end of the post to qualify for my monthly giveaway!
Stamps and Paper and Inks … Oh, My!
Stamps: Faceted Turnabout Stencils (Concord & 9th), Hello Sunshine Turnabout (Concord & 9th)
Paper: 8 1/2″ x 5 1/2″ Solar White 110lb CS (Neenah), 4 1/4″ x 5 1/2″ Spicy Yogurt CS (Altenew), 4″ x4″ Copper Foil CS (Stampin' Up!), 3″ x 1″ Narwhal CS (Lawn Fawn), scrap of Guava CS (Lawn Fawn)
Inks: Morning Frost Crisp Dye Ink (Altenew), Evening Gray Crisp Dye Ink (Altenew), Hybrid Black Ink (Scrapbook.com)
Accessories: Pearls, Linen Thread
Other: 3D Botanical Embossing Folder (Sizzix), Big Shot (Sizzix), Infinity Circle DIes (Hero Arts), Post-it Tape (3M), Blending Brushes (Scrapbook.com), Turnabout Template (Concord & 9th), Foam Adhesive
CASE Closed!
I just LOVE sketches! I'm sure you can see how taking an inspiration project and turning it into a sketch makes for a more versatile reference tool for your projects. When you take all of the detail out of the idea and leave just the basic shapes, you're free to let your imagination fill in the blanks!
We hope our projects today inspired you to try CASE-ing our projects, or another project you've been eyeing! We hope to see you again in 2 weeks when we'll be On the CASE again!
Get everything you need to make this project!
The supply list is right here! Just click a product to get started. The links I'm sharing are Affiliate Links, meaning that I will receive a small commission on your sale, at no additional cost to you.
This helps keep the lights on and the inspiration flowing here at Pixel Maven's Retreat!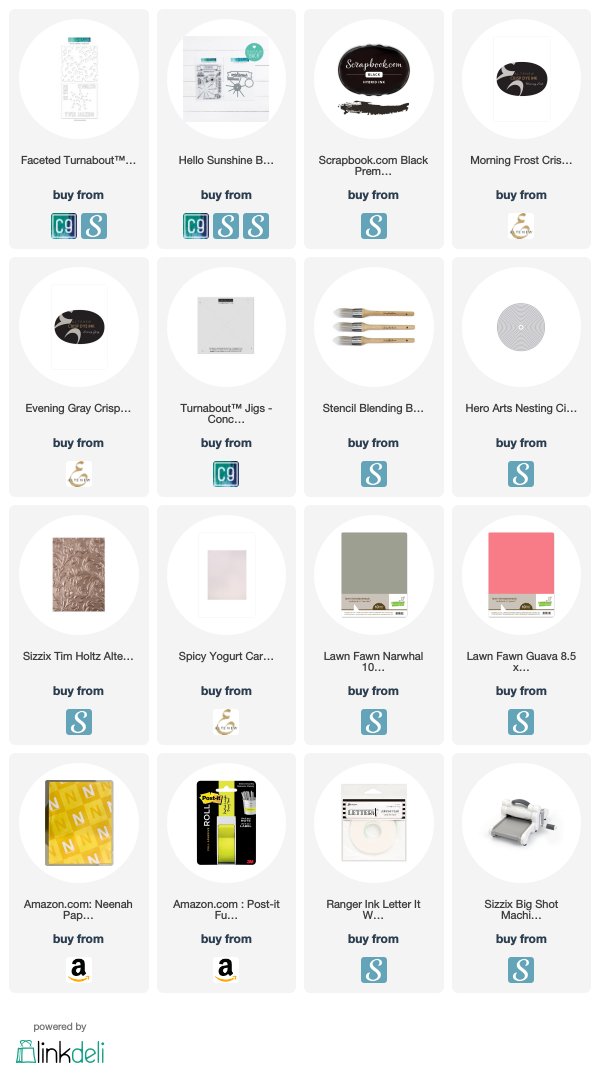 The Latest...
FREEBIES!!!

 There's no catch - check out my

Freebies Page

for all sorts of downloadable resources to help take your crafting up a notch!

Need a Color Coordinator to inspire color choices for your projects? Get yours today! 2019-20 Coordinators are NOW SHIPPING!
"I love this! I have a hard time getting color combos together and this takes all the guess work out so I can start creating right away! I think every stamper should have one thank you for this amazing product." - Sandra
Here's some other projects you'll like!
Thanks to everyone who followed along and left such amazing comments during this year's 12 Days event! I had such a fun time doing it, I'll definitely be doing it again next year. Of course, I've got some WINNERS to announce, so, here we go!...
This CASE has my name written all over it!
Yes – I'm On the CASE with Ann today, but I'm also finishing up my 12 Days of Christmas (in July) series – so, today is a double-dip! Perhaps a triple dip as my CASE file features one of MY cards!
Kraft is the perfect color for a cozy Christmas…
But, it's hard to get colors to look good when they're stamped on it. That's why many resort to black, or white (pigment ink). Other dye inks will just soak in and look dark and muddy.