On the CASE: Quick Colored Hummingbird
On the CASE: Quick Colored Hummingbird
Hummingbirds – they're on trend!
They're also in my yard! I think hummingbirds are such magical creatures. We have many in our area and lots of people keep them well-fed, so I get to see them in nature quite often. We even have a hummingbird house that we hope will attract a loving couple to lay their eggs. Did you know that hummingbird eggs are the size of Tic-Tacs?!
Anyway, I know a lot of companies added hummingbirds to their lineup this spring, so I had to add one to my collection – but which one?! I went for a lovely folk-style image set from Pinkfresh Studio that will work well in a lot of different styles. Oh, and I love the sentiments that it came with — always a bonus to a good set of images!
(affiliate links are used in this post. When you click on them and make a purchase, I may receive a small commission at no additional cost to you. Thanks for supporting my blog!)
Don't forget to leave a comment at the end of the post to qualify for my quarterly giveaway!
Stamps and Paper and Inks … Oh, My!
Stamps: Folk Hummingbird (Pinkfresh Studio)
Paper: 8 1/2″ x 5 1/2″ Solar White 110lb CS (Neenah), 4 1/4″ x 5 1/2″ Solar White 80lb CS (Neenah)
Inks: Black Dye Ink (Scrapbook.com), Copics: YG17, G29, Y19, RV23, RV25, Precision Pen size .01 (American Crafts)
Accessories: None
Other: Stamp Positioning Tool (Tonic), Big Shot (Sizzix), Folk Hummingbird dies (Pinkfresh Studio)
On the CASE Notes
(your step-by-step guide – click on the images to see a larger slideshow)
Score the card base at 4 1/4. Use a ruler and .01 marker to draw a frame.
Stamp the sentiment on the card base. Set aside.
Stamp the flower and hummingbird images. Allow to dry, or use a heat tool to set the ink.
Color images using Copics.
Diecut the images.
Adhere the images to the card base arranged as shown.
How Hard Was It to Crack this CASE?
Difficulty Level: 2 out of 5 – This CASE is straightforward and will come together quickly. What I like about it is that colors can be easily swapped out, and it reminds us that Copic markers don't always have to be blended. The ink lays down so nice as a solid color that there's no reason NOT to use them all the time! So, go ahead, experiment with different color combos and create a whole pile of these CASE-worthy cards!
We hope our projects today inspired you to try CASE-ing our projects, or another project you've been eyeing! We hope to see you again in 2 weeks when we'll be On the CASE again!
Inspired by the products I used?
The supply list is right here! Just click a product to start shopping.
The links I'm sharing are Compensated Affiliate Links, meaning that I will receive a small commission on your sale, at no additional cost to you.
Items marked with an asterisk (*) were provided by a store or the manufacturer.
When you shop with these links, you help keep the lights on and the inspiration flowing here at Pixel Maven's Retreat! Thank You!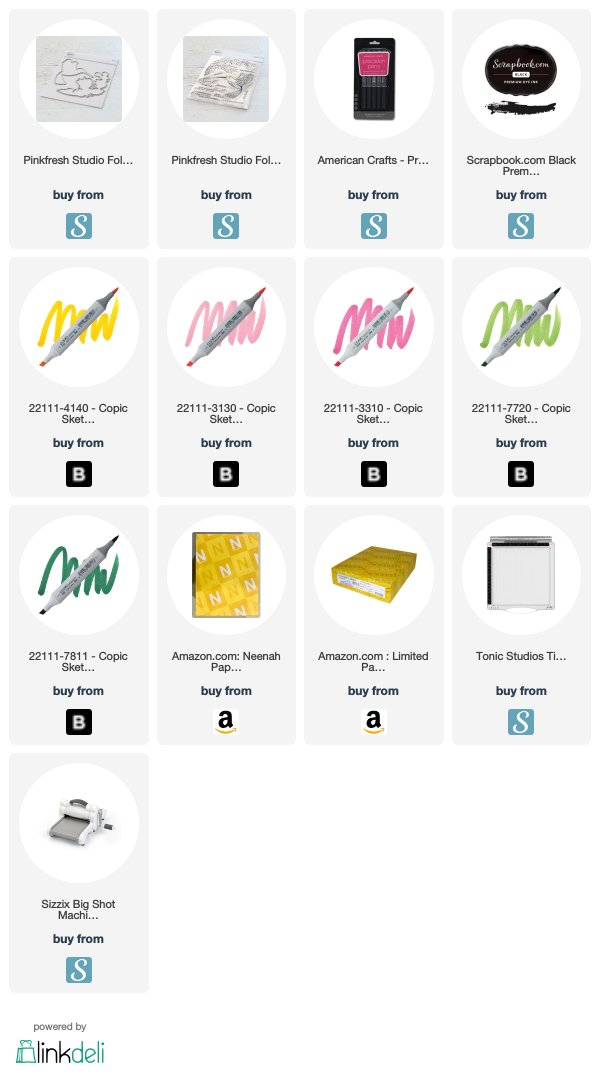 HOT DEALS!
Don't miss these hot deals - click the picture to shop!
Here's some other projects you'll like!
Another month has passed. Another 22nd has arrived!! It's time for a new Paint-a-Flower stamp, PLUS we have new Artist Marker refills!!
Welcome to another Tic Tac Toe Challenge!
The lovely Claire Broadwater is our lead designer for our latest Tic Tac Toe Challenge. She's created a fun board full of amazing possibilities! The question is, which way will you go? Row, Column or Diagonal?!