On the CASE: Oh, Hello!
On the CASE: Oh, Hello!
It's a new year, with new adventures!
Happy 2019! Ann and I are back with another On the CASE. Last year, Ann and I worked our way through Stampin' Up!® catalogs, breaking down samples step-by-step, providing you with free tutorials so you could CASE your own. This year, Ann is still working on unsolved Stampin' Up! CASEs, but I've been "reassigned" to a new unit! Since I am no longer a Stampin' Up! Demonstrator, but an Affiliate Crafter, I'm using my investigative skills to solve CASEs throughout the crafting universe as I explore and learn about all the other great crafty stuff out there. So, let's get started!
(affiliate links are used in this post. When you click on them and make a purchase, I may receive a small commission at no additional cost to you. Thanks for supporting my blog!)
Today, I'm exploring Concord & 9th's Oh, Hello Turnabout stamp set. Turnabout stamps are unique in that cardstock can be rotated around so that each time the image is stamped, it appears on a different part of the cardstock to create a full pattern. The Oh, Hello stamp set was one of the first Turnabouts from C&9th. The key is to create a 6″ x 6″ template to rotate around in a stamp positioning tool (like my Tonic Stamp Platform).
I recommend watching these two videos to learn more about Turnabouts. If you'd like me to make a video to answer any other questions you have, be sure to leave a comment and let me know what you'd like to see!
Turnabout Stamp Tips – This video shows how to set up the stamp and a template. That's when I had my "a-ha" moment.
Flower Turnabout Thank You – This video is for a different Turnabout, but it shows you how the actual stamping process works.
Please note that going forward, for my CASE projects, I will be guessing a lot on the ink and paper colors. So, in most cases, I will get close, but won't be as exact like Ann can be with the Stampin' Up! CASEs. For instance, today, I didn't know what kind and color cardstock to use from the sample, so I just picked two colors I have that were close in color. But, that's the beauty of CASEing. You can be inspired by a design and follow it as closely or loosely as you want!
Don't forget to leave a comment at the end of the post to qualify for my monthly giveaway!
Stamps and Paper and Inks … Oh, My!
Stamps: Oh, Hello (Concord & 9th)
Paper: 8 1/2″ x 5 1/2″ Solar White 110lb CS (Neenah), 4 1/4″ x 5 1/2″ Poppy Parade CS (Stampin' Up!), 4″ x 5 1/4″ Calypso Coral CS (Stampin' Up!), 1 3/4″ x 3″ Solar White 80lb CS (Neenah), 1/2″ x 3″ Poppy Parade CS (Stampin' Up!)
Inks: Abandoned Coral Distress Ink (Ranger), Candied Apple Distress Ink (Ranger), Versamark (Tsusinkeo)
Accessories: Gold metallic thread (Stampin' Up!)
Other: White Embossing Powder (Ranger), Gold Embossing Powder (Ranger), Anti-static bag, Heat Tool, Stamp Positioning Tool, 6″ x 6″ Turnabout template, pop-up dots.
On the CASE Notes
(your step-by-step guide)
Score the card base at 4 1/4″. Adhere the Poppy Parade CS and set aside.
Set up the Turnabout template and stamp in a stamp positioner. Set up the cardstock on the template using temporary adhesive.
Stamp the first image in Abandoned Coral. You can use Distress Inks or Distress Oxides. If you use Oxides, be sure to heat set before the embossing steps.
Turn the whole template 90-degrees clockwise. Stamp in the Candied Apple.
Turn the whole template 90-degrees clockwise. Use an anti-static bag, then stamp in Versamark. Heat emboss in White.
Turn the whole template 90-degrees clockwise (this is the last turn). Use an anti-static bag, then stamp in Versamark. Heat emboss in Gold.
Adhere to the card base.
Stamp the "hi there" portion of the sentiment on the 1 3/4″ strip of lightweight Solar White CS.
Stamp the "friend" part of the sentiment in Versamark and heat emboss in gold.
Mark the center of the strip (7/8″). Freehand snip from the corners to the center mark to make a flagged end.
Snip the 1/2″ Poppy Parade strip at an angle.
Attach the Poppy Parade flags to the back of the sentiment, allowing them to peek out from the bottom.
Use a gray marker and ruler to make faux stitching (C&9th used a die, but I don't have one that shape. I'm guessing it was a hexagon).
Add pop-up dots to the back of the sentiment.
Add rings of metallic thread to the back of the sentiment.
Adhere the sentiment to the card and admire your work!
How Hard Was It to Crack this CASE?
Difficulty Level: 3 out of 5 – I'm calling this a "3" because of the learning curve to do the Turnabout. Now that I know what to do, it wasn't that hard, so the technique gives you a really great bang for your buck. It's also a 3 because of the embossing in some of the steps. Want to take it down a notch? Avoid the heat embossing and just use 4 different ink colors to create a beautiful multi-colored background pattern.
I love that this particular design can be done up in any color combination! So, pull out your Color Coordinator and mix up some fun combos. If you don't do Stampin' Up! colors, would you like to see me do something similar with another brand? Let me know in a comment and I'll see what I can work up for you!
We hope our projects today inspired you to try CASE-ing our projects, or another project you've been eyeing! We hope to see you again in 2 weeks when we'll be On the CASE again!
The Latest...
FREEBIES!!!

 There's no catch - check out my

Freebies Page

for all sorts of downloadable resources to help take your crafting up a notch!

Need a Color Coordinator to inspire color choices for your projects? Get yours today! 2019-20 Coordinators are NOW SHIPPING!
"I love this! I have a hard time getting color combos together and this takes all the guess work out so I can start creating right away! I think every stamper should have one thank you for this amazing product." - Sandra
Get everything you need to make this project!
The supply list is right here! Just click a product to get started. The links I'm sharing are Affiliate Links, meaning that I will receive a small commission on your sale, at no additional cost to you.
This helps keep the lights on and the inspiration flowing here at Pixel Maven's Retreat!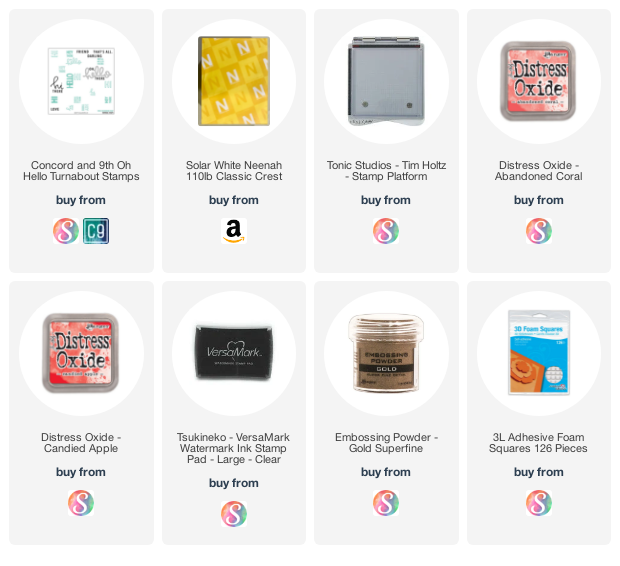 Here's some other projects you'll like!
Fashion trends are a huge source of inspiration for the craft world.
You'll see similar color combinations, textures and patterns pop up in stamp sets, stencils, tools, dies, etc.
A moon you can hunt by…
Today's Distress Oxide blend creates a supermoon, illuminating the Halloween Cut File spooky tree and jack-o-lantern.
Hey You! Boss…!
Maybe you are one, maybe you work for one, maybe you live with one… We all got 'em. Bosses!