On the CASE: Geometric Landscape
On the CASE: Geometric Landscape
Everyone can fussy cut this project!
Today I'm CASE-ing a new stamp set from Altenew – Geometric Landscape. I can envision a lot of amazing cards with this set. But, I thought I'd start with a design that was inspired by one of the samples.
(affiliate links are used in this post. When you click on them and make a purchase, I may receive a small commission at no additional cost to you. Thanks for supporting my blog!)
Jaycee Gaspar was an April guest designer at Altenew and is also enrolled in the Altenew Educator Certification Program (AECP) – just like me! If you get a chance, stop by his blog and see the samples he did. Two words come to mind – thoughtful and balanced. There are quite a few other designs that he's shared that I have on my list for inspiration. I hope you like his portfolio too!
I started by pulling the cutouts from his design – cutting on my own lines instead of mimicking the ones he'd selected. I also added in a background geometric layer with some of the leftover pieces. I changed the color thinking that green is a more hopeful color. The color, combined with the angled upward geometric (think – climbing up, or achieving new heights) tie into the encouraging sentiment.
Because the geometric is heat embossed, it's super easy to fussy cut! So, if you're typically a non-fussy-cutter, or if you're new to papercrafting, give this one a try as it's a great introduction to cutting around the lines.
Don't forget to leave a comment at the end of the post to qualify for my quarterly giveaway!
Stamps and Paper and Inks … Oh, My!
Stamps: Geometric Landscape (Altenew)
Paper: 8 1/2″ x 5 1/2″ Solar White 110lb CS (Neenah), 2: 4 1/4″ x 5 1/2″ Evergreen CS (Bazzill), 4″ x 3/4″ Gold Mirror CS (Altenew)
Inks: Versamark (Tsukineko)
Accessories: none
Other: Black Fun Foam Sheet(Amazon), Black Embossing Powder (Ranger), Gold Embossing Powder (Ranger), Anti-static bag (Ranger), Heat Tool (Hero Arts), Stamp Positioning Tool (Tonic/Tim Holtz), Paper Snips (Tonic/Tim Holtz), Picket Fence Distress Spray Stain (Ranger/Tim Holtz)
On the CASE Notes
(your step-by-step guide)
Score the card base at 4 1/4″. Set aside.
Stamp and heat emboss the background geometric panel using Versamark and Gold Embossing Powder on one of the Evergreen cardstock panels.
Stamp and heat emboss the sentiment using Versamark and Black Embossing Powder on the Gold Mirror cardstock strip.
Add Picket Fence spatter to the other Evergreen cardstock panel. Allow dry time, or use a heat gun to dry.
Cut out the geometric layers to your preference.
Adhere the spattered background panel to the card base, then adhere a background geometric layer (optional).
Trace the geometric shape onto a black fun foam sheet. Cut the foam and adhere to the panel.
Finish the card by adhering the sentiment and adding the top geometric layer.
How Hard Was It to Crack this CASE?
Difficulty Level: 2 out of 5 – This is a "Quick & Wow" card. If you have just a few extra minutes to do the heat embossing, you can whip this one up last minute style for any occasion you need. Not enough time for heat embossing? Just stamp it high contrast – like green on white or monochrome like dark purple on lavender, and you'll end up with the same great result. Cut the geometrics different each time, or go cookie cutter – your choice!
We hope our projects today inspired you to try CASE-ing our projects, or another project you've been eyeing! We hope to see you again in 2 weeks when we'll be On the CASE again!
HOT DEALS!
Don't miss these hot deals - click the picture to shop!
Inspired by the products I used?
The supply list is right here! Just click a product to start shopping.
The links I'm sharing are Compensated Affiliate Links, meaning that I will receive a small commission on your sale, at no additional cost to you.
Items marked with an asterisk (*) were provided by a store or the manufacturer.
When you shop with these links, you help keep the lights on and the inspiration flowing here at Pixel Maven's Retreat! Thank You!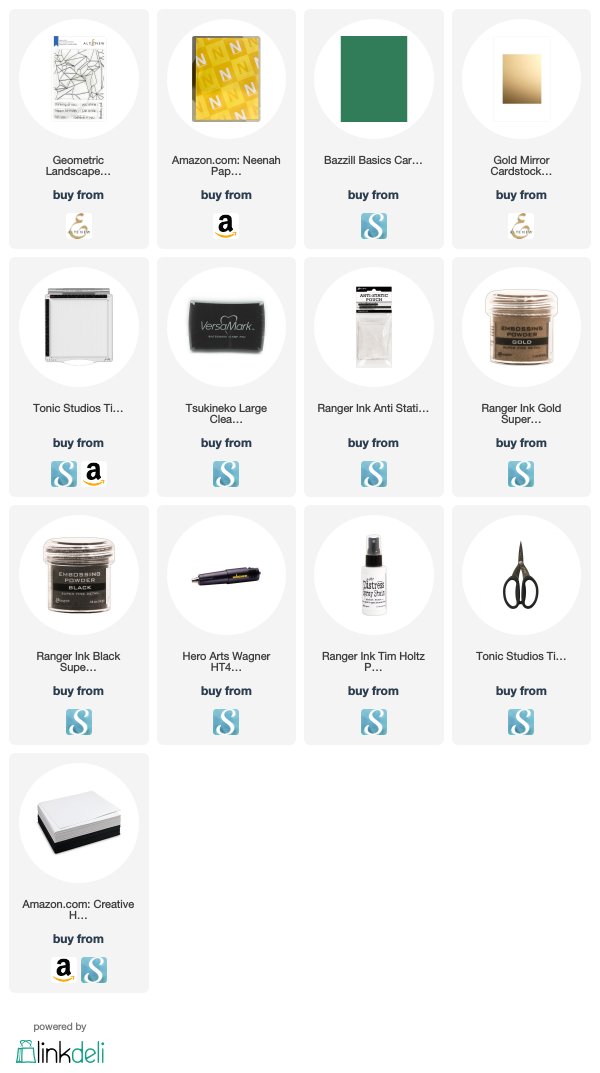 Here's some other projects you'll like!
Another month has passed. Another 22nd has arrived!! It's time for a new Paint-a-Flower stamp, PLUS we have new Artist Marker refills!!
Welcome to another Tic Tac Toe Challenge!
The lovely Claire Broadwater is our lead designer for our latest Tic Tac Toe Challenge. She's created a fun board full of amazing possibilities! The question is, which way will you go? Row, Column or Diagonal?!