On the CASE: Big, Bold & Gold
On the CASE: Big, Bold & Gold
I use Social Media to find trends…
It's easy to get sucked into the vortex of Pinterest or Instagram. That's why I use it for a very targeted reason – to find current trends! Whether they're fashion or decor trends that can translate to cardmaking, or it's something I'm seeing a lot of cardmakers do, I take note and see how I can add my own spin on the trend. This is another type of CASEing. The kind of CASEing where you see something you're inspired by and you use it in your own, original design.
(affiliate links are used in this post. When you click on them and make a purchase, I may receive a small commission at no additional cost to you. Thanks for supporting my blog!)
This design style is popping up all over the place – and it's no wonder! It's just gold embossing – and lots of it! Using big, bold images as the focal point, and adding in a gold embossed sentiment (with maybe some gold embellishments), is the recipe for this trend. The great thing about it is that it's easy and quick! Here's two places I've seen it recently – and the inspiration for my project:
I love how both samples rely on the big, bold stamped imagery, the gold embossing, and just about nothing else. The Concord & 9th sample also shows that gold doesn't have to go on dark cardstock – it works equally well on pastel colors. So, with these in mind, here's my design!
I pulled in a soft background color, and then selected a stamp set that would showcase both a line-art style (like the C9 sample), and a filled in style (like Nanette's sample). It's Wallpaper Art from Altenew. Just like both samples, the sentiment is also gold embossed, and kept on the same color as the background to keep the monochromatic + gold look. I kept the embellishment to a minimum using just some token sequins and gold metallic thread (my favorite) – now carried by The Stamp Market.
Don't forget to leave a comment at the end of the post to qualify for my quarterly giveaway!
Stamps and Paper and Inks … Oh, My!
Stamps: Wallpaper Art (Altenew)
Paper: 8 1/2″ x 5 1/2″ Solar White 110lb CS (Neenah), 4 1/4″ x 5 1/2″ Lavender Fields (Altenew), 3/4″ x 3″ Lavender Fields (Altenew)
Inks: Antique Gold Pigment Ink (Altenew)
Accessories: Gold metallic thread (The Stamp Market), Vegas Baby Sequins (Catherine Pooler)
Other: Antique Gold Embossing Powder (Altenew), Anti-static bag (Ranger), Heat Tool (Wagner), Stamp Positioning Tool (Tonic)
How Hard Was It to Crack this CASE?
Difficulty Level: 1 out of 5 – This CASE was more about finding a style trend and then applying it to my own design. One just needs to be on the hunt for styles or ideas that they see over and over again to find inspiration. To crack the technique can sometimes be hard, but in this case, we were just talking about some heat embossing paired with large images.
We hope our projects today inspired you to try CASE-ing our projects, or another project you've been eyeing! We hope to see you again in 2 weeks when we'll be On the CASE again!
Now that you've seen my CASE file, check out Ann's!
Inspired by the products I used?
The supply list is right here! Just click a product to start shopping.
The links I'm sharing are Compensated Affiliate Links, meaning that I will receive a small commission on your sale, at no additional cost to you.
Items marked with an asterisk (*) were provided by a store or the manufacturer.
When you shop with these links, you help keep the lights on and the inspiration flowing here at Pixel Maven's Retreat! Thank You!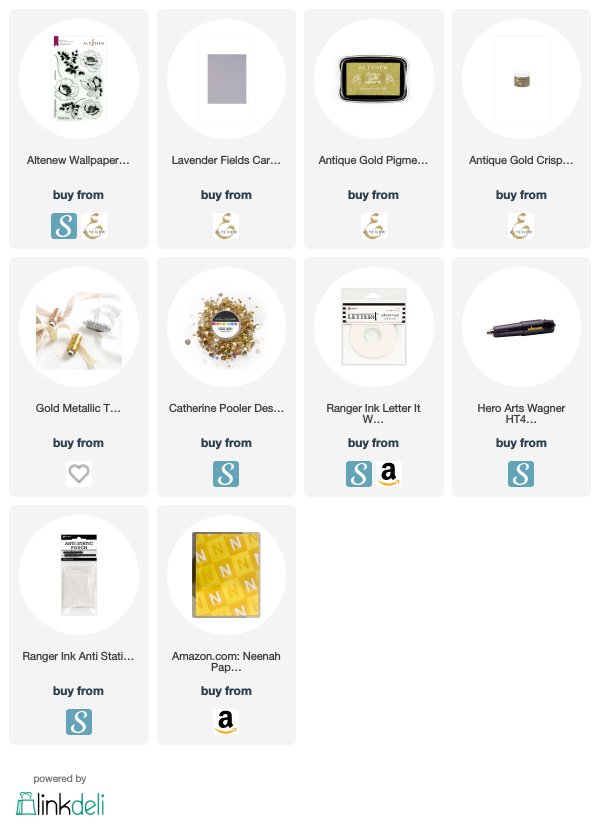 HOT DEALS!
Don't miss these hot deals - click the picture to shop!
Here's some other projects you'll like!
Welcome to another Tic Tac Toe Challenge!
The lovely Claire Broadwater is our lead designer for our latest Tic Tac Toe Challenge. She's created a fun board full of amazing possibilities! The question is, which way will you go? Row, Column or Diagonal?!
Welcome back for another Festive Friday! Our latest Festive Friday challenge is super fun! We picked out a great festivity to fill out our Inspo List, and hopefully it will have you sea-ing lots of fun possibilities!