On the CASE: All Lined Up Hello
On the CASE: All Lined Up Hello
Happy Hump Day! Got time for a quick CASE?
Oooh! I'm so in love with my take on today's Inspiration CASE! I've noticed that I'm not so into patterned paper anymore. Actually, I don't think I ever was. I always ended up with sooooo much that I didn't use. So, now, I just don't buy it! I prefer to create my own backgrounds. So, I made my own background for today's project, based on the patterned paper used for the original. It was fun, and it turned out ah-maz-ing!
(affiliate links are used in this post. When you click on them and make a purchase, I may receive a small commission at no additional cost to you. Thanks for supporting my blog!)
Don't forget to leave a comment at the end of the post to qualify for my quarterly giveaway!
Stamps and Paper and Inks … Oh, My!
Stamps: All Lined Up (The Stamp Market), Sketchy Floral (Altenew)
Paper: 8 1/2″ x 5 1/2″ Solar White 110lb CS (Neenah), 4 1/8″ x 5 3/8″ Hot Press Watercolor Card (Arches)
Inks: 36 Pan Set Watercolors (Altenew), Versamark (Tsukinkeo)
Accessories: None
Other: Sticky Grid Sheets (Sizzix), White Embossing Powder (Ranger), Anti-static bag (Ranger), Heat Tool (Hero Arts), Stamp Positioning Tool (Tonic), #6 Round Watercolor Brush (Transon), Fun Foam Sheet (Amazon)
On the CASE Notes
(your step-by-step guide)
Score the card base at 4 1/4″ – set aside.
Watercolor rainbow stripes on watercolor card. Do not add water to the card ahead of time – this is a wet on dry technique. You may need to mix colors to get the desired colors. Don't be afraid to experiment!
Add a Sizzix Sticky Grid to the base of the stamp positioner. This will allow for easier repeat stamping.
Stamp the "Hello" image on three of the colored stripes using Versamark. Heat emboss in white.
Add "Just Because" image to the card and emboss in white.
Cut a foam sheet slightly smaller than the watercolor panel. Adhere to the back of the watercolor panel.
Adhere finished panel to card base.
How Hard Was It to Crack this CASE?
Difficulty Level: 2 out of 5 – Who cares that this design had patterned paper originally?! I think watercoloring my own stripes is much more fun! Aaaannnd, it's not any harder to do! Having the right size brush makes this project a breeze! I truly enjoyed mixing my watercolors to come up with colors that matched the sample. But, that was totally not necessary. This would be a great design to do some ombre shading – going for the monochrome effect. Or, perhaps alternating colors? Put this project in your back pocket! It's one to come back to again and again!
We hope our projects today inspired you to try CASE-ing our projects, or another project you've been eyeing! We hope to see you again in 2 weeks when we'll be On the CASE again!
Inspired by the products I used?
The supply list is right here! Just click a product to start shopping.
The links I'm sharing are Compensated Affiliate Links, meaning that I will receive a small commission on your sale, at no additional cost to you.
Items marked with an asterisk (*) were provided by a store or the manufacturer.
When you shop with these links, you help keep the lights on and the inspiration flowing here at Pixel Maven's Retreat! Thank You!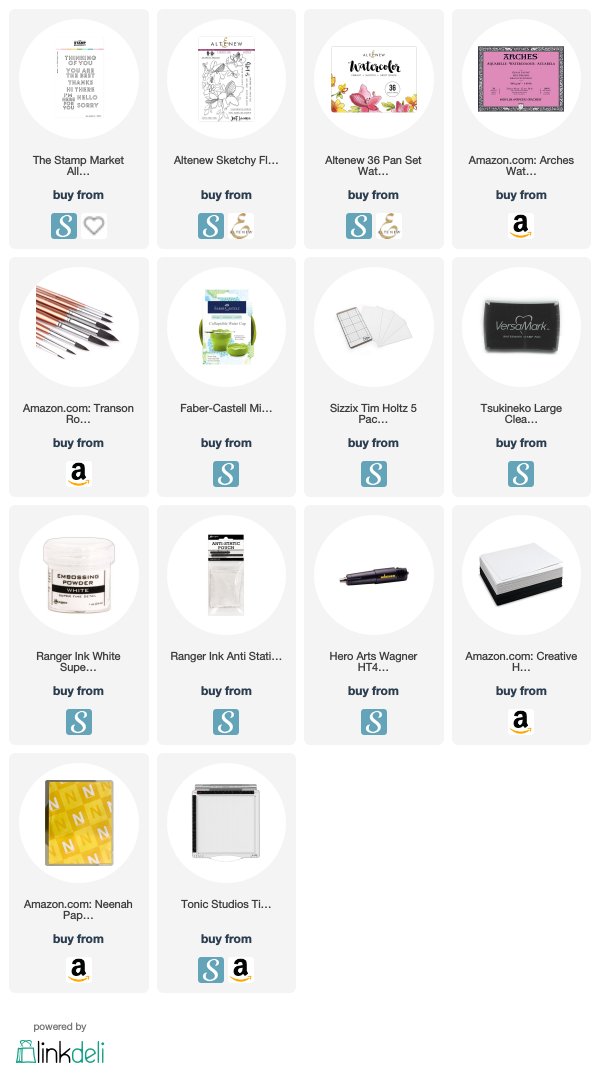 HOT DEALS!
Don't miss these hot deals - click the picture to shop!
Here's some other projects you'll like!
Welcome to another Tic Tac Toe Challenge!
The lovely Claire Broadwater is our lead designer for our latest Tic Tac Toe Challenge. She's created a fun board full of amazing possibilities! The question is, which way will you go? Row, Column or Diagonal?!
Welcome back for another Festive Friday! Our latest Festive Friday challenge is super fun! We picked out a great festivity to fill out our Inspo List, and hopefully it will have you sea-ing lots of fun possibilities!