New Baby Chalkboard Card for Hedgehog Hollow
New Baby Chalkboard Card for Hedgehog Hollow
A baby card is always worth making…
… because baby cards tend to be kept as keepsakes or put into scrapbooks. That's why I love to make them as customized as possible! The November Hedgehog Hollow stamp sets let me do just that!
(affiliate links are used in this post. When you click on them and make a purchase, I may receive a small commission at no additional cost to you. Thanks for supporting my blog!)
Not so serious
I love that this stamp set doesn't take itself so seriously! When I saw it I immediately thought of drawing figures on a chalkboard. And, since there are family members of every age, plus a few extra fun pieces to add some personality to the family, it's easy to create a grouping that reflects the recipients!
Make it chalky
A true chalkboard effect isn't hard to achieve. The November kit comes with both black and green cardstock, so you could go for either. Whichever you choose, the method is the same! I use white pigment ink to do my stamping and embossing (to make a perfect white impression) and then I just use a blending brush with the tiniest bit of white pigment ink swiped across the finished design to make it look like a recently cleaned chalkboard. If I want a more swipey look, I use a damp cloth to swipe through the blended ink.
Mix & Match
I love that Laura went heavy on the character options instead of saving room for sentiment. That really allows total creativity in creating a scene. Plus, since the designs are so clean and simple, just about any kind of sentiment from another stamp set will work with the set – baby, birthday, graduation, wedding, birthday – even pet related sentiments work!
Project Tutorial Video
Of course, if you want to see how I create this adorable design, I have a process video for you!
Give it a try!
I hope you enjoyed this fun chalkboard style and you experiment with the characters to create your own custom groups. Don't forget to check out all the Hedgehog Hollow subscription box options – they make great gifts this holiday season!
Don't Forget about my quarterly GIVEAWAY!
Every quarter, I give away a sweet surprise to one lucky commenter. So, don't forget to leave a COMMENT on today's post to enter!
If you loved today's project, I'd love to know! The blogosphere can be a lonely place, so please don't lurk! Leave a quick word or two to tell me you were here!
Inspired by the products I used?
The supply list is right here! Just click a product to start shopping.
The links I'm sharing are Compensated Affiliate Links, meaning that I will receive a small commission on your sale, at no additional cost to you.
Items marked with an asterisk (*) were provided by a store or the manufacturer.
When you shop with these links, you help keep the lights on and the inspiration flowing here at Pixel Maven's Retreat! Thank You!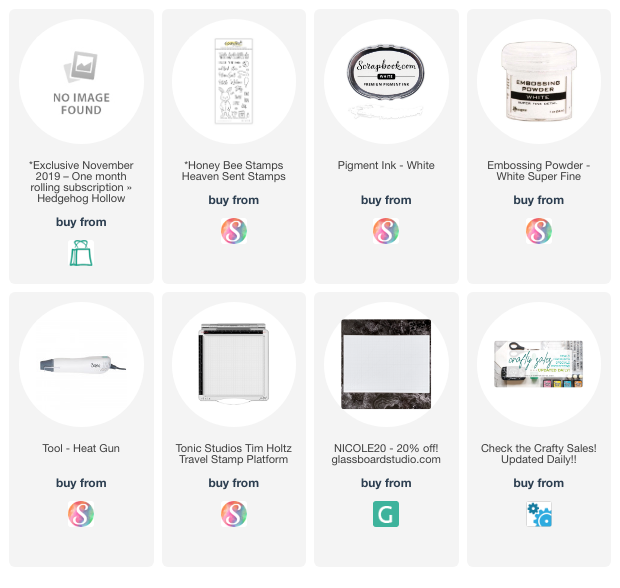 HOT DEALS!
Don't miss these hot deals - click the picture to shop!
New & Gently Used craft supplies
at a great price!
Click here to get yours!
Here's some other projects you'll like!
Are you ready for a new Craft-a-Flower? This month, we're bringing you the classic Daisy, and I have a fun twist on this set for you!
Kick start your mid-week crafting with a new Sketch Starters Challenge and some more inspiration from my video series in partnership with Altenew!
It's another Sketch Starter! One is a "scrapbuster" and the other is a "washi-buster". Both are fun and easy to do!