Happy Wishes and Watercolor Wash
Happy Wishes and Watercolor Wash
I saved hundreds last year because I don't do this anymore…
Hmmm. What could it be? Well, I'll let you know – it's something that I used to buy a lot of, but haven't bought in over a year. If you guessed "patterned paper", you'd be right! I've had such a great time discovering different ways to use ink, stamps and paper to create my own custom backgrounds, that I don't even have the urge to dip into the patterned stuff anymore. Good thing, too! I used to get a pack of paper and use less than half of it before growing tired of it. I had such a huge collection. It's all gone now! Either sold off, or given away…
(affiliate links are used in this post. When you click on them and make a purchase, I may receive a small commission at no additional cost to you. Thanks for supporting my blog!)
Say hello to Tsukineko
I'm so excited to be on the Imagine Crafts design team this year! Imagine is a company out of Washington (state) that is the US distributor for Tsukineko inks. If you have a VersaMark embossing pad or a Memento Tuxedo Black, or even a VersaFine or VersaFine Clair ink pad – those are Tsukineko! There is a WHOLE world of Tsukineko inks that I'll be working with this year as an Artist In Residence, or AIR.

Today's project features MementoLUXE – a versatile, fade-resistant pigment ink for paper,
fabric, wood, and leather. It's even permanent on fabrics when heat-set! Today, I'm using the ink as a watercolor wash! I'll be adding in two other inks to finish off the proejct – Delicata and VersaFine Clair.
Don't forget to leave a comment at the end of the post to qualify for my quarterly giveaway!
Project Tutorial Video
Today's project tutorial is a full start-to-finish process video, hosted on the Imagine Crafts YouTube channel. Enjoy!
Let's Wash!
Watercolor wash backgrounds are probably one of the easiest ways to create a custom background panel. As you can see, you can use inks you already have and experiment with adding water to see what kinds of wash results you can achieve. Once you give it a try, you'll want to do it all the time!
If you need supplies to help recreate this project, I have a list below. Just click and shop!
Sign up to receive my weekly email newsletter and blog post updates!
(It's free and full of specials & exclusive content!)
Don't Forget about my quarterly GIVEAWAY!
Every quarter, I give away a sweet surprise to one lucky commenter. So, don't forget to leave a COMMENT on today's post to enter!
If you loved today's project, I'd love to know! The blogosphere can be a lonely place, so please don't lurk! Leave a quick word or two to tell me you were here!
Inspired by the products I used?
The supply list is right here! Just click a product to get started. The links I'm sharing are Compensated Affiliate Links, meaning that I will receive a small commission on your sale, at no additional cost to you.
Items marked with an asterisk (*) were provided by a store or the manufacturer.
This helps keep the lights on and the inspiration flowing here at Pixel Maven's Retreat!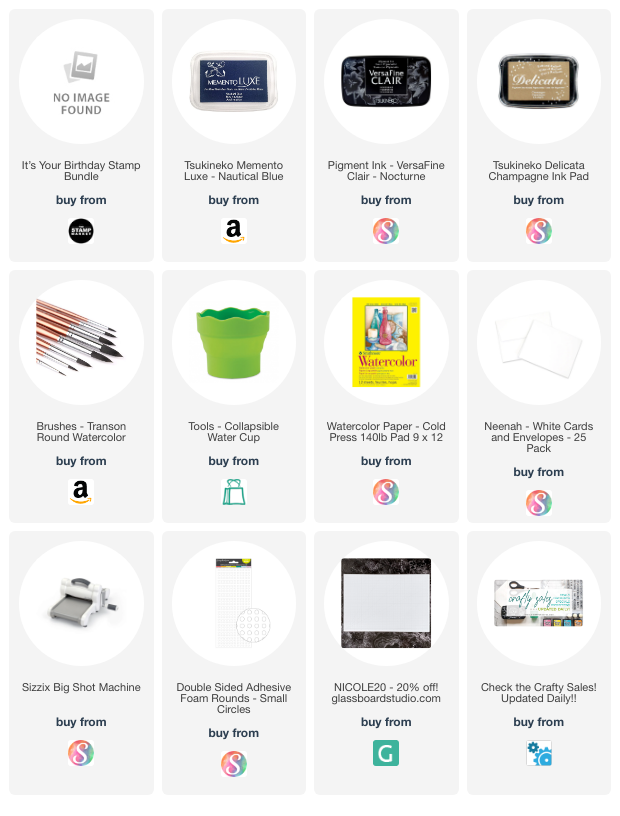 HOT DEALS!
Don't miss these hot deals - click the picture to shop!
Here's some other projects you'll like!
Determined to be confident in your watercoloring this year?
As we look to 2020, I'm sure you're thinking about some #craftgoals you've had on your list. I know a lot of people "want" to watercolor – backgrounds, flowers, characters…. but they are afraid to take the plunge.
Today's card tugs at my heartstrings
I love animals. Sometimes, I think I love animals more than people… I know you know what I mean.
It's always the right time for love!
Yes, I've moved on from holiday projects. That's just what happens when you're a crafter! I started back in July, so I think it's time to look forward to other holidays, events and needs.