Happy Holidays with Stencils – YT Hop & Giveaway!
Happy Holidays with Stencils – YT Hop & Giveaway!
Stencils? Yes, please!
Craft Collabs is back this month with another YouTube hop, and this one is spectacular! It's our first sponsored event and we're all in love with the stencils we received from A Colorful Life Designs!
(affiliate links are used in this post. When you click on them and make a purchase, I may receive a small commission at no additional cost to you. Thanks for supporting my blog!)
How to Win:
All giveaway winners will be announced on the YouTube channel, Pixel Maven's Retreat, on October 25, 2019.
The Prize: One of TEN, $15 gift certificates to A Colorful Life Designs!
Comment on YOU TUBE to be eligible for the random giveaway. (Don't forget to subscribe to our channels too!).
Comments here on the blog are not eligible, you have to comment on the video from You Tube directly.
Listen for the SECRET WORD on each channel and use the word in your comment.
The giveaway is OPEN to INTERNATIONAL participants.
You have until October 22, 2019 to leave your comments.
This giveaway is not sponsored by YouTube.
Don't forget to leave a comment at the end of the post to qualify for my quarterly giveaway!
If you win, pick the Big Swirl stencil!
It was my FAVORITE stencil from the release, and was so much fun to play with! I only shared one project in the hop (to keep things moving), but I've got lots of other ideas in the works for it, and the other stencils I received.
I was so excited to pair the stencil with my favorite holiday images – retro ornaments! And, when I used the Festive Berries Distress Oxide and saw that the red was going to be on the lighter side, I knew that I'd be able to pull in Mid-Century Modern colors with the ornaments to make the design fun and playful!
Time to hop along!
Visit and comment on each YouTube video to get lots of chances at those ACLD Gift Cards! I'm the top of the hop, so start at MY VIDEO and hop on from there. Creating a blog post was not a requirement for the hop, so it's best to hop over to YouTube now, leave a comment for me and hop along!
Please note that the hop starts at 9AM US Central time, so some videos may not yet be live. BUT, you have until Oct 22nd to leave comments, so check back later today, or later this week to finish up your viewing and commenting!
Good Luck!
Inspired by the products I used?
The supply list is right here! Just click a product to get started. The links I'm sharing are Compensated Affiliate Links, meaning that I will receive a small commission on your sale, at no additional cost to you. Items marked with an asterisk (*) were provided by a store or the manufacturer.
This helps keep the lights on and the inspiration flowing here at Pixel Maven's Retreat!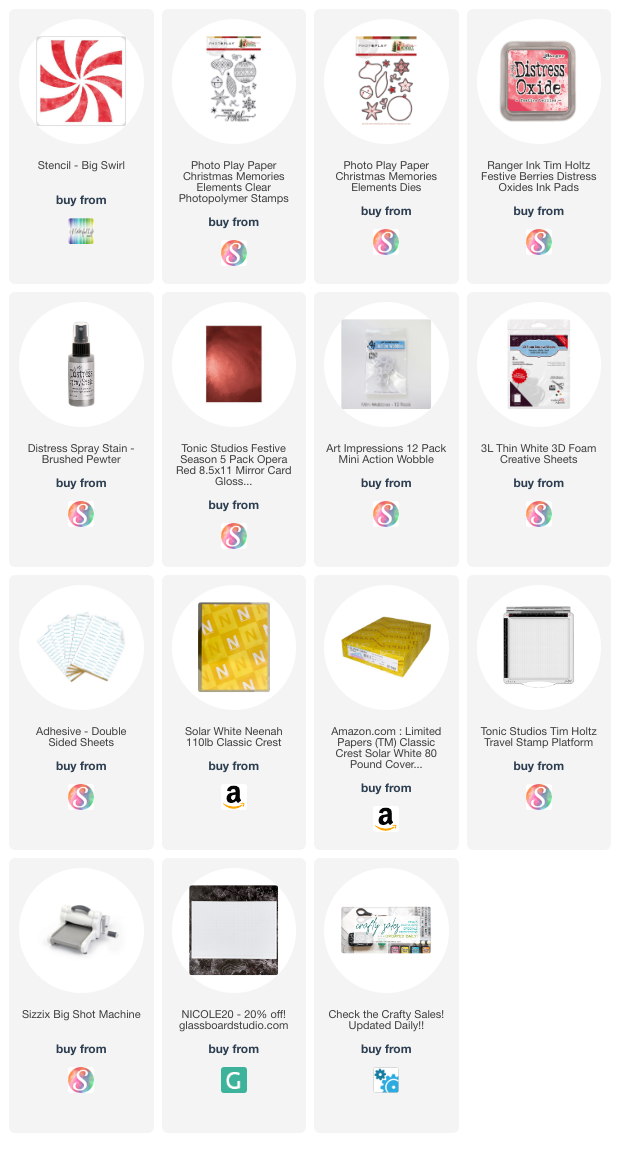 The Latest...
FREEBIES!!!

 There's no catch - check out my

Freebies Page

for all sorts of downloadable resources to help take your crafting up a notch!

Need a Color Coordinator to inspire color choices for your projects? Get yours today! 2019-20 Coordinators are NOW SHIPPING!
"I love this! I have a hard time getting color combos together and this takes all the guess work out so I can start creating right away! I think every stamper should have one thank you for this amazing product." - Sandra
Here's some other projects you'll like!
Thank you cards know no season…
It may be the season for giving thanks, but a good thank you card knows no season! At Festive Friday our new Inspo List is inspired by the upcoming US Thanksgiving holiday.
It's an Ornament Link Party! And you're invited!
I'm happy to be a part of a fun Holiday Ornament Link Party event hosted by My Pinterventures and 37 other bloggers.
It's an Ornament Exchange Party!
Welcome to the 2019 Ornament Exchange Link Party! It's my first time with the Link Party, but the fourth year of the blogger ornament exchange.