Halloween Distress Oxide Blends #4
Halloween Distress Oxide Blends #4
Halloween Distress Oxide Blends #4
It's time for something dramatic!
Today's Distress Oxide blend makes the spooky haunted house Halloween Cut File overlay pop off the page. It's a gorgeous five-color blend that will makes an amazing sunset. You know – one of those sunsets when the sun is right on the horizon and the last bits of light shine brilliantly before dark takes over.
(affiliate links are used in this post. When you click on them and make a purchase, I may receive a small commission at no additional cost to you. Thanks for supporting my blog!)
If you've been blending along with me, today's blend will be an opportunity to work on smooth transitions from one color to the next. Don't forget that when you're working with Oxides, they will fade a bit and blend together as they dry. So, be sure to step back from time to time to let the ink do it's thing.
Use Coupon Code SPOOKY1 for $1 off your order of these new cut files! (expires Oct 5th).
Don't forget to leave a comment at the end of the post to qualify for my monthly giveaway!
​Halloween Distress Oxide Blend #4
Pin this image to remember the combo for later. Then, gather up your supplies so you can follow along with today's video!
Don't forget to leave a comment on the video to enter the drawing for the SVG cut files!
Pin the Combo & Shop for Supplies!
If you liked today's project, Pin the color combo above to use as reference! All of the supplies used in today's project are linked below. Don't forget to get your SVG files and use coupon SPOOKY1 for $1 off!
Don't Forget about my monthly GIVEAWAY!
Every month, I give away a sweet surprise to one lucky commenter. So, don't forget to leave a COMMENT on today's post to enter!
If you loved today's project, I'd love to know! The blogosphere can be a lonely place, so please don't lurk! Leave a quick word or two to tell me you were here!
Get everything you need to make this project!
The supply list is right here! Just click a product to get started. The links I'm sharing are Affiliate Links, meaning that I will receive a small commission on your sale, at no additional cost to you.
This helps keep the lights on and the inspiration flowing here at Pixel Maven's Retreat!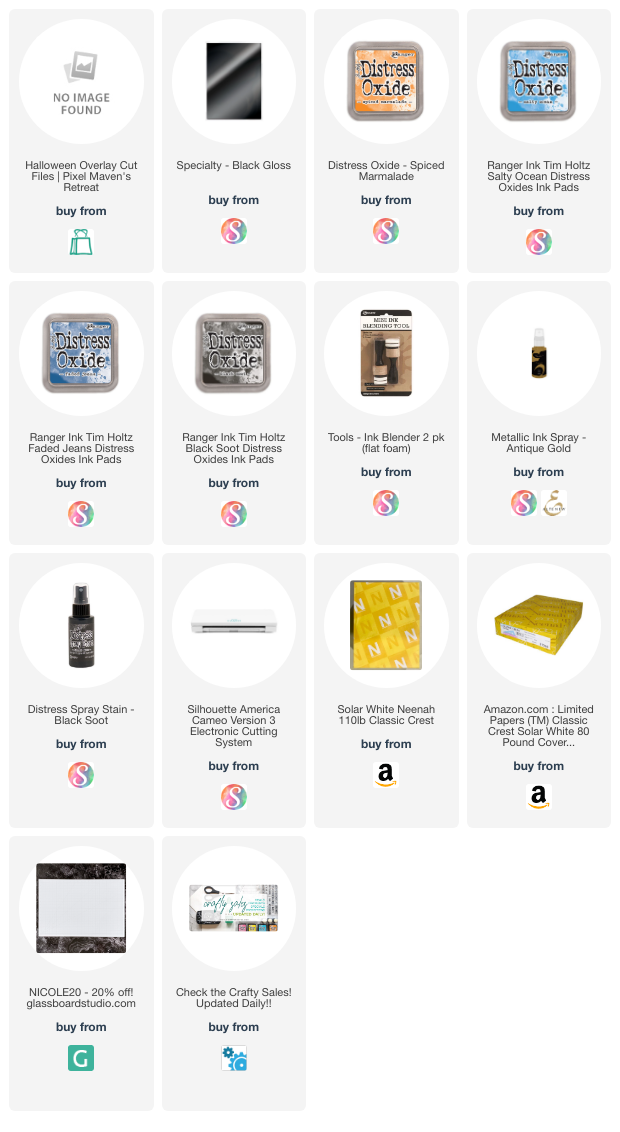 The Latest...
FREEBIES!!!

 There's no catch - check out my

Freebies Page

for all sorts of downloadable resources to help take your crafting up a notch!

Need a Color Coordinator to inspire color choices for your projects? Get yours today! 2019-20 Coordinators are NOW SHIPPING!
"I love this! I have a hard time getting color combos together and this takes all the guess work out so I can start creating right away! I think every stamper should have one thank you for this amazing product." - Sandra
Here's some other projects you'll like!
I SUCK AT INK BLENDING!
Ugh! How many times have you tried ink blending and ended up saying that? I know a lot of people just like you! Including ME!!! Nothing worse than being super, super careful and then ruining it with one fell swoop of the blender tool.
My first release in the books!
Today is the last day of the Halloween Cut File project release. Thanks to everyone who made this first relase a success!