Foiled Rainbows will Color You Happy!
Foiled Rainbows will Color You Happy!
Rainbows are always in season
And, it can't be overstated, how a beautiful ROYGBIV blend is guaranteed to put a smile on anyone's face! So, if you need a break from fall colors, dive into today's project with reckless abandon!
(affiliate links are used in this post. When you click on them and make a purchase, I may receive a small commission at no additional cost to you. Thanks for supporting my blog!)
Get Creative
There is so much you can do with digital cut files! If you're feeling especially creative, it doesn't take much to separate the parts and make something new with the design.
In just a few minutes, I was able to take the single rainbow and make a background stencil for my foiled design. It might seem like a difficult task, but really it's just a couple of clicks!
Fun with Foil
This was my first project using Therm-O-Web foil products, and, just like everyone says, it's addictive! Instead of coloring the rainbows, I flipped things around and made them gold foil.
Now, you might be asking, why foil, why not heat embossing? It's definitely a different texture. Instead of being raised, the image lays flat on the panel. Overall, it just has a different look.
Don't forget to leave a comment at the end of the post to qualify for my quarterly giveaway!
You can make this too!
Instead of focusing on different techniques, I have a project tutorial for you today. I thought I would show you how to create the project from beginning to end – including how I broke apart the rainbow cut file to create the many-rainbow background stencil.
Go over the rainbow!
Grab the Color Me Happy cutfile and get creative! If you need any of the supplies I used today (including the Silhouette Cameo 3), I have links to everything below 😀
Don't Forget about my quarterly GIVEAWAY!
Every quarter, I give away a sweet surprise to one lucky commenter. So, don't forget to leave a COMMENT on today's post to enter!
If you loved today's project, I'd love to know! The blogosphere can be a lonely place, so please don't lurk! Leave a quick word or two to tell me you were here!
Inspired by the products I used?
The supply list is right here! Just click a product to get started. The links I'm sharing are Compensated Affiliate Links, meaning that I will receive a small commission on your sale, at no additional cost to you. Items marked with an asterisk (*) were provided by a store or the manufacturer.
This helps keep the lights on and the inspiration flowing here at Pixel Maven's Retreat!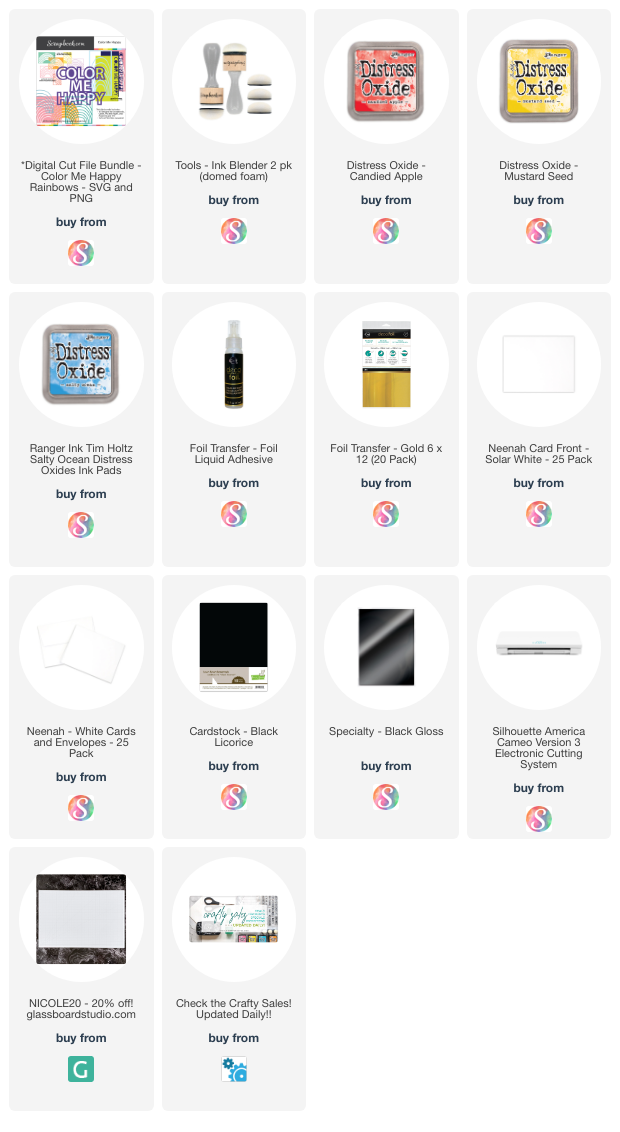 The Latest...
FREEBIES!!!

 There's no catch - check out my

Freebies Page

for all sorts of downloadable resources to help take your crafting up a notch!

Need a Color Coordinator to inspire color choices for your projects? Get yours today! 2019-20 Coordinators are NOW SHIPPING!
"I love this! I have a hard time getting color combos together and this takes all the guess work out so I can start creating right away! I think every stamper should have one thank you for this amazing product." - Sandra
Here's some other projects you'll like!
Thank you cards know no season…
It may be the season for giving thanks, but a good thank you card knows no season! At Festive Friday our new Inspo List is inspired by the upcoming US Thanksgiving holiday.
It's an Ornament Link Party! And you're invited!
I'm happy to be a part of a fun Holiday Ornament Link Party event hosted by My Pinterventures and 37 other bloggers.
It's an Ornament Exchange Party!
Welcome to the 2019 Ornament Exchange Link Party! It's my first time with the Link Party, but the fourth year of the blogger ornament exchange.