Festive Friday: Masked Glitter
Festive Friday: Masked Glitter
Are you ready to take glitter paper to the next level?
I've been having a lot of fun coming up with new ways to add some "wow" to my projects, and I'm really in love with the look I've got for you this week. It was totally inspired by the newest Festive Friday challenge. I hope you get inspired and play along with us!
(affiliate links are used in this post. When you click on them and make a purchase, I may receive a small commission at no additional cost to you. Thanks for supporting my blog!)
Here's the latest Festive Friday challenge card. I don't know that there's really an occasion to actually make a Mardi Gras card, but you surely can be inspired by the festivity!
Looking for ideas – here's a few:
CASE one of the DT projects and add your own twist to our designs. Of course, if you blog about it, we would love for you to mention the Designer as your inspiration for your project.
What comes to mind when you think of Mardi Gras? Beads? Colors? King Cake? Floats? Parades? How would you capture some of that in a design – maybe through colorful pearls or through a colorful a celebration card? Typical Mardi Gras colors are green, gold, and purple.
Are you thinking about Brazil's Carnivale instead? What kinds of colors or textures come to mind that you could use for a project?
Can you go more abstract? That's what I did – I'll show you how!
Here's my take:
I totally went for the glimmer paper, along with a celebration theme. Lastly, I used a MASK (or stencil), as a loose inspiration from Mardi Gras where people wear masks!
I thought as a bonus for today, I'd share how I created the cool art deco pattern on the glimmer paper using a mask and ink. It was simple, but totally WOW!
Don't forget to leave a comment at the end of the post to qualify for my quarterly giveaway!
Stamps and Paper and Inks … Oh, My!
(Affiliate shopping links are listed at the end of the post)
Stamps: Super Script (Altenew),
Paper: 8 1/2″ x 5 1/2″ – Solar White 110lb (Neenah), 4 1/4″ x 5 1/2″ Black Glossy Cardstock (Tonic), 4 1/4″ x 5 1/2″ – Gold Glimmer Paper (Kaisercraft), 4″ x 3″ – Solar White 80lb (Neenah), 3″ x 3″ – Vellum (Lawn Fawn)
Inks: Versafine Clair Nocturne (Tsukineko)
Accessories: Gold Metallic Thread (xxx), Black Tie Sequins (28 Lilac Lane)
Other: Deco Wallpaper Stencil (Altenew), Washi or Painter's Tape, Heat Tool, Stencil Brush or sponge dauber (Scrapbook.com), Super Script Dies (Altenew), Infinity Circle Dies (Hero Arts), Big Shot (Sizzix), Stamp Positioner (Tonic/Tim Holtz), Mini Glue Dots (Glue Dots)
Party Plan
(your step-by-step guide to CASE-ing this design)
Click on the images to enlarge the slideshow
Score your card base at 4 1/4″. Adhere the glossy black cardstock to the card base. Fold and burnish the edge with a bone folder. Set aside
Setup the glimmer paper and stencil on a hardboard, or cardboard panel.
Use the stencil brush (or dauber) and black ink and brush gently over the stencil. Lift up an edge to take a look and make sure the coverage is what you want.
When complete, wait for panel to dry, or use a heat tool to set the ink. Then, trim to 4 1/8″ x 5 3/8″ adhere it to the card base.
Stamp the Celebrate sentiment using a stamp positioner. This way, you can re-ink it to get a good, dark impression.
Once dry, diecut the sentiment with the coordinating die.
Stamp the small "let's" – as you can see, I did it a few times so I could pick out the best result.
Add foam adhesive to the back of the diecut, then add some gold metallic thread.
Diecut or punch a 2 1/2″ circle from vellum. Adhere the sentiment to the vellum.
Adhere the finished sentiment element to the card base.
Add some sequins to the card using Mini Glue Dots.
Now it's your turn to link up!
Now that you're all inspired, what will you create? The clock is ticking away for #FF0028 and we want to see your design. Link up your project over at Festive Friday and you might just be named a Festive Fave!
Don't Forget about the GIVEAWAY!
Every month, I give away a sweet surprise to one lucky commenter. So, don't forget to leave a COMMENT on today's post to enter!
If you loved today's project, I'd love to know! The blogosphere can be a lonely place, so please don't lurk! Leave a quick word or two to tell me you were here!
HOT DEALS!
Don't miss these hot deals - click the picture to shop!
Inspired by the products I used?
The supply list is right here! Just click a product to start shopping.
The links I'm sharing are Compensated Affiliate Links, meaning that I will receive a small commission on your sale, at no additional cost to you.
Items marked with an asterisk (*) were provided by a store or the manufacturer.
When you shop with these links, you help keep the lights on and the inspiration flowing here at Pixel Maven's Retreat! Thank You!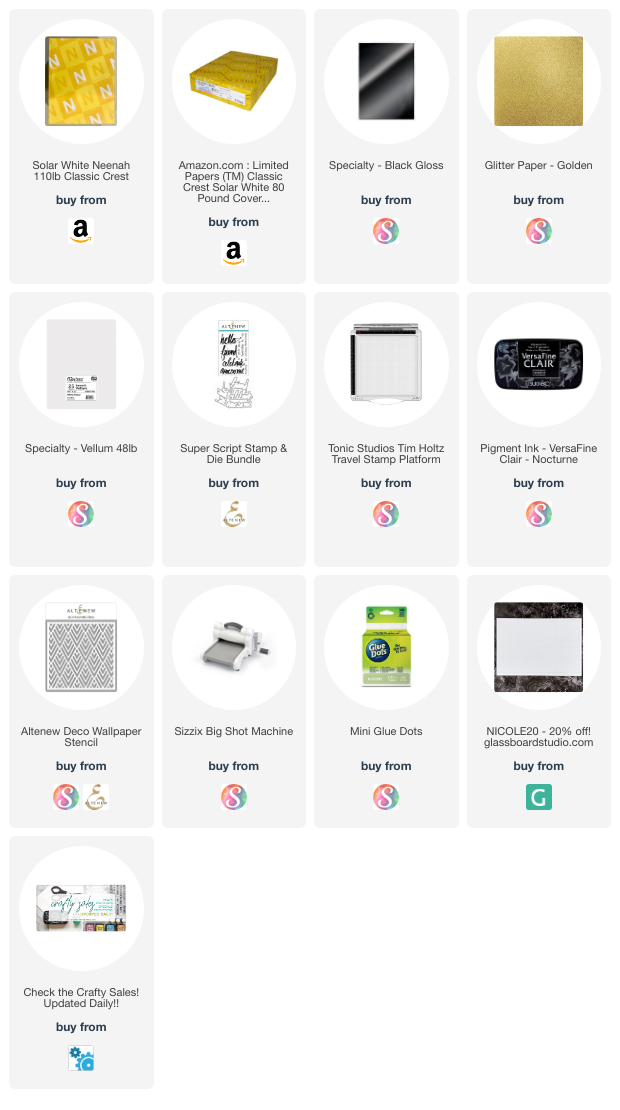 Here's some other projects you'll like!
Welcome to another Tic Tac Toe Challenge!
The lovely Claire Broadwater is our lead designer for our latest Tic Tac Toe Challenge. She's created a fun board full of amazing possibilities! The question is, which way will you go? Row, Column or Diagonal?!
Welcome back for another Festive Friday! Our latest Festive Friday challenge is super fun! We picked out a great festivity to fill out our Inspo List, and hopefully it will have you sea-ing lots of fun possibilities!