Blue Floral Watercolor Card ft. Scrapbook.com Watercolor Brushes
Blue Floral Watercolor Card ft. Scrapbook.com Watercolor Brushes
Determined to be confident in your watercoloring this year?
As we look to 2020, I'm sure you're thinking about some #craftgoals you've had on your list. I know a lot of people "want" to watercolor – backgrounds, flowers, characters…. but they are afraid to take the plunge. Is that you? Then you definitely want to check out today's project. It will get you comfortable with some watercoloring that is easy, but beautiful!
(affiliate links are used in this post. When you click on them and make a purchase, I may receive a small commission at no additional cost to you. Thanks for supporting my blog!)
Start with Emboss Resist
Learning how to watercolor in any style can be daunting. However, if you use emboss resist to help keep the various areas of the image separated from each other, you will find success rather quickly!
Another way to find quick success is to use a watercolor brush like the new trio from Scrapbook.com. I find that they are much easier to control than a traditional brush and water cup. That is because there is already water in the barrel of the brush, keeping the bristles wet. If you squeeze a little bit, you'll get a bit more water which helps dilute the ink, or pre-moisten an area of the design.

To clean the brush, you just wipe it on a paper towel and squeeze some water out until it runs clear. Some colors will stain the brush, but as long as the water is running clear, you're safe to go into another color.
Don't forget to leave a comment at the end of the post to qualify for my quarterly giveaway!
Project Tutorial Video
In the accompanying video, I will show you how I use these watercolor brushes to take the flower design from a plain white sheet of watercolor paper to a beautiful painted panel. Coloring in the background takes considerably more time, but it will be an exercise in brush control that will help you gain confidence in watercolor techniques.
Ready for Water?
It's time to stop wishing and start doing! The nice thing about this technique is that it doesn't require any kind of expensive watercolor pans or brushes. The watercolor brush 3-pack is inexpensive and the Distress Ink cubes are great for more than just watercoloring. I love having multi-use supplies in my toolkit, and I know my pocketbook appreciates it too!
If you need supplies to help recreate this project, I have a list below. Just click and shop!
Sign up to receive my weekly email newsletter and blog post updates!
(It's free and full of specials & exclusive content!)
Don't Forget about my quarterly GIVEAWAY!
Every quarter, I give away a sweet surprise to one lucky commenter. So, don't forget to leave a COMMENT on today's post to enter!
If you loved today's project, I'd love to know! The blogosphere can be a lonely place, so please don't lurk! Leave a quick word or two to tell me you were here!
Inspired by the products I used?
The supply list is right here! Just click a product to start shopping.
The links I'm sharing are Compensated Affiliate Links, meaning that I will receive a small commission on your sale, at no additional cost to you.
Items marked with an asterisk (*) were provided by a store or the manufacturer.
When you shop with these links, you help keep the lights on and the inspiration flowing here at Pixel Maven's Retreat! Thank You!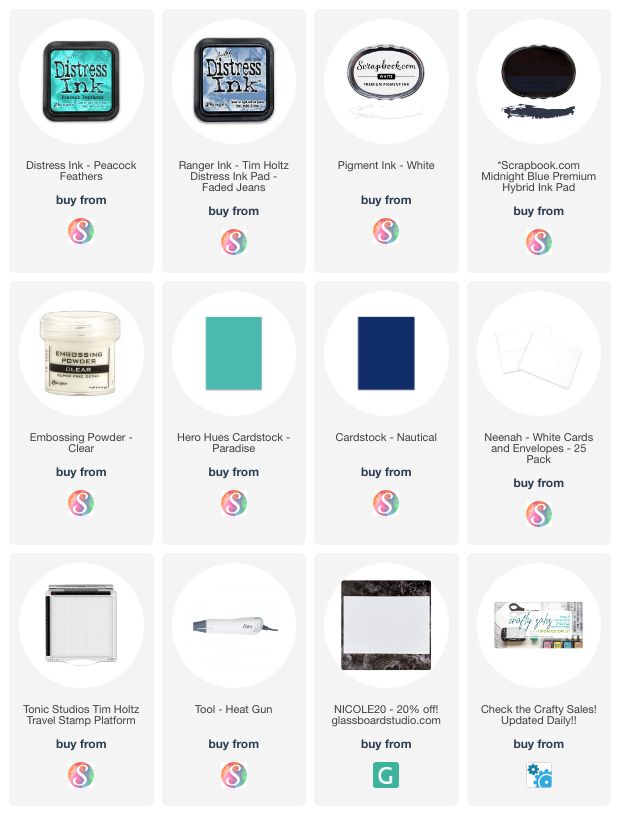 HOT DEALS!
Don't miss these hot deals - click the picture to shop!
Here's some other projects you'll like!
Welcome to another Tic Tac Toe Challenge!
The lovely Claire Broadwater is our lead designer for our latest Tic Tac Toe Challenge. She's created a fun board full of amazing possibilities! The question is, which way will you go? Row, Column or Diagonal?!
Welcome back for another Festive Friday! Our latest Festive Friday challenge is super fun! We picked out a great festivity to fill out our Inspo List, and hopefully it will have you sea-ing lots of fun possibilities!