Altenew Build-A-Flower: Torch Ginger Release Blog Hop + Giveaway
Altenew Build-A-Flower: Torch Ginger Release Blog Hop + Giveaway

It's the first of the month, and that means it's time for a new Build-a-Flower and a giveaway blog hop! You should be arriving from Kelly Griglione's blog. If not, you can track back to the Altenew Card Blog to start at the beginning, or continue around until you loop back here.
(affiliate links are used in this post. When you click on them and make a purchase, I may receive a small commission at no additional cost to you. Thanks for supporting my blog!)
Introducing Torch Ginger
This month's Build-a-Flower is a really cool cone shaped bloom. It's also known as the Torch Lily, and is related to the spice, ginger. They're in the same scientific family (Zingiberaceae). Of course, the stamp set has a coordinating die set for both the flower and the leaf. And, we have a bundle with ink too!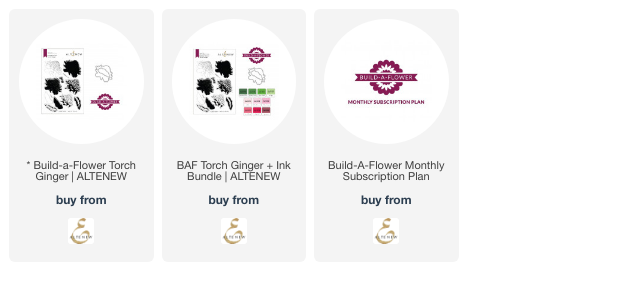 Big & Bold
These big blooms were just screaming for something bold. I decided to create a cool black background on Parchment cardstock (yes, adding a watercolor wash to that particular cardstock actually works well). Then, I was able to use the Antique Gold ink pad to add some leaves in the background. And I heat embossed the sentiment in gold too.
The Torch Gingers were created with the Rose Petal ink cube set, and I used the Green Valley cube set for the leaves. I added some gold embossing to the flowers and leaves to pull the gold all the way through the design.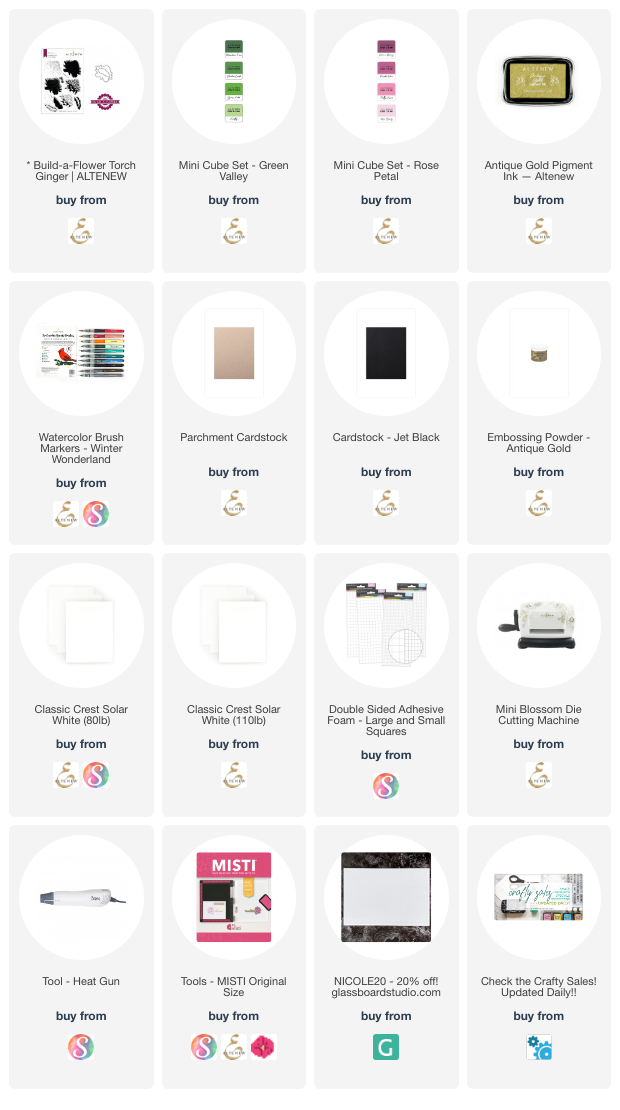 Torch Ginger Colorways
You seemed to like the color combos videos I've been doing, so here's some more color combos you can use – all using only the Rose Petal ink set.
Thank You!
Time is precious and I'm truly grateful that you choose to spend a few minutes of your day with me! If you are in love with my projects and would like to see more, please support my business by following me on Instagram, YouTube, and Pinterest.
​Now, about that GIVEAWAY…
To celebrate this release, Altenew is giving away a $30 gift certificate to 5 lucky winners! Please leave a comment on the Altenew Card Blog for a chance to win.
We'll also draw a winner to receive a $15 gift certificate from the comments left on each designer's blog on the blog hop list below. All winners will be announced on the Altenew Card blog on 04/09/2020.
GOOD LUCK!
Sign up to receive my weekly email newsletter and blog post updates!
(It's free and full of specials & exclusive content!)
HOT DEALS!
Don't miss these hot deals - click the picture to shop!
Here's some other projects you'll like!
Welcome to another Tic Tac Toe Challenge!
The lovely Claire Broadwater is our lead designer for our latest Tic Tac Toe Challenge. She's created a fun board full of amazing possibilities! The question is, which way will you go? Row, Column or Diagonal?!
Welcome back for another Festive Friday! Our latest Festive Friday challenge is super fun! We picked out a great festivity to fill out our Inspo List, and hopefully it will have you sea-ing lots of fun possibilities!