Altenew Paint-A-Flower: Poppy Release Blog Hop + Giveaway
Altenew Paint-A-Flower: Poppy Release Blog Hop + Giveaway

Get ready for something new from Altenew!!
If you love the monthly Build-a-Flower subscription from Altenew, then you're going to love today's new product announcement and blog hop. You should be arriving from Ashlea Cornell's blog. If not, you can track back to the Altenew Card Blog to start at the beginning, or continue around until you loop back here.
Introducing the new PAINT-A-FLOWER product line and SUBSCRIPTION!
(affiliate links are used in this post. When you click on them and make a purchase, I may receive a small commission at no additional cost to you. Thanks for supporting my blog!)
Paint-a-Flower
I know you love the Build-a-Flower stamp sets and monthly subscription. Now, you can stretch your creativity with the Paint-a-Flower stamp set series and monthly subscription.
The Paint-A-Flower stamp sets are released monthly and celebrate the beauty of a wide variety of flowers! Each stamp set features an outline image of a gorgeous flower or floral arrangement, just waiting to be painted or colored with your favorite medium. There's no need for you to spend time layering and masking images, as we have designed these sets to allow you to stamp once then color! We can't wait to see what you create!
Subscribe and Guarantee your set each month! There is a monthly subscription plan for the Paint-A-Flower sets. When signed up, you are guaranteed a spot in the monthly Paint-A-Flower releases and will receive a set each month – at a specially discounted price! ($12.99 instead of $15.99).
Take a Color Break
The beauty of the Paint-a-Flower is that you're free to color however you want. Markers, inks, paints, pencils. Use any medium your heart desires! I took two totally different approaches with my projects this time. First, I used my Artist Markers on a masked and layered design. Then, I went for a total abstract and loose watercolor.
I just love poppies as they come in so many wonderful colors and patterns. A quick Google search can give you creative coloring ideas that you can use for your project!
A closer look
Wondering how I got all that depth in the flower arrangement? Let's take a closer look at the concept of underpainting to help achieve more realistic and depth-filled shading.
Thank You!
Time is precious and I'm truly grateful that you choose to spend a few minutes of your day with me! If you are in love with my projects and would like to see more, please support my business by following me on Instagram, YouTube, and Pinterest.
​Now, about that GIVEAWAY…
To celebrate this release, Altenew is giving away a $30 gift certificate to 6 lucky winners! Please leave a comment on the Altenew Card Blog and/or Altenew Scrapbook Blog by 1/28/2020 for a chance to win.
We'll also draw a winner to receive a $15 gift certificate from the comments left on each designer's blog on the blog hop list below. All winners will be announced on the Altenew Card Blog on 1/30/2020.
GOOD LUCK!
Sign up to receive my weekly email newsletter and blog post updates!
(It's free and full of specials & exclusive content!)
Inspired by the products I used?
The supply list is right here! Just click a product to start shopping.
The links I'm sharing are Compensated Affiliate Links, meaning that I will receive a small commission on your sale, at no additional cost to you.
Items marked with an asterisk (*) were provided by a store or the manufacturer.
When you shop with these links, you help keep the lights on and the inspiration flowing here at Pixel Maven's Retreat! Thank You!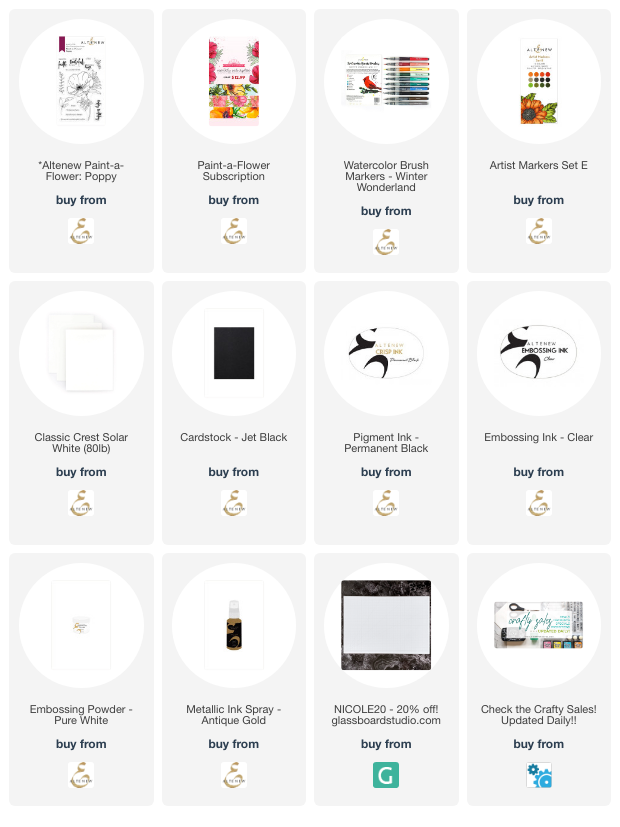 HOT DEALS!
Don't miss these hot deals - click the picture to shop!
New & Gently Used craft supplies
at a great price!
Click here to get yours!
Here's some other projects you'll like!
Are you ready for a new Craft-a-Flower? This month, we're bringing you the classic Daisy, and I have a fun twist on this set for you!
Kick start your mid-week crafting with a new Sketch Starters Challenge and some more inspiration from my video series in partnership with Altenew!
It's another Sketch Starter! One is a "scrapbuster" and the other is a "washi-buster". Both are fun and easy to do!