Altenew February 2020 Stamp/Die/Stencil/Watercolors Release Blog Hop + Giveaway
Altenew February 2020 Stamp/Die/Stencil/Watercolors Release Blog Hop + Giveaway
Welcome back for another new product and giveaway hop! This time we have new stamps & dies, a new 24 pan Artist Grade watercolor set and a new self-healing cutting mat! You should be arriving from Jen Schow's blog. If not, you can track back to the Altenew Card Blog to start at the beginning, or continue around until you loop back here.
(affiliate links are used in this post. When you click on them and make a purchase, I may receive a small commission at no additional cost to you. Thanks for supporting my blog!)
The big bundles
Of course, we have all of the products bundled up for you. It's the easiest way to get it all from this release. Or, you can shop each of the products individually from the rlease product page.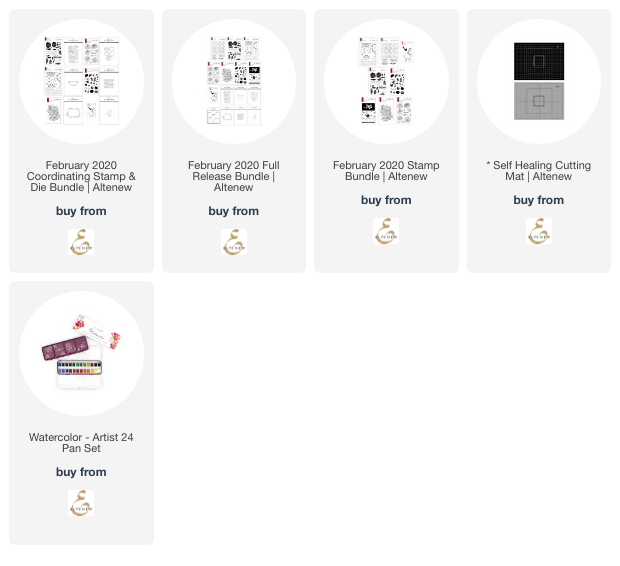 5-minute creativity
As usual, I'll focus on one project today, and then show you a few more projects that I'll revisit in more detail in the coming weeks.
Today's project is a 5-minute card! I came back to this idea at the beginning of the month with the Build-a-Flower Begonia because, let's face it, everyone needs to have some quick card projects on hand! This one would be fantastic to make in a variety of colors that you could give as a gift pack, or just keep on hand for a few different occasions!
As someone who usually works in multiple layers, I like how these 5-minute cards stretch my creativity in making a beautiful 1-layer creation.
A closer look
Let's take a closer look at creating this 5-minute wonder!
A peek at more projects
Before you hop along, let's take a look at a few more angles from today's project and the other projects I created that we'll dive into more over the coming days!
Thank You!
Time is precious and I'm truly grateful that you choose to spend a few minutes of your day with me! If you are in love with my projects and would like to see more, please support my business by following me on Instagram, YouTube, and Pinterest.
​Now, about that GIVEAWAY…
To celebrate this release, Altenew is giving away a $50 gift certificate to 6 lucky winners! Please leave a comment on the Altenew Card Blog and/or Altenew Scrapbook Blog by 2/18/2020 for a chance to win.
We'll also draw a winner to receive a $20 gift certificate from the comments left on each designer's blog on the blog hop list below. All winners will be announced on the Altenew blogs on 2/21/2020.
GOOD LUCK!
Sign up to receive my weekly email newsletter and blog post updates!
(It's free and full of specials & exclusive content!)
Inspired by the products I used?
The supply list is right here! Just click a product to start shopping.
The links I'm sharing are Compensated Affiliate Links, meaning that I will receive a small commission on your sale, at no additional cost to you.
Items marked with an asterisk (*) were provided by a store or the manufacturer.
When you shop with these links, you help keep the lights on and the inspiration flowing here at Pixel Maven's Retreat! Thank You!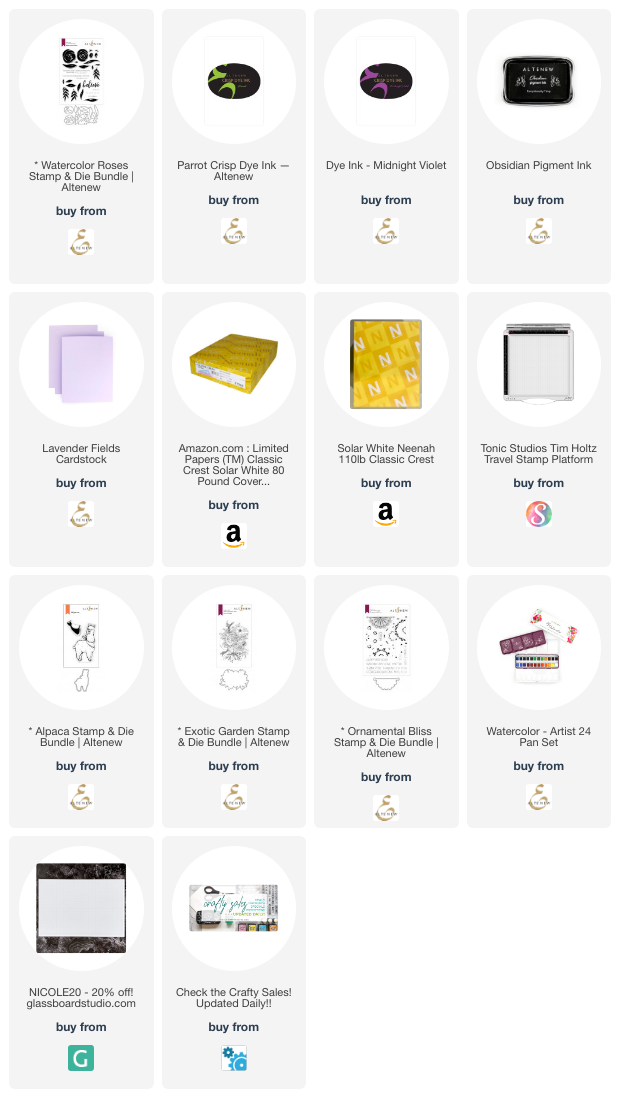 HOT DEALS!
Don't miss these hot deals - click the picture to shop!
Here's some other projects you'll like!
Do you make more cards than you can use? I certainly do! I'm always on the lookout for a worthwhile cause to donate my extras to.
Let's start the week off with a sketch! I have another Sketch Starter for you today. Perhaps it will help kick-start your crafting mojo for the week!
Welcome back for another Tic Tac Toe Challenge! Team O is back at Tic Tac Toe Challenge this week with a new and challenging board. I'm not sure why, but I seemed to have difficulties with picking out elements this time.