Altenew December 2019 Ink Release Blog Hop + Giveaway
It's a release day blog hop with Altenew!
I'm so excited to be a Guest Designer with this NEW CRISP DYE INK release for Altenew! You should be arriving from Kelly Janes' blog. If not, you can track back to the Altenew Card Blog to start at the beginning, or continue around until you loop back here.
(affiliate links are used in this post. When you click on them and make a purchase, I may receive a small commission at no additional cost to you. Thanks for supporting my blog!)
New Ink Collections
Let's take a closer look at these new ink collections. I love that they're muted and "moody". They will be the perfect go-to for wintry designs, and refined, classy looks. I can see using them for engagement and wedding cards. Can't you?
FALL HARVEST | SUGARPLUMS | TRANQUILITY
Don't forget to leave a comment at the end of the post to qualify for my quarterly giveaway!
In a watery mood
There were so many ideas floating through my head when I started working with these inks! Of course, I swatched them out to get an idea of their true stamped color and what they would look like watercolored. It was then that I settled on some watercolor techniques to really show off these amazing hues!
The trio really works well together (and you can get them as a bundle!). The yellows are a beautiful golden shade that helps the blues to pop. While the purples bring in such depth to the inky blues. These jewel tones are just what the Altenew Crisp Dye Ink collection needed! I'm using the mini cube sets, but of course, you can get the full size ovals too!
A closer look
Let's take a closer look at the new inks and the two projects that I shared here today!
Thank You!
Time is precious and I'm truly grateful that you choose to spend a few minutes of your day with me! If you are in love with my projects and would like to see more, please support my business by following me on Instagram, YouTube, and Pinterest.
​Now, about that GIVEAWAY…
To celebrate this release, Altenew is giving away a $30 gift certificate to 6 lucky winners! Please leave a comment on the Altenew Card Blog and/or Altenew Scrapbook Blog by 12/11/2019 for a chance to win.
Altenew will also draw a winner to receive a $15 gift certificate from the comments left on each designer's blog on the blog hop list below. All winners will be announced on the Altenew blogs on 12/14/2019.
GOOD LUCK!
Sign up to receive my weekly email newsletter and blog post updates!
(It's free and full of specials & exclusive content!)
Inspired by the products I used?
The supply list is right here! Just click a product to get started. The links I'm sharing are Compensated Affiliate Links, meaning that I will receive a small commission on your sale, at no additional cost to you.
Items marked with an asterisk (*) were provided by a store or the manufacturer.
This helps keep the lights on and the inspiration flowing here at Pixel Maven's Retreat!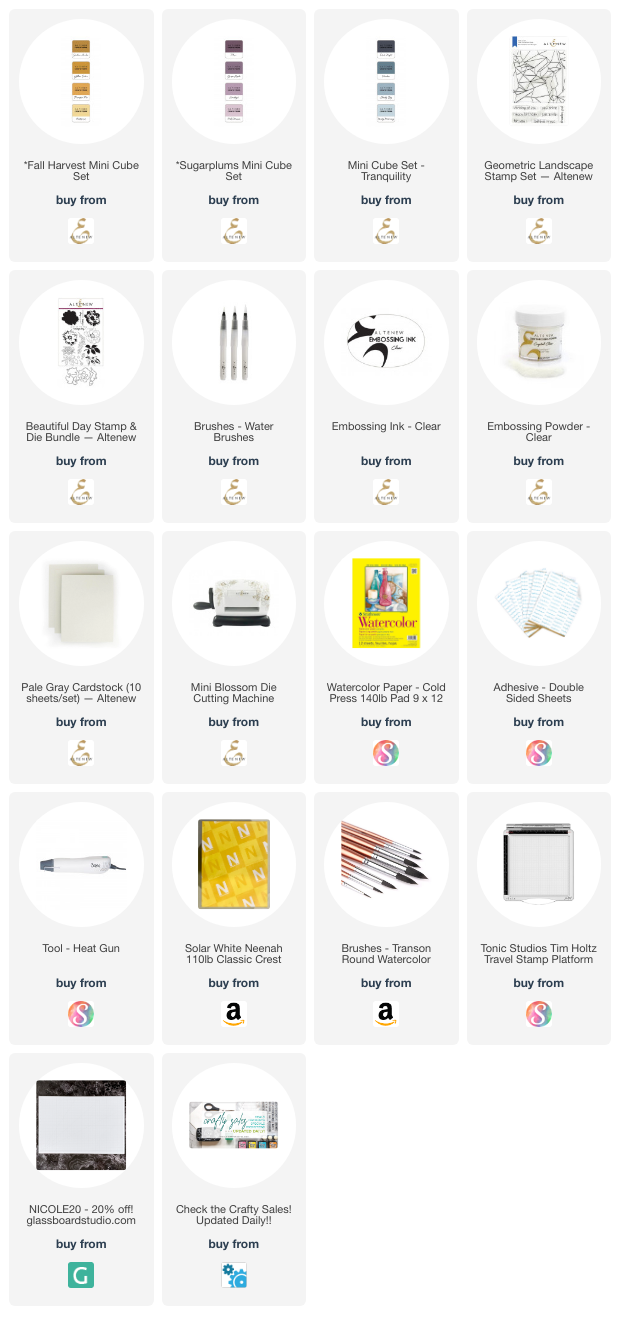 HOT DEALS!
Don't miss these hot deals - click the picture to shop!
Here's some other projects you'll like!
It's a new year for Festive Friday!
Festive Friday is back with our first challenge of 2020. If you have a goal to add more creative time to your schedule, then challenges are a great way to get started.
Determined to be confident in your watercoloring this year?
As we look to 2020, I'm sure you're thinking about some #craftgoals you've had on your list. I know a lot of people "want" to watercolor – backgrounds, flowers, characters…. but they are afraid to take the plunge.
Today's card tugs at my heartstrings
I love animals. Sometimes, I think I love animals more than people… I know you know what I mean.