AECP: Sweet Ink Blending
Are you ready for a design as fluffy as cotton candy?
This card is a recent favorite, for sure! I love how all of the inking techniques give it such a soft appearance, while the glitter paper panel adds a layer of texture, like sugar coated candies!
(affiliate links are used in this post. When you click on them and make a purchase, I may receive a small commission at no additional cost to you. Thanks for supporting my blog!)
Class #5: Easy Ink Blending
The Easy Ink Blending class introduces participants to a laundry list of tried and true inking techniques, along with a few fun and fresh ideas. I saw it as the perfect opportunity to blend a recent experiment with some trendy background blending.
My Project & Design
Altenew isn't just about the florals. (What, you didn't know?) I thought I'd showcase one of those non-floral sets – Way Too Sweet – to create this fun ink-blended card.
If you caught my video last week that featured stenciling on glitter paper, then the Deco Wallpaper panel should look familiar! To pull in some of the lessons, I added in the beautiful pink ombre blended background, and some emboss resist ink blending. Just like a bit of citrus or salt will cut the sweet in a dessert, the orange shade (Peach Perfect) in the Deco pattern and the tiny sweets cuts the pink and purple, leaving a fresh and crisp feeling vs. a sickly sweet feeling.
Don't forget to leave a comment at the end of the post to qualify for my monthly giveaway!
Crafter's Toolbox Videos
Of course, a video is way better than reading through instructions, so here's the official Crafter's Toolbox videos, showcasing the glimmer paper stenciling (in case you missed it here), and some basic ink blending with scrapbook.com's stencil brushes.
5 down, 5 to go!
This is the half-way point for my Altenew Educator Certification Program Level 1 training. I hope you've been enjoying these projects so far. What's been your favorite? Share in a comment today!
Don't Forget about the GIVEAWAY!
Every month, I give away a sweet surprise to one lucky commenter. So, don't forget to leave a COMMENT on today's post to enter!
If you loved today's project, I'd love to know! The blogosphere can be a lonely place, so please don't lurk! Leave a quick word or two to tell me you were here!
The Latest...
FREEBIES!!!

 There's no catch - check out my

Freebies Page

for all sorts of downloadable resources to help take your crafting up a notch!

Need a Color Coordinator to inspire color choices for your projects? Get yours today! 2019-20 Coordinators are NOW SHIPPING!
"I love this! I have a hard time getting color combos together and this takes all the guess work out so I can start creating right away! I think every stamper should have one thank you for this amazing product." - Sandra
Get everything you need to make this project!
The supply list is right here! Just click a product to get started. The links I'm sharing are Affiliate Links, meaning that I will receive a small commission on your sale, at no additional cost to you.
This helps keep the lights on and the inspiration flowing here at Pixel Maven's Retreat!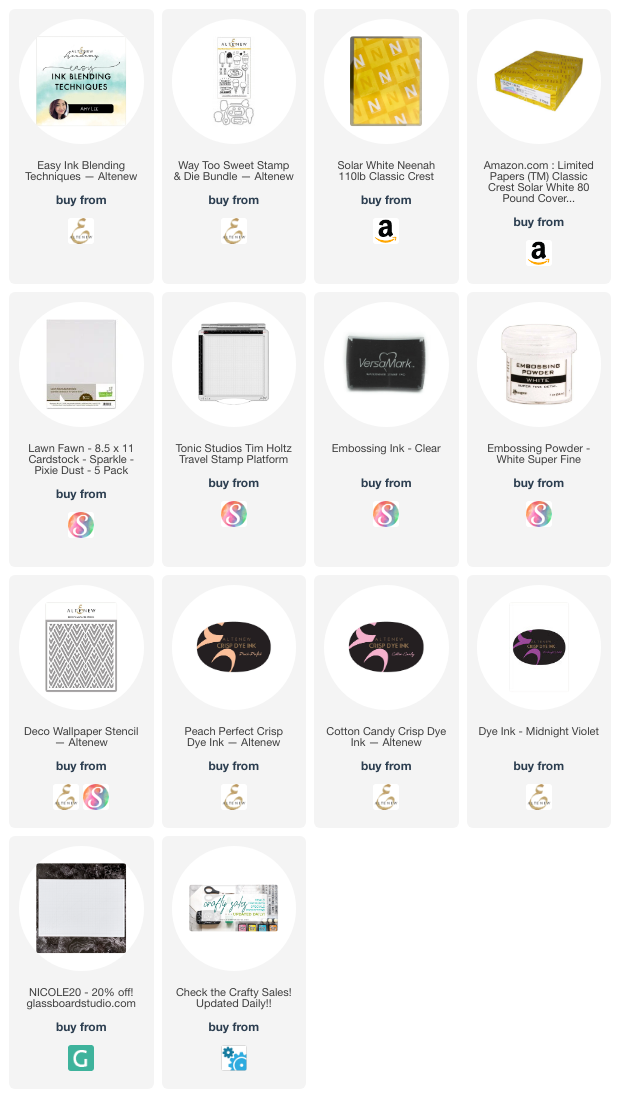 Here's some other projects you'll like!
Let's CASE this card…  It'll be easy!
Yup – that's what I thought when I was researching designs to CASE this week. I found this lovely design by Jen Rzasa over at Altenew and thought that it would be pretty simple to recreate.
I'm excited to share that I've been PUBLISHED on Scrapbook.com!
I hope to be invited to do more of these posts as I truly enjoyed putting these projects together. 😀 My creative brief was Father's Day Cards.
I wonder…. will it…?
Ever hold a craft supply in your hand wondering if it will take on a certain technique or medium? That's how I come up with all of my crazy, innovative ideas!