AECP: Make Shimmer Ink in Any Color
AECP: Make Shimmer Ink in Any Color
Make everything shimmer with one simple product!
If you've ever wanted to have shimmery inks in all sorts of colors, but couldn't justify purchasing a whole bunch of specialty inks, then you're going to love my project and video today. In today's project, you'll see some amazing subtle shimmery effects, and then in the video you'll learn how to take any water-based ink and turn it into a beautiful, shimmery medium with one simple additive. You'll want to make everything shimmer!
(affiliate links are used in this post. When you click on them and make a purchase, I may receive a small commission at no additional cost to you. Thanks for supporting my blog!)
My second class for my Altenew Educator Level 2 certification is In the Mood for Color. In this six-lesson course, we explore colors and the underlying mood that is associated with that color. I really felt like I wanted to tackle an orange design, so, whether they come in orange, or not, I made some begonias a beautiful shade of orange to represent health, happiness, and most of all – courage!
My Project
After having CASE'd a project using Wispy Begonias for Wednesday's post, I definitely had my mind set on using it again for this project. I love the bloom, leaves, and the four sentiments in the stamp set. It's one of those many-occasion, many-technique kind of sets that will get a lot of use in my studio.
The Technique & Design
I thought I would try out the Birch Wood sheets from Altenew, along with a watercolor/emboss resist technique. I added some clear gesso to the wood panel to keep the ink from bleeding too much. It worked pretty well! Then, I stamped each begonia separately, heat embossing in clear, masking it off, and then repeating the process to get the three overlapping blooms. I did the same thing for the leaves, masking off the flowers first.
Then, I started to watercolor, using the new Golden Sunset ink cube quad pack. Once I got to the darkest shade (Marigold), I decided to add some shimmer into the ink using Tsukineko All-purpose Ink in Frost White. Just the tiniest drop will add the most amazing shimmer to any water-based ink. It is an even, subtle look that is stunning in person.
I added some shadows to the lower blooms using both Espresso and Grapevine inks. Then, I finished off the leaves with Lime and Fresh Leaf (two colors in the new Spring Bouquet 6-pack). I added a background wash in Iceburg (from the new Lapis Lazuli quad set), and spattered on some of the Frost White All-purpose Ink. The design was finished off with the sentiment in Versafine Clair Nocturne.
Crafter's Toolbox Video
Let's take a closer look at that subtle shimmer on the flower petals. You can make this shimmer paint in any color!
2 down, 8 to go!
Using the wood sheet really had me flying by the seat of my pants for this design. Fortunately, I have a lot of tricks in my Crafter's Toolbox! That's why I'm happy to share these videos with you – so you can have the same techniques and ideas to draw from when you're stuck for ideas, or feeling like you're not sure how to make a vision come to life.
I'd love to hear what Crafter's Toolbox video you've found most helpful – let me know by leaving a comment on today's post!
Don't Forget about the GIVEAWAY!
Every month, I give away a sweet surprise to one lucky commenter. So, don't forget to leave a COMMENT on today's post to enter!
If you loved today's project, I'd love to know! The blogosphere can be a lonely place, so please don't lurk! Leave a quick word or two to tell me you were here!
HOT DEALS!
Don't miss these hot deals - click the picture to shop!
New & Gently Used craft supplies
at a great price!
Click here to get yours!
Inspired by the products I used?
The supply list is right here! Just click a product to start shopping.
The links I'm sharing are Compensated Affiliate Links, meaning that I will receive a small commission on your sale, at no additional cost to you.
Items marked with an asterisk (*) were provided by a store or the manufacturer.
When you shop with these links, you help keep the lights on and the inspiration flowing here at Pixel Maven's Retreat! Thank You!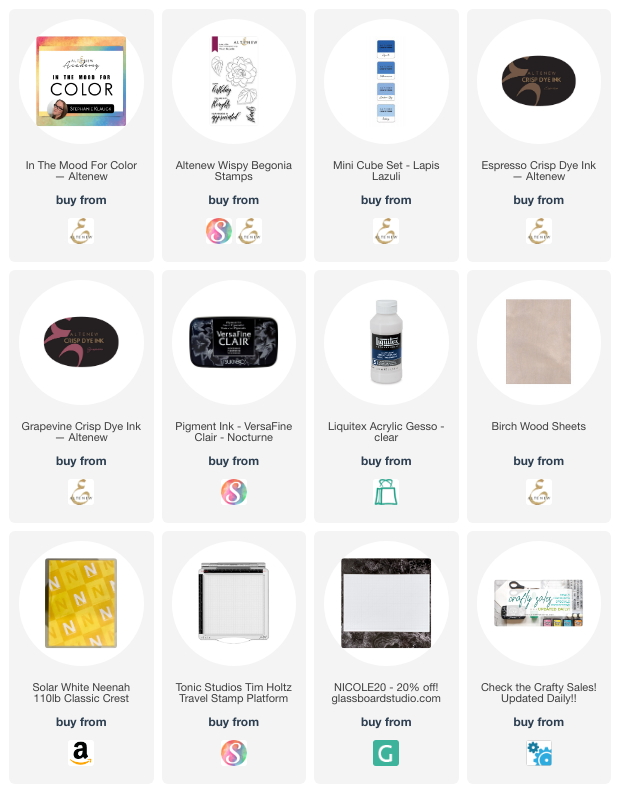 Here's some other projects you'll like!
Are you ready for a new Craft-a-Flower? This month, we're bringing you the classic Daisy, and I have a fun twist on this set for you!
Kick start your mid-week crafting with a new Sketch Starters Challenge and some more inspiration from my video series in partnership with Altenew!
It's another Sketch Starter! One is a "scrapbuster" and the other is a "washi-buster". Both are fun and easy to do!