AECP & LCS: Garden Hello
Do you get stuck trying to start a new project?
I know this is something many crafters struggle with – where to start? There are times that I don't know where to start either, and looking at card after card on Pinterest doesn't really help!
I find that I always fall back to one of three aspects of design, no matter what the occasion or sentiment I have in mind. A while back, I came up with a word mnemonic (oooh, fancy!) to help remember three key principles:
Layout, Color, Style or, Let's Create, Simply!
(affiliate links are used in this post. When you click on them and make a purchase, I may receive a small commission at no additional cost to you. Thanks for supporting my blog!)
I thought that my Altenew Educator journey was the perfect opportunity to bring back the LCS (Let's Create, Simply) concept, so instead of a video or tutorial today, I've got those LCS tips and Pin-worthy images for you.
Another reason why I wanted to bring my LCS concept back to the mix was because of this class! Therese Calvird is the amazing instructor for this course, and she has lots of really good foundational tips for incorporating color into design. She talks about color wheels, the 70/20/10 principle she uses for color balance in a design, and different ways to incorporate color into design through various mediums like watercolor or color pencil. If you get stuck on color, the Color Your Day class will help bolster your confidence to make smart color choices!
My Project
My project really backs up a lot of what Therese teaches in her lessons. With a pop of color and lots of neutrals and whitespace, along with contrasting embellishments and a sketch-worthy design, it really hits all of my LCS principles too!
Don't forget to leave a comment at the end of the post to qualify for my quarterly giveaway!
Let's Create Simply – Layout, Color, Style
These three principles are key to my designs. With this method, I break them out individually so you can see how they come together! Keep track of the three elements over various projects and you'll have your own reference file of L-C-S elements to mix and match for fun and exciting designs!
Layout
Loads of rectangles make up this layout! The key to keeping it interesting is to offset the placement instead of centering everything. A simple shift to the left or right can make or break this look. The great thing about rectangles is you don't need any special equipment to make them, which makes this sketch great for beginners! If you have a paper trimmer, you can use this design!
Color
This is a classic color combo with a twist. Blue/greens are stunning with neutral brown shades, and so are oranges. When you put all three together, you get a great vibrant combo. Be careful to keep the blue/greens and oranges to a minimum, using just a POP to keep it classy. Need a good, dark brown for your sentiments? Versafine Clair Fallen Leaves is the clear winner. Opting for dark brown vs. black makes a huge difference!
Style
This is a very CLEAN style. With crisp, corners and lots of rectangles, we let the color really shine. TEXTURE is secondary here with the woodgrain and the hand-stamped sepia-toned panel giving somewhere for the eye to wander from pop of color to pop of color. There's also a bit of WHIMSY with the fun flower shaped sequins to bring the subtle gardening theme to the forefront.
3 down, 7 to go!
I can't believe I'm already on the third project for my Level 2 Certification! I cannot tell you how fun this has been so far – not that I would ever expect learning and reviewing craft techniques and tips to be boring! LOL! I'll be back on Saturday with my next project. Yippee!
Don't Forget about the GIVEAWAY!
Every month, I give away a sweet surprise to one lucky commenter. So, don't forget to leave a COMMENT on today's post to enter!
If you loved today's project, I'd love to know! The blogosphere can be a lonely place, so please don't lurk! Leave a quick word or two to tell me you were here!
HOT DEALS!
Don't miss these hot deals - click the picture to shop!
Inspired by the products I used?
The supply list is right here! Just click a product to start shopping.
The links I'm sharing are Compensated Affiliate Links, meaning that I will receive a small commission on your sale, at no additional cost to you.
Items marked with an asterisk (*) were provided by a store or the manufacturer.
When you shop with these links, you help keep the lights on and the inspiration flowing here at Pixel Maven's Retreat! Thank You!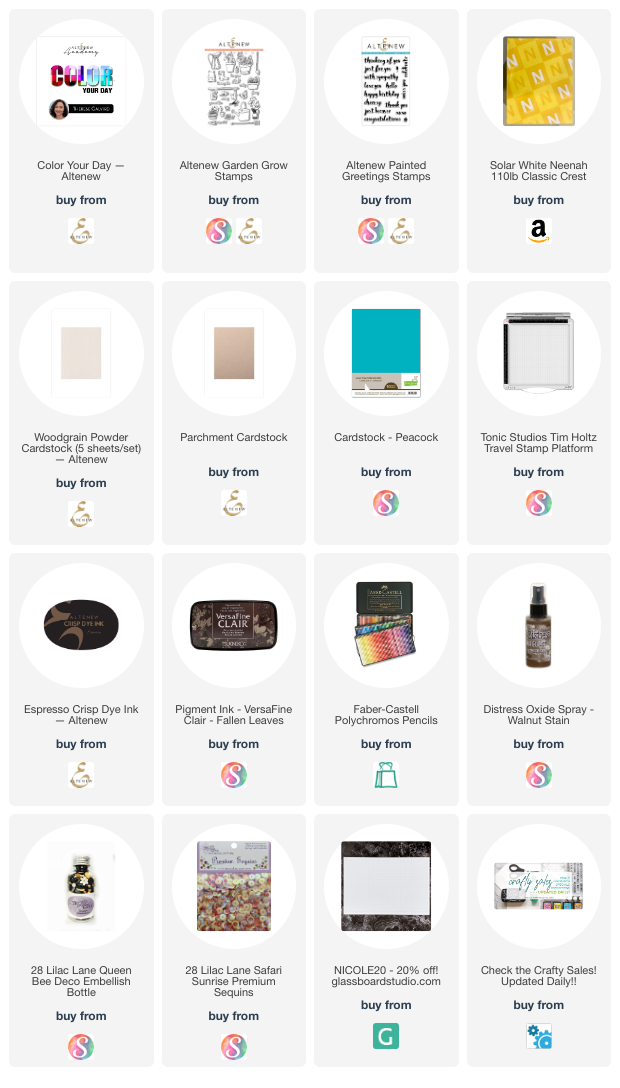 Here's some other projects you'll like!
Welcome to another Tic Tac Toe Challenge!
The lovely Claire Broadwater is our lead designer for our latest Tic Tac Toe Challenge. She's created a fun board full of amazing possibilities! The question is, which way will you go? Row, Column or Diagonal?!
Welcome back for another Festive Friday! Our latest Festive Friday challenge is super fun! We picked out a great festivity to fill out our Inspo List, and hopefully it will have you sea-ing lots of fun possibilities!