AECP & LCS: Alcohol Inks & Metal
AECP & LCS: Alcohol Inks & Metal
Alcohol markers – not just for paper!
Have you ever thought about experimenting with alcohol markers beyond paper? Unlike their water-based cousins, alcohol or solvent markers work on all sorts of semi or non-porous surfaces. The solvent suspending the color evaporates quickly, leaving the hue behind, adhered to materials such as vellum, plastic, glass and even metal!
Today I have another Let's Create, Simply! feature (Layout, Color, Style = Let's Create,Simply!) so we can dive into the three key areas that work together to make this design classy, not gaudy!
(affiliate links are used in this post. When you click on them and make a purchase, I may receive a small commission at no additional cost to you. Thanks for supporting my blog!)
Your growing collection of alcohol markers aren't just something pretty to look at. They're there for you to USE, to MAKE pretty things! Feeling intimidated with all of those amazing coloring projects out there? Then, start with something totally different! The Magical Marker Techniques class doesn't even talk about coloring in flowers to make them look realistic. Instead, the lessons focus on different ways you can use alcohol markers to create backgrounds, elements and even focal points, using different materials and other tools like stencils.
My Project
In my time, I've done a few projects with alcohol markers on metal. It's an amazing look, and never turns out the same way twice. It's kinda like watercoloring because the ink moves around in such different ways. But – it can become too much, really quick! Let's look at the LCS breakout for your keys to creative success!
Tips for coloring on metal
I wanted to give you a few extra tips, outside of the LCS info – this is all specific to coloring with alcohol markers on metal:
If you're coloring a stamp, you'll need to emboss the image as the only kind of ink pad that will stick to the metal is solvent inks, and your markers will pick it up. Use LOTS of anti-static powder, and remember to stamp without smooshing or you risk the stamp sliding!
Only use CLEAR embossing powder as colored powder (including black and white) will come off on your markers and ruin the nib! Yikes!
You can use traditional coloring strokes – swirling to fill in large spaces, flicking to create shading and even stippling. You'll see all three of those techniques on my design.
Create an even cooler look by spritzing the design with rubbing alcohol or colorless blender. Spritz just a little and wait for the color to move before adding more. I did a little just to get the colors to blend together more like watercolor.
Don't forget to leave a comment at the end of the post to qualify for my quarterly giveaway!
Let's Create Simply – Layout, Color, Style
These three principles are key to my designs. With this method, I break them out individually so you can see how they come together! Keep track of the three elements over various projects and you'll have your own reference file of L-C-S elements to mix and match for fun and exciting designs!
Layout
See how simple this sketch is? It can't get much simpler! This is your first key to success in working with big metallic elements. Notice, the flowers in my project don't create a perfect oval. Remember, sketches are just a guideline. The idea here is a matted background with a large focal point with soft edges – a floral spray, a literal oval element… Just because the oval is one layer in the sketch, doesn't mean that your "oval" element needs to be one layer. Mine's not!
Color
Holy clutch of color! The nice thing about working on metal is that it's very forgiving! Since the color doesn't soak into the "canvas", but lays on top, you can remove it completely (just use some rubbing alcohol on a paper towel or cotton ball) – and try again! Or, if the color is light enough, just go over it with a darker color. That's what I did! I wanted a fairly light colored flower so the metal would show through, but I had to keep going darker to get the colors to show up!
Style
I call this style Focal Point. There is one, major key element and everything behind it pales in comparison so that element can shine – in this case, literally! Adding in rhinestones, enamel dots, or even metallic thread would be too much. Even the sentiment is completely understated. However – a plain white background wouldn't work either. It would be too stark. Some soft blending, and then a vellum layer to diffuse it even further was the perfect solution. Soft vs. hard – opposites attract!
4 down, 6 to go!
I feel my design style evolving! I'm stepping back from over-orchestrated design and really thinking "does this contribute to the final look?", or is it just "extra"? if it's "extra", I leave it off! I guess that's what makes clean design so hard – knowing when to stop!
Don't Forget about my monthly GIVEAWAY!
Every month, I give away a sweet surprise to one lucky commenter. So, don't forget to leave a COMMENT on today's post to enter!
If you loved today's project, I'd love to know! The blogosphere can be a lonely place, so please don't lurk! Leave a quick word or two to tell me you were here!
HOT DEALS!
Don't miss these hot deals - click the picture to shop!
Inspired by the products I used?
The supply list is right here! Just click a product to start shopping.
The links I'm sharing are Compensated Affiliate Links, meaning that I will receive a small commission on your sale, at no additional cost to you.
Items marked with an asterisk (*) were provided by a store or the manufacturer.
When you shop with these links, you help keep the lights on and the inspiration flowing here at Pixel Maven's Retreat! Thank You!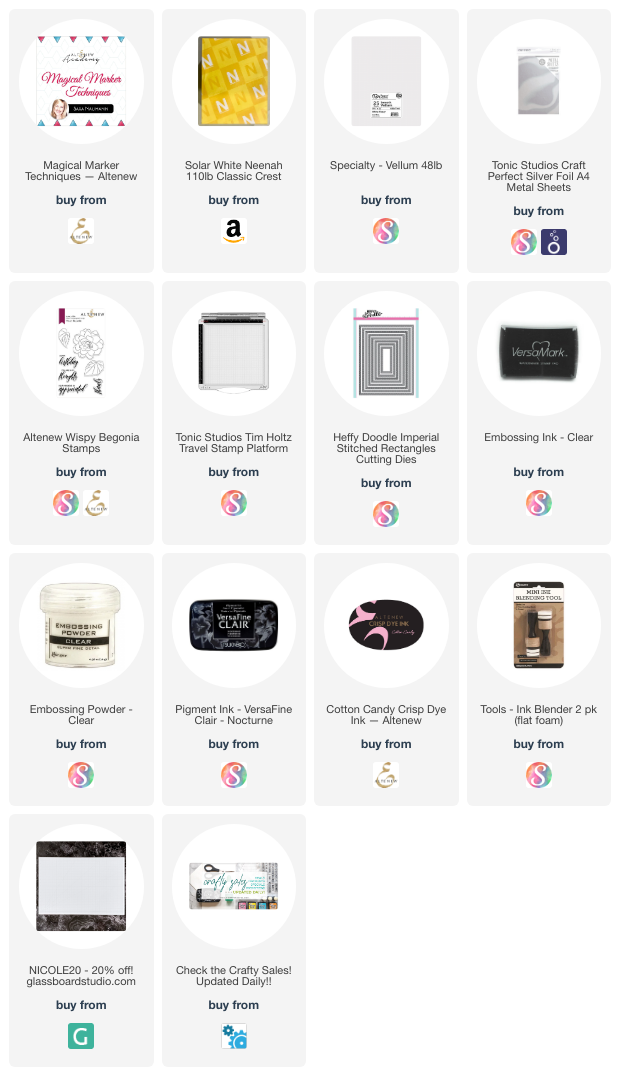 Here's some other projects you'll like!
Welcome to another Tic Tac Toe Challenge!
The lovely Claire Broadwater is our lead designer for our latest Tic Tac Toe Challenge. She's created a fun board full of amazing possibilities! The question is, which way will you go? Row, Column or Diagonal?!
Welcome back for another Festive Friday! Our latest Festive Friday challenge is super fun! We picked out a great festivity to fill out our Inspo List, and hopefully it will have you sea-ing lots of fun possibilities!