AECP: Detailing Sketchy Floral
AECP: Detailing Sketchy Floral
If you are looking for advanced techniques – this project is for you!
I've been leaving this Altenew Educator Level 2 assignment for last because I simply didn't know if I could do it! It's not often (or ever) that you'll hear me say something like that as I'm usually pretty confident in my ability to pick up just about any crafting technique or style, so, you may be wondering what got me doubting my skill…
(affiliate links are used in this post. When you click on them and make a purchase, I may receive a small commission at no additional cost to you. Thanks for supporting my blog!)
My final class for Level 2 AECP was Beautiful Details. If you are looking for inventive and creativity-stretching techniques, you. must. take. this. class. PERIOD. The instructor, Marika Rahtu has an unbelievable eye, and unparallelled way of looking at her stamps that will make you want to spend hours on a project just to see if you can achieve similar results.
My Project
I could have skated on this assignment and done some simple no-line watercoloring. Instead, I took it as a challenge to see if I could make something from nothing. There are a lot of amazing Copic and Copic/color pencil artists out there and when I see the images they start from, there is no detail. It's just a simple line drawing where the artist has to find the shading and depth of field to make the image or scene come to life.
The Technique & Design
You may look at that image above and think that I did a good job coloring. What you may not know is what I started with. This is an image of the Sketchy Floral stamp set:
Notice the lack of detail in the leaves and most of the flowers? That's where I started – with this sketched design stamped on some Neenah Solar White Super Smooth 80lb cardstock – stamped in Morning Frost ink for an eventual no-line look.
Once stamped, I LOOKED UP SOME PHOTOS FOR REFERENCE. This is one of the best pieces of advice I've picked up along the way. Don't rely on your memory – look up images through Google to remember how things look. I especially needed to remember how orchid leaves look – they have more of a striped veining pattern, not a normal branched pattern. I avoided disaster by looking at pictures first!
Once I had reference pictures, I added in some light colors to start working out the depth and shadows. I followed that up with darker Copics to fill out the detail even more.
After that (and an hour into this process!), I moved to my Faber-Castell Polychromos color pencils to work in the detail in coordinating warm grays and greens.
After another hour or two of laying down various colors with the pencils, I added in some stippled shading with a graphite pencil and blending stub.
It seemed a shame to cut down the panel for the card, but it had to be done. I stamped a sentiment, layered it with a panel of Lawn Fawn Storm Cloud cardstock and added a few Rock Collection Enamel Dots.
It seems to me that this kind of project looks ugly before it looks beautiful, so you have to keep at it until you've reached total disaster, or you come through the other side. The only way to avoid disaster more often than not is to practice! One other bit of advice is to step away when you're tired, or your interest is waning. Fresh eyes will help any project, and you can't expect to finish a project like this in one day, or one sitting. I took a dinner break before tackling the colored pencils, and I'm glad I did!
Level 2 draws to a close!
As I mentioned, this was my last class for my Level 2 certification. Be on the lookout for my final project next week, along with a recap and special giveaway!!!
Don't Forget about my monthly GIVEAWAY!
Every month, I give away a sweet surprise to one lucky commenter. So, don't forget to leave a COMMENT on today's post to enter!
If you loved today's project, I'd love to know! The blogosphere can be a lonely place, so please don't lurk! Leave a quick word or two to tell me you were here!
Inspired by the products I used?
The supply list is right here! Just click a product to start shopping.
The links I'm sharing are Compensated Affiliate Links, meaning that I will receive a small commission on your sale, at no additional cost to you.
Items marked with an asterisk (*) were provided by a store or the manufacturer.
When you shop with these links, you help keep the lights on and the inspiration flowing here at Pixel Maven's Retreat! Thank You!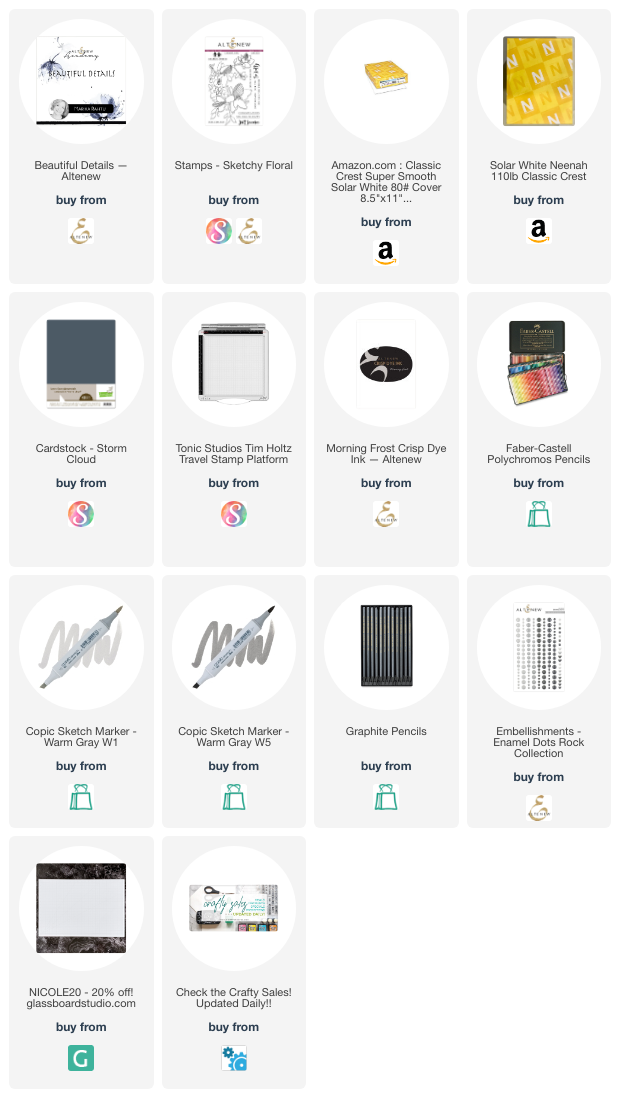 HOT DEALS!
Don't miss these hot deals - click the picture to shop!
New & Gently Used craft supplies
at a great price!
Click here to get yours!
Here's some other projects you'll like!
It's the first of the month, and that means it's time for a new Build-a-Flower and a giveaway blog hop! You're going to love these Primrose beauties!!
Welcome to a very SPECIAL blog hop and product release! It's an amazing collab between Altenew and Pinkfresh – so, let's celebrate this "Celebrate Collection"!