AECP: Clean & Simple Galentines
AECP: Clean & Simple Galentines
As an adult, how many Valentine's to you make?
Up until this year, my answer would have been ONE. One for my one and only sweetheart. (If you missed the card I created for him, check it out here.) But, there were plenty of years that I didn't have a beau to share the holiday with, so I would hang out with my gal pals. Today, even though we're all over the U.S., I thought I'd let them know that they have a place in my heart too. So, I put together a pile of fun CAS cards for all of my GALentines!
My inspiration for these sweet cards was a class I just finished for my Altenew Educator Certification Program – Clean & Simple Boutique Cards.
Class #2: Clean & Simple Boutique Cards
In the class, instructor Jennifer Rasa shares 6 different lessons featuring card design ideas inspired by a visit to the National Stationery Show. The theme of the class is "less is more". Well – if you know my design style, you'll know that I steer away from CAS and one-layer cards because I just can't seem to create an end product that I like. I feel like there should always be a layer, or an embellishment. I knew this class would be a tough one for me. So, I thought I'd get it done sooner rather than later!
My Project
I am truly surprised at how well this design turned out. Perhaps it was because I was inspired by the recipients – some of my favorite gal pals! I know they're going to love receiving the happy mail for Heart Day.
The Technique & Design
In one of the lessons, Jennifer talks about adding metallic elements in the form of foiling or heat embossing. I knew this would be my key to success. Adding some metallic embossing would be the perfect trade off for going sans-embellishments or layers. Then, I decided on the Mega Greetings 3 stamp set so I could add in another great technique – ombre inking. I did this both with the large greeting, and with the background words. Those smaller words came from Sketchy Floral. I stamped those in three rows, with three shades of pink to match the ombre in the large image. Then, I added in some gold embossing and a little flag with the rest of the sentiment, and I was done! I was able to whip up five of these in no time!
Don't forget to leave a comment at the end of the post to qualify for my quarterly giveaway!
Crafter's Toolbox Video
Of course, a video is way better than reading through instructions, so here's the official Crafter's Toolbox video showing two fantastic techniques I used for this design!
2 down, 8 to go!
I'm on a roll! I plan on accomplishing two classes each week, so be on the lookout for my next submission on Saturday.
Don't Forget about the GIVEAWAY!
Every month, I give away a sweet surprise to one lucky commenter. So, don't forget to leave a COMMENT on today's post to enter!
If you loved today's project, I'd love to know! The blogosphere can be a lonely place, so please don't lurk! Leave a quick word or two to tell me you were here!
HOT DEALS!
Don't miss these hot deals - click the picture to shop!
Get this adhesive sampler FREE!
Now through Sunday
No Purchase Necessary
Inspired by the products I used?
The supply list is right here! Just click a product to get started. The links I'm sharing are Compensated Affiliate Links, meaning that I will receive a small commission on your sale, at no additional cost to you.
Items marked with an asterisk (*) were provided by a store or the manufacturer.
This helps keep the lights on and the inspiration flowing here at Pixel Maven's Retreat!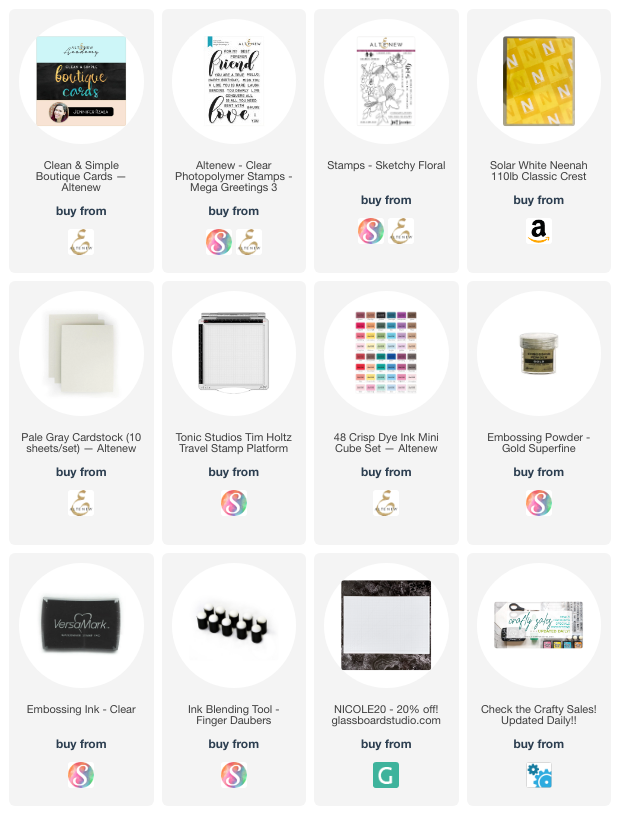 Here's some other projects you'll like!
Welcome back for another My Favorite Things list!
Today's list features stencils and products that work really well with them. I am in L-O-V-E with stencils.
The clock is ticking… Are your Holiday Cards done?
Now that it's past Thanksgiving, if you haven't turned to finishing your holiday/Christmas cards, time is ticking away!