AECP: A Floral Card for Any Occasion
AECP: A Floral Card for Any Occasion
Floral cards are great for any occasion
I love it when I can craft up a design that will accommodate any sentiment. I find that lots of floral designs fit that category. Of course, it sometimes depends on your frame of mind when creating, and the colors selected, but more often than not, a sentiment can be swapped out for another very easily. That's today's card!
(affiliate links are used in this post. When you click on them and make a purchase, I may receive a small commission at no additional cost to you. Thanks for supporting my blog!)
CAS with color
There's a lovely amount of whitespace on this design, which really qualifies it as "CAS". Over time, I'm learning how to scale back some of my design to keep it more clean and less over-worked. Most times, less is more!
The Technique & Design
This is the third card that we created at my Altenew Educator Level 3 Final. It prominently features a Build-a-flower stamp set – something that Altenew is known for. I specifically chose the Painted Flowers set because it is very forgiving. The individual images don't need to be lined up perfectly to create a great look – unlike some of the other build-a-flower sets. I knew that my class attendees would not be familiar with this kind of stamping, but I wanted to introduce them to the style, and feel successful at the same time. Of course, I had a trick up my sleeve to make it even easier — check out the video to see what I did!
Can you imagine this design without the pink "cloud"? The flowers would look like they were floating, don't you think? Adding the light swirl of color behind the arrangement adds a grounding element that works every time!
And, oh, what about that sentiment? Swap it out with any of 25 sentiments from the Sentiment Strips stamp set! They're all the same height, so a 1/4″ strip works for every one. It covers sentiments from birthday to sympathy, thinking of you and even get well! This is a must-have set for your collection!
Don't forget to leave a comment at the end of the post to qualify for my quarterly giveaway!
Project Tutorial Video
I've got a full-length process tutorial for you today. Enjoy, & follow along to create your own!
This is nearly the end!
Or is it? These final projects are the end of my journey to Altenew Certification. But, it's also the beginning of a wonderful relationship with this amazing company! Tomorrow's post will feature the final card from my Level 3 Final. Then, on Tuesday, I'll post a final wrap-up with pictures from the event and the cards that the attendees made! You won't want to miss it!
Don't Forget about my monthly GIVEAWAY!
Every month, I give away a sweet surprise to one lucky commenter. So, don't forget to leave a COMMENT on today's post to enter!
If you loved today's project, I'd love to know! The blogosphere can be a lonely place, so please don't lurk! Leave a quick word or two to tell me you were here!
Inspired by the products I used?
The supply list is right here! Just click a product to start shopping.
The links I'm sharing are Compensated Affiliate Links, meaning that I will receive a small commission on your sale, at no additional cost to you.
Items marked with an asterisk (*) were provided by a store or the manufacturer.
When you shop with these links, you help keep the lights on and the inspiration flowing here at Pixel Maven's Retreat! Thank You!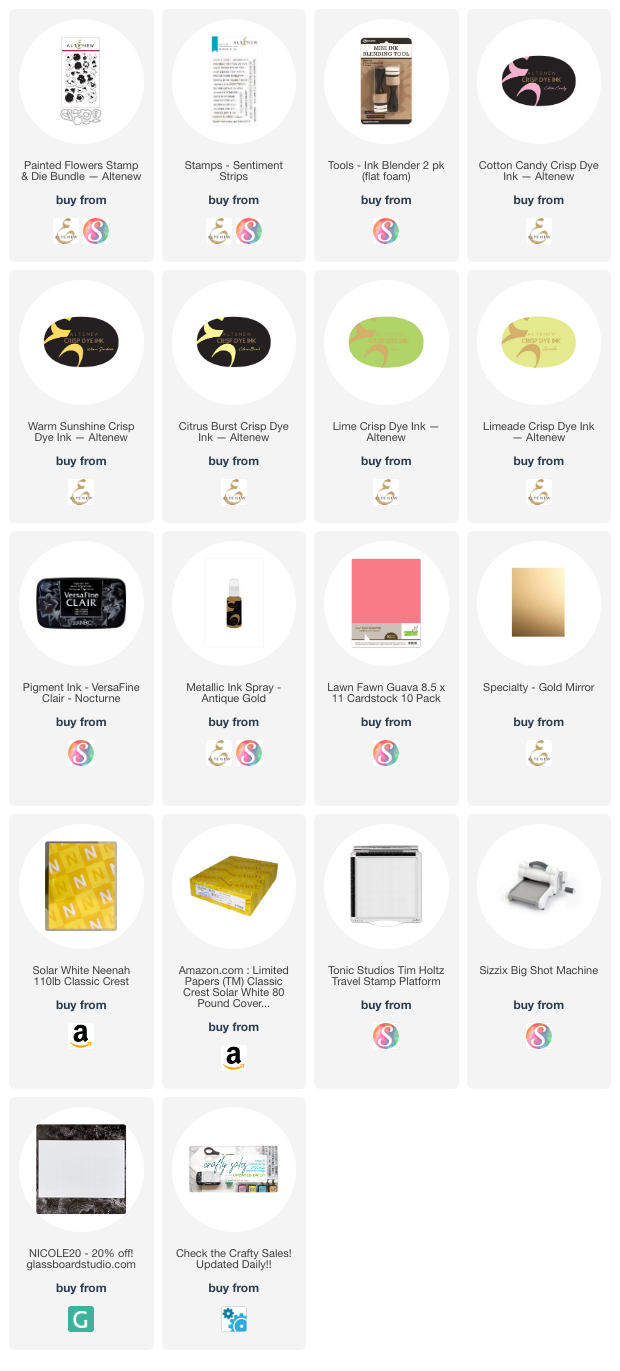 Here's some other projects you'll like!
It's a release day blog hop with Altenew!
I know, you're thinking that you just saw a new release, but that was just the new Paint-a-Flower stamp set. Today, we have aaaaaaaalllllll of the fun goodies you're going to want to get your hands on!
It's time for another Festive Friday!
I'm sure you're ready for the next Festive Friday challenge. We had so many great entries last round and we're excited to see what you create with our latest Inspo List.
Get ready for something new from Altenew!!
If you love the monthly Build-a-Flower subscription from Altenew, then you're going to love today's new product announcement and blog hop.