A Handmade Holiday Parade: Holiday Cards with Scrapbook.com
A Handmade Holiday Parade: Holiday Cards with Scrapbook.com
It's a Handmade Holiday Papercrafting Parade!
Today I have the privilege of hopping with 19 other amazing crafters and Scrapbook.com as a part of the inspiring Handmade Holiday Papercrafting Parade filled with fabulously festive holiday crafting. Join us as we celebrate a week of unbelievable deals on Scrapbook.com's fabulous exclusive products! Be sure to leave a crafty comment at every stop along the way of this amazing parade hop to qualify for an unbelievable GIVEAWAY! (details at the end of the post)
20 of your favorite crafters have used tons of Scrapbook.com Exclusive products to provide you with plenty of holiday cardmaking inspiration! You'll love seeing how we used products like the Exclusive Hybrid Inks, the revolutionary Domed Blending Tool, festive dies, cheery stamps and so many more! Come join us on this parade of Handmade Holiday Cardmaking Inspiration!
(affiliate links are used in this post. When you click on them and make a purchase, I may receive a small commission at no additional cost to you. Thanks for supporting my blog!)
Black Friday Sales start now!
Before we get to my project, we need to talk about something important. Your crafty wish list! Scrapbook.com Exclusive Products are at their Lowest Prices – 30%, 40% and 50% OFF! And they're not waiting for Black Friday. Get a leg up on your shopping because these sales start today. A FREEBIE is offered each day, too!
Nov 26-28: Scrapbook.com Exclusive Doodlebug Pin
Been a while
It has been a day since I made a spinner card. I think it's that kind of interactive design that is just timeless. And, maybe the reason that someone might get hooked on papercrafting. The beauty of a spinner card is that it doesn't have to be super involved. Make the spinner element the star (pun totally intended), and the background and sentiment becomes a supporting character.
Nested dies make spinner designs as easy as can be. Of course, Scrapbook.com carries a whole line of nested dies. These stars couldn't have worked out better. Actually, the more I look at it, the more I feel like I should be advertising for a department store (you know the one…). I seriously just saw that, and now I can't unsee it. This card shall forever be known as the Macy's Card.
You can make this card!
And, I'll show you how 😀 Even if you're an old hat to spinner cards and really just need the photo reference (don't forget to pin a pic), I've got some helpful hints on cutting the spinner opening and assembling the spinner itself. Enjoy!
​Now, about that GIVEAWAY…
You'll be so inspired after visiting each of the 20 stops that you'll want to create designs of your own, we just know it! Why not enter to win a Scrapbook.com Gift Certificate for yourself?
Scrapbook.com is giving away a $100 Gift Certificate to ONE lucky winner! To be eligible, leave a comment letting us know a bit about your holidays at each of the 20 hop stops along with your email. It's that easy! Share a favorite tradition, a cherished memory, or a memorable handmade gift!
Giveaway closes Tuesday, December 3, 2019, at midnight MST. The winners will be notified and announced no later than Monday, December 9, 2019. The winner will be notified through the email provided and has 72 hours to respond to claim their prize. For complete official rules, click here.
GOOD LUCK!
Inspired by the products I used?
The supply list is right here! Just click a product to start shopping.
The links I'm sharing are Compensated Affiliate Links, meaning that I will receive a small commission on your sale, at no additional cost to you.
Items marked with an asterisk (*) were provided by a store or the manufacturer.
When you shop with these links, you help keep the lights on and the inspiration flowing here at Pixel Maven's Retreat! Thank You!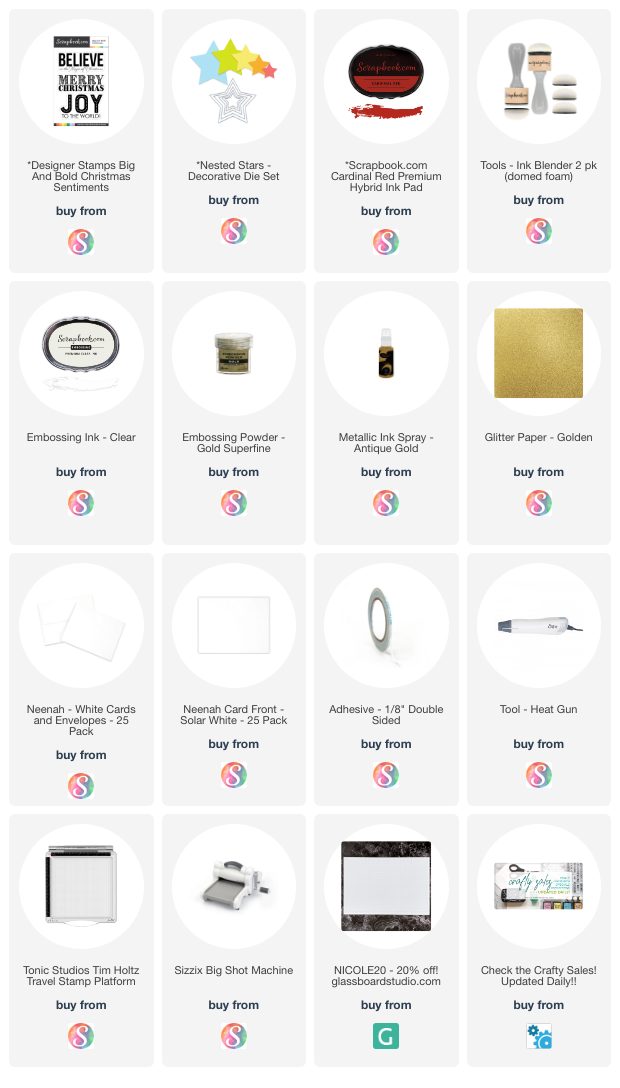 HOT DEALS!
Don't miss these hot deals - click the picture to shop!
New & Gently Used craft supplies
at a great price!
Click here to get yours!
Here's some other projects you'll like!
Kick start your mid-week crafting with a new Sketch Starters Challenge and some more inspiration from my video series in partnership with Altenew!
It's another Sketch Starter! One is a "scrapbuster" and the other is a "washi-buster". Both are fun and easy to do!
It's another Sketch Starter! One is a "scrapbuster" and the other is a "washi-buster". Both are fun and easy to do!