5-Minute Card ft. BAF Begonia
5-Minute Card ft. BAF Begonia
Beautiful cards don't always take a lot of time!
It's been a while since I tackled a 5-minute card, but after doing so many recently that take some time or special technique, I thought I should take a step back and make something simple, but beautiful! What better way than to show you how versatile the Altenew Build-a-Flower sets can be if you just scale back the layers!
(affiliate links are used in this post. When you click on them and make a purchase, I may receive a small commission at no additional cost to you. Thanks for supporting my blog!)
Cutting back
The key to a gorgeous 5-minute card is "keep it simple". As you can see, there's no diecutting, no layers, no coloring — just ink and paper. In this case, I kept it super monochromatic by sticking to only one ink color and a soft gray cardstock. But, a gorgeous one-layer card can be tough to achieve! It's not enough to just stamp an image or two, slap on a sentiment and call it good. It seems that simple cards take more planning to make an impact.
Since the complexity of physical layers are absent, we have to create visual interest in another way. For this card, I achieved that by masking. If I wanted to add more depth, I could have come in with a graphite pencil and added shading to make the flowers pop, but I really wanted to leave it as simple as I could.
Check out the Release Day Hop for the Build-a-Flower Begonia stamp set for tons of inspiration!
Don't forget to leave a comment at the end of the post to qualify for my quarterly giveaway!
Project Tutorial Video
A picture may tell a thousand words, but a video will really show you how easy this card is!
Your turn!
Now that you've seen it, why not try it?! I'd love to see your take! Share it over at the Altenew Fan Group on Facebook – there's all sorts of crafters just like you sharing there every day!
If you need supplies to help recreate this project, I have a list below. Just click and shop!
Sign up to receive my weekly email newsletter and blog post updates!
(It's free and full of specials & exclusive content!)
Don't Forget about my quarterly GIVEAWAY!
Every quarter, I give away a sweet surprise to one lucky commenter. So, don't forget to leave a COMMENT on today's post to enter!
If you loved today's project, I'd love to know! The blogosphere can be a lonely place, so please don't lurk! Leave a quick word or two to tell me you were here!
Inspired by the products I used?
The supply list is right here! Just click a product to start shopping.
The links I'm sharing are Compensated Affiliate Links, meaning that I will receive a small commission on your sale, at no additional cost to you.
Items marked with an asterisk (*) were provided by a store or the manufacturer.
When you shop with these links, you help keep the lights on and the inspiration flowing here at Pixel Maven's Retreat! Thank You!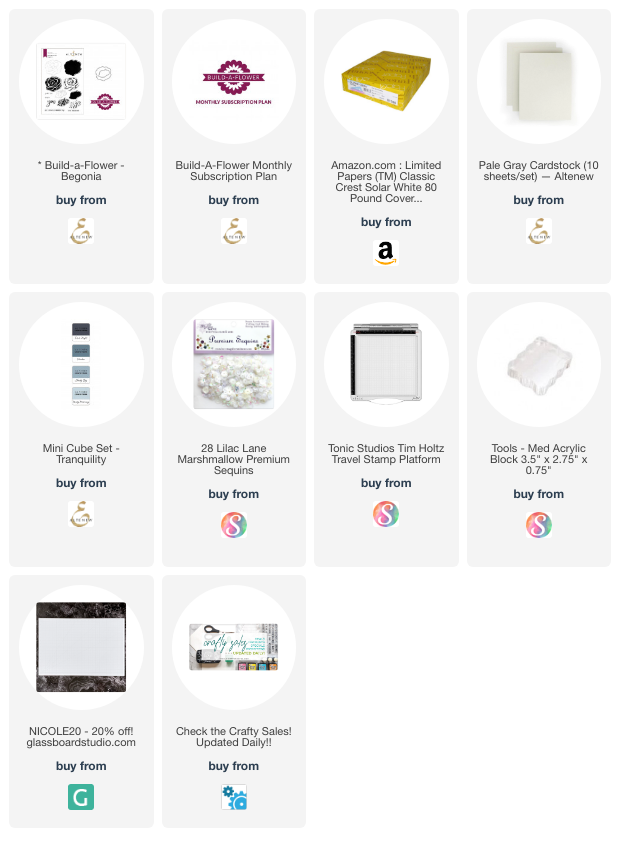 HOT DEALS!
Don't miss these hot deals - click the picture to shop!
Here's some other projects you'll like!
Sometimes the packaging should be "extra", don't you think?
When a gift is extra special, we spend tend to spend more time to make sure the packaging is "just so".
Are you ready for the latest and greatest from Altenew?
Welcome back for another new product and giveaway hop! This time we have new stamps & dies, a new 24 pan Artist Grade watercolor set and a new self-healing cutting mat!
Tic Tac Toe Challenge is back!
Tic Tac Toe Challenge was on a hiatus for a while, but is back with an all new design team and all new challenges!