12 Days: Vintage Ornament Cards
12 Days: Vintage Ornament Cards
Welcome to my 1st annual 12 Days of Christmas {in July}
It's never too early to start working on your Christmas and holiday projects, and it seems like companies start rolling out their holiday collections in July. So, now that we're almost 5 months away from the day, it's time to get rolling so we're not rushing, or worse yet, not finishing projects all together!
(affiliate links are used in this post. When you click on them and make a purchase, I may receive a small commission at no additional cost to you. Thanks for supporting my blog!)
I'm starting off my 12-day blitz with a project I shared for the recent Craft Collabs event. It went live on Thursday, but the giveaway is still open, and available internationally!
How to Win:
The Little Paper Tree is generously sponsoring this giveaway hop! You can enter to win TWO Avery Elle Christmas stamp sets…
To enter, please fill out the Google Form. You'll find a link at the hop stops. My stop is #1, so start there!
To see what The Little Paper Tree is all about, click here: https://www.thelittlepapertree.com/ I just recently started designing for them, so I would appreciate you taking a look! It's a great store in the UK and is perfect for any of my international followers!
Don't forget to hop along to see all of our ho-ho holiday designs! You have one week (until July 24, 2019) to enter. The winner will be selected on July 25th (5 months until Christmas!!) Best wishes!
Don't forget to leave a comment at the end of the post to qualify for my quarterly giveaway!
It's easier than it looks!
I just love this card – it's a stunner and is pretty simple to do! The secret is using embossing to make the watercoloring super easy! If you want to get your kids involved with the crafting this year, this could be a great little project. Just emboss the ornaments for them and show them how to use a small brush with watercolors and let them have fun being creative with their color choices!
The card base is super simple too! A little ink blending, some splatter and a sentiment. Then, you just add some swirls behind the ornaments and you're done! It would be easy to batch up these beauties and make a dozen or two to send this season.
Time to hop along!
Please visit and comment on each video on YouTube! Don't forget to find the form link to enter the prize giveaway. These links will take you directly to the YouTube videos where each participant has the lineup in their description. Creating a blog post was not a requirement for the hop, so it's best to hop over to YouTube now, leave a comment for me and hop along!
Be sure to stop back tomorrow for more Christmas goodness!
Inspired by the products I used?
The supply list is right here! Just click a product to start shopping.
The links I'm sharing are Compensated Affiliate Links, meaning that I will receive a small commission on your sale, at no additional cost to you.
Items marked with an asterisk (*) were provided by a store or the manufacturer.
When you shop with these links, you help keep the lights on and the inspiration flowing here at Pixel Maven's Retreat! Thank You!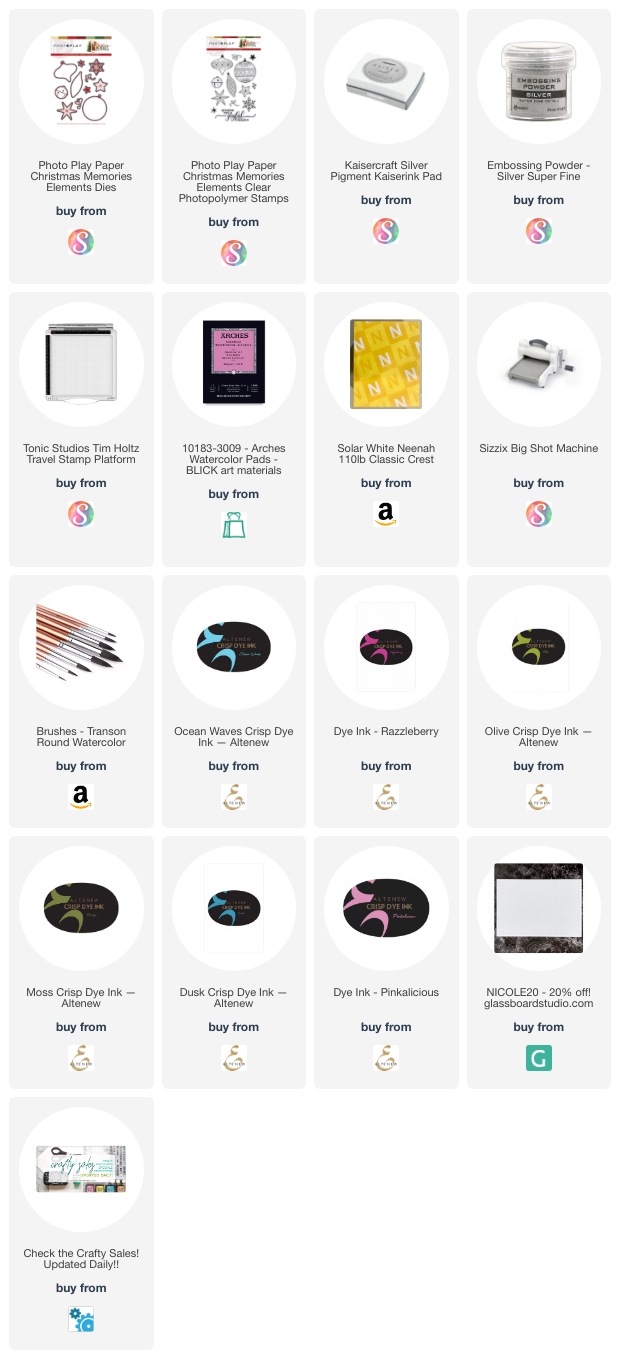 HOT DEALS!
Don't miss these hot deals - click the picture to shop!
Here's some other projects you'll like!
Another month has passed. Another 22nd has arrived!! It's time for a new Paint-a-Flower stamp, PLUS we have new Artist Marker refills!!
Welcome to another Tic Tac Toe Challenge!
The lovely Claire Broadwater is our lead designer for our latest Tic Tac Toe Challenge. She's created a fun board full of amazing possibilities! The question is, which way will you go? Row, Column or Diagonal?!