12 Days: Elegant White Holiday Card (and Giveaway)
12 Days: Elegant White Holiday Card (and Giveaway)
I thought I would dial it back a bit today…
Whew! The last few videos have been epic! Well, how about I come at you with a truly quick project today? There's just a teeny, tiny bit of stamping. That means the rest of it is full of texture oh, and lots and lots of white!!
(affiliate links are used in this post. When you click on them and make a purchase, I may receive a small commission at no additional cost to you. Thanks for supporting my blog!)
Today's giveaway is a Jane Davenport Brush Pen
I'm giving away prizes every day of 12 days – you'll have all 12 days to sign up and leave comments for extra entries! The giveaway is open INTERNATIONALLY!
GIVEAWAY DETAILS: Fill out the Google form ONCE to be entered into all 12 daily giveaways and the grand prize (a $25 gift certificate to Scrapbook.com). https://forms.gle/t8tuiDDZwUUoq6tNA
Winners for each day's prize and the grand prize will be selected at random using a random winner generator. EARN EXTRA ENTRIES by leaving comments on 12 Days You Tube videos and Blog Posts. Winners will be announced on YouTube and the blog on August 5th, 2019.
This giveaway is solely sponsored by Nicole Watt and not affiliated with YouTube, Facebook, or Instagram in any way.
My Project
We're five days into the 12 days and I was looking for something a little less involved. I think this one fit the bill, while still being really sophisticated.
The Technique & Design
Simplicity was key here. I let the 3D embossing folder do all the heavy lifting. Then, I let the Mega Happy die really stand out by adding a fun foam backing to it. All that was left was to add a little sentiment in a pop of color and, voila! C'est magnifique!
Don't forget to leave a comment at the end of the post to qualify for my quarterly giveaway!
Project Tutorial Video
Now, it's time to see how simple this card really is!
Comment to WIN!
Don't forget to leave a comment here, and a comment over on YouTube for an extra entry to today's giveaway. It is open internationally!
Don't Forget about my monthly GIVEAWAY!
Every month, I give away a sweet surprise to one lucky commenter. So, don't forget to leave a COMMENT on today's post to enter!
If you loved today's project, I'd love to know! The blogosphere can be a lonely place, so please don't lurk! Leave a quick word or two to tell me you were here!
Inspired by the products I used?
The supply list is right here! Just click a product to start shopping.
The links I'm sharing are Compensated Affiliate Links, meaning that I will receive a small commission on your sale, at no additional cost to you.
Items marked with an asterisk (*) were provided by a store or the manufacturer.
When you shop with these links, you help keep the lights on and the inspiration flowing here at Pixel Maven's Retreat! Thank You!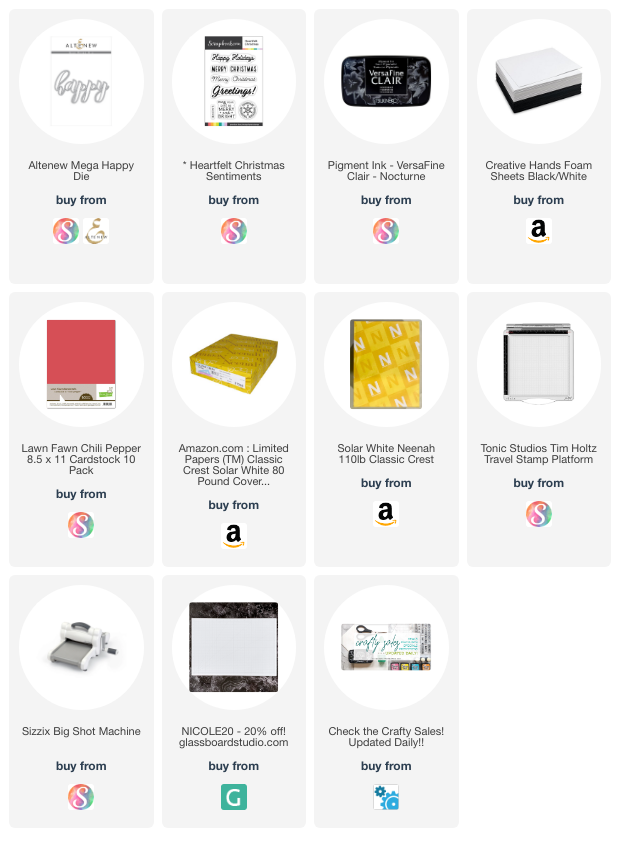 HOT DEALS!
Don't miss these hot deals - click the picture to shop!
Here's some other projects you'll like!
Another month has passed. Another 22nd has arrived!! It's time for a new Paint-a-Flower stamp, PLUS we have new Artist Marker refills!!
Welcome to another Tic Tac Toe Challenge!
The lovely Claire Broadwater is our lead designer for our latest Tic Tac Toe Challenge. She's created a fun board full of amazing possibilities! The question is, which way will you go? Row, Column or Diagonal?!