12 Days: Big & Bold Holidays Go Gold
12 Days: Big & Bold Holidays Go Gold
12 Days: Big & Bold Holidays Go Gold
I love it when a plan comes together!
There are so many times that I have an idea of what I want a project to look like, but no matter what I do, I can't get it to look like it does in my mind. Well, today's project was just the opposite! I knew that I wanted to pair the snowflake with some starbursts, but I just didn't know if it would all go together like I planned. For some reason, everything I reached for and added into the design was just the right thing. Whew! Well, I'm sure that won't happen again any time soon!
(affiliate links are used in this post. When you click on them and make a purchase, I may receive a small commission at no additional cost to you. Thanks for supporting my blog!)
You could win a pack of holiday cards!
I'm giving away prizes every day of 12 days – you'll have all 12 days to sign up and leave comments for extra entries! The giveaway is open INTERNATIONALLY!
GIVEAWAY DETAILS: Fill out the Google form ONCE to be entered into all 12 daily giveaways and the grand prize (a $25 gift certificate to Scrapbook.com). https://forms.gle/t8tuiDDZwUUoq6tNA
Winners for each day's prize and the grand prize will be selected at random using a random winner generator. EARN EXTRA ENTRIES by leaving comments on 12 Days You Tube videos and Blog Posts. Winners will be announced on YouTube and the blog on August 5th, 2019.
This giveaway is solely sponsored by Nicole Watt and not affiliated with YouTube, Facebook, or Instagram in any way.
My Project
Today's project was inspired by the latest Festive Friday Challenge. I knew I'd be doing my 12 Days series, so I chose to focus on the Starburst element. Though, I guess you could have a "New England Christmas" and throw in a lighthouse to a holiday design…
I had another thought, though. I would add a big, shiny snowflake in the center of my light rays… I just LOVE how it turned out!
The Technique & Design
The light rays take on an ethereal look thanks to Champagne Delicata pigment ink. It blends so lightly and adds just the right amount of shimmer to make the rays look like they're glowing! I wanted to break up the lines, and pull the black through the design, so adding some spatters of Black Soot Distress Spray was just the ticket. Like the Delicata, it dries quickly and really packs a punch!
I thought through a few different color options, and in the end, decided on black because I really wanted the snowflake to pop off the page. I may still experiment with this one in red and green – maybe a non-traditional color? What would you like to see?
Don't forget to leave a comment at the end of the post to qualify for my monthly giveaway!
Project Tutorial Video
I know this is a seriously stunning card, but YOU can make it too! I wouldn't hesitate to work up a dozen or two of these for sending! I think you'll be surprised how easy it is! I even had to make my own starburst stencil. You'll be shaking your head at its simplicity…
Comment to WIN!
Don't forget to leave a comment here, and a comment over on YouTube for an extra entry to today's giveaway. It is open internationally!
Don't Forget about my monthly GIVEAWAY!
Every month, I give away a sweet surprise to one lucky commenter. So, don't forget to leave a COMMENT on today's post to enter!
If you loved today's project, I'd love to know! The blogosphere can be a lonely place, so please don't lurk! Leave a quick word or two to tell me you were here!
Get everything you need to make this project!
The supply list is right here! Just click a product to get started. The links I'm sharing are Affiliate Links, meaning that I will receive a small commission on your sale, at no additional cost to you.
This helps keep the lights on and the inspiration flowing here at Pixel Maven's Retreat!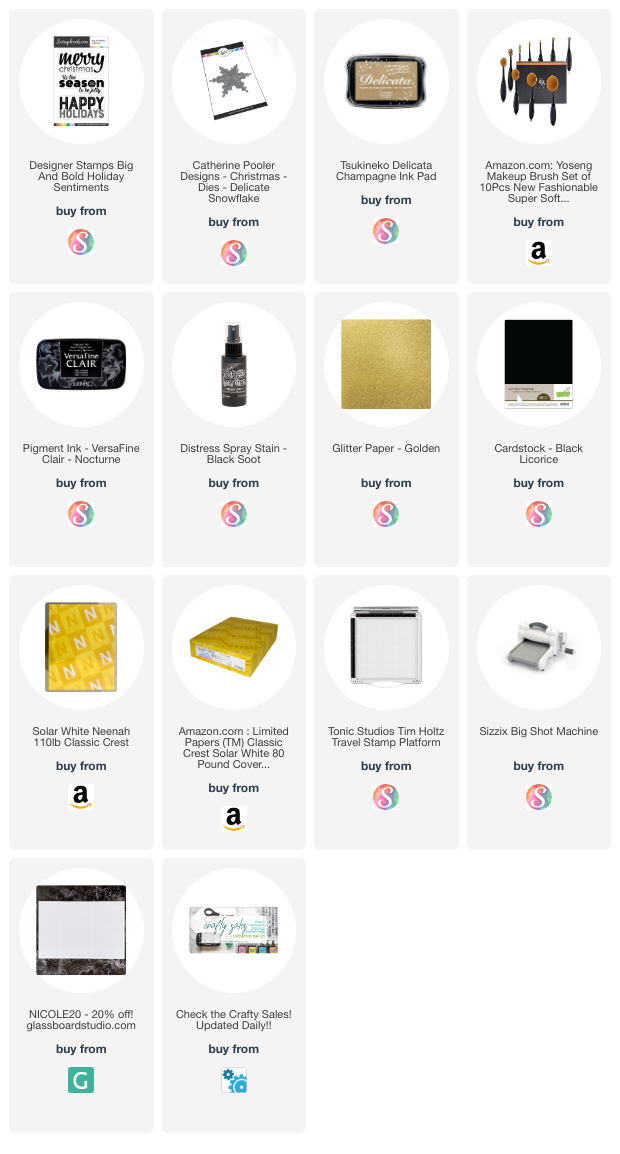 The Latest...
FREEBIES!!!

 There's no catch - check out my

Freebies Page

for all sorts of downloadable resources to help take your crafting up a notch!

Need a Color Coordinator to inspire color choices for your projects? Get yours today! 2019-20 Coordinators are NOW SHIPPING!
"I love this! I have a hard time getting color combos together and this takes all the guess work out so I can start creating right away! I think every stamper should have one thank you for this amazing product." - Sandra
Here's some other projects you'll like!
I SUCK AT INK BLENDING!
Ugh! How many times have you tried ink blending and ended up saying that? I know a lot of people just like you! Including ME!!! Nothing worse than being super, super careful and then ruining it with one fell swoop of the blender tool.
My first release in the books!
Today is the last day of the Halloween Cut File project release. Thanks to everyone who made this first relase a success!