12 Days: 12 Cards in 12 Minutes
12 Days: 12 Cards in 12 Minutes
Sometimes you just gotta go stupid simple…
If you've got a loooong list of projects for the holidays, or you need to make massive quantities of cards, sometimes you just have to go stupid simple with some of your projects. Today's 12 cards in 12 minutes fit that bill. I put today's cards in the category of perfect for: coworkers, teachers, neighbors, party guests and gift accompaniment. You know, when you have over 10 people in a single group that you are giving cards and/or gifts to and you don't have hours to spend on each person's card. They will enjoy that each person received a different design, and that the card is handmade. Or, when the card isn't the star of the gift – we don't want to outshine that tin of handmade fudge with a card that took longer to make! LOL!
(affiliate links are used in this post. When you click on them and make a purchase, I may receive a small commission at no additional cost to you. Thanks for supporting my blog!)
You could win a pack of notecards & envelopes to make your own!
I'm giving away prizes every day of 12 days – you'll have all 12 days to sign up and leave comments for extra entries! The giveaway is open INTERNATIONALLY!
GIVEAWAY DETAILS: Fill out the Google form ONCE to be entered into all 12 daily giveaways and the grand prize (a $25 gift certificate to Scrapbook.com). https://forms.gle/t8tuiDDZwUUoq6tNA
Winners for each day's prize and the grand prize will be selected at random using a random winner generator. EARN EXTRA ENTRIES by leaving comments on 12 Days You Tube videos and Blog Posts. Winners will be announced on YouTube and the blog on August 5th, 2019.
This giveaway is solely sponsored by Nicole Watt and not affiliated with YouTube, Facebook, or Instagram in any way.
My Project
After selecting coordinating colors, these notecards took 10 minutes to make. So, literally, 12 cards in 12 minutes!
The Technique & Design
There's not much to these! The key here is the notecard size. In the video, I reference A1 size. They're also known as 4 BAR. The folded card dimension is 3 1/2″ x 5″. Some sites will make reference to something just short of 5″ (like 4 7/8″) – but they're all the same.
The background cardstock is just 1/4″ short to leave a nice 1/8″ border all the way around. And, though the sentiment cards are not sized to leave an even border all the way around, having the larger reveal on the top and bottom adds a bit of interest!
Of course, you can leave these cards as-is, or you can add more to them. You could add some glitter pen accents, enamel dots, sequins, clear gloss effects…. there's lots of ways to step these up if you just feel the need…
Don't forget to leave a comment at the end of the post to qualify for my quarterly giveaway!
Project Tutorial Video
Does today's project really warrant a video? Well, I wanted to show you just how easy these are! Enjoy 😀
Comment to WIN!
Don't forget to leave a comment here, and a comment over on YouTube for an extra entry to today's giveaway. It is open internationally!
Don't Forget about my monthly GIVEAWAY!
Every month, I give away a sweet surprise to one lucky commenter. So, don't forget to leave a COMMENT on today's post to enter!
If you loved today's project, I'd love to know! The blogosphere can be a lonely place, so please don't lurk! Leave a quick word or two to tell me you were here!
Inspired by the products I used?
The supply list is right here! Just click a product to get started. The links I'm sharing are Compensated Affiliate Links, meaning that I will receive a small commission on your sale, at no additional cost to you.
Items marked with an asterisk (*) were provided by a store or the manufacturer.
This helps keep the lights on and the inspiration flowing here at Pixel Maven's Retreat!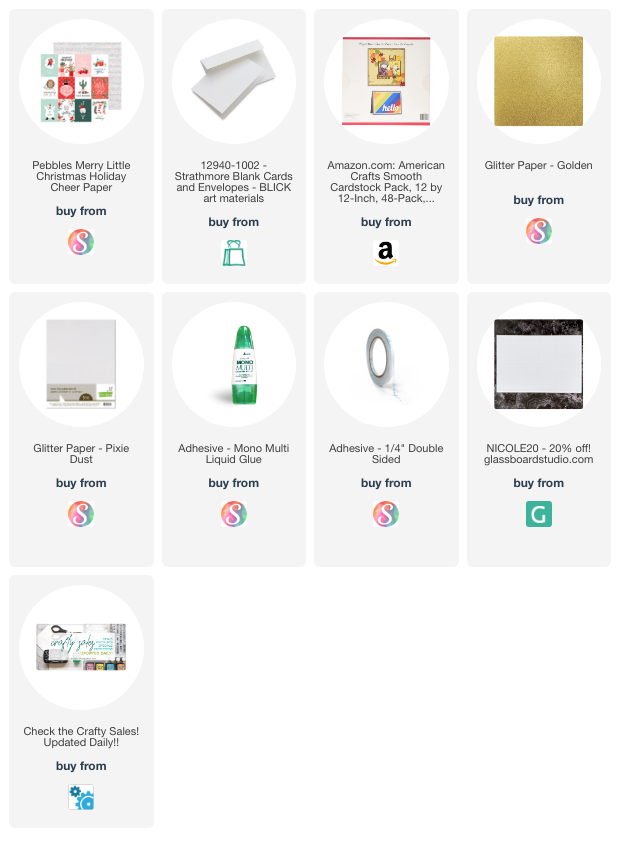 HOT DEALS!
Don't miss these hot deals - click the picture to shop!
Get this adhesive sampler FREE!
Now through Sunday
No Purchase Necessary
Here's some other projects you'll like!
Welcome back for another My Favorite Things list!
Today's list features stencils and products that work really well with them. I am in L-O-V-E with stencils.
The clock is ticking… Are your Holiday Cards done?
Now that it's past Thanksgiving, if you haven't turned to finishing your holiday/Christmas cards, time is ticking away!